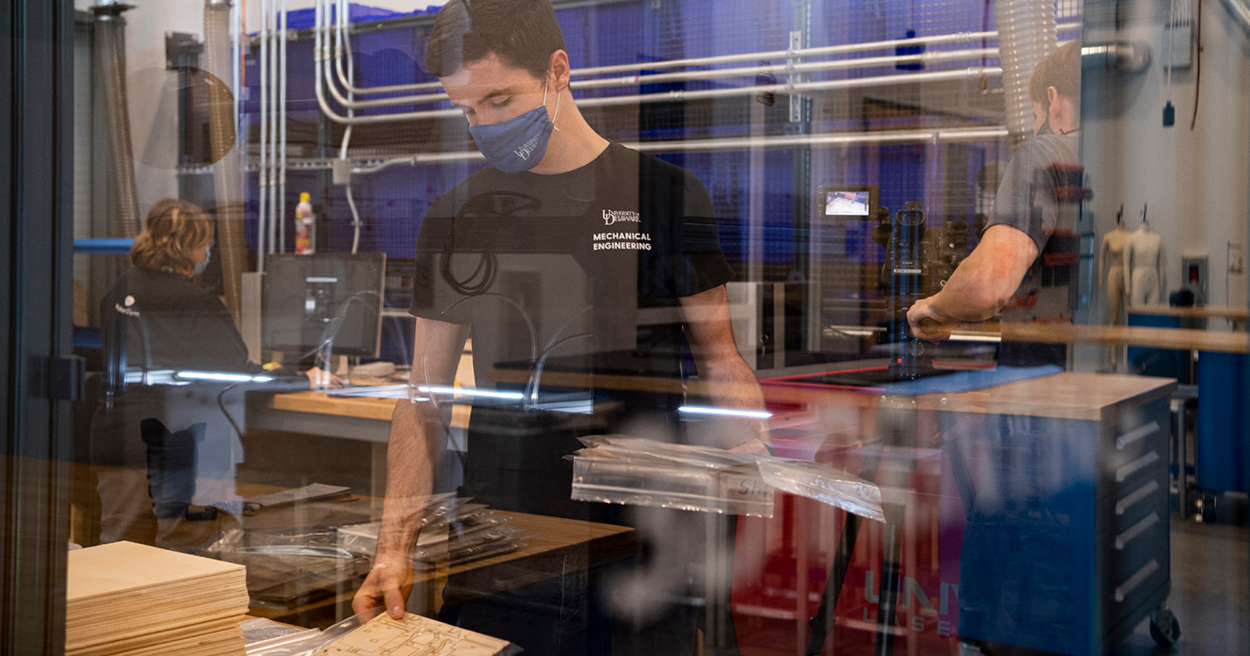 Photo by Evan Krape
UD's MakerGym is located in the rear of Pearson Hall with its door facing the Student Services Building on Lovett Avenue. The MakerGym features 3D printers, laser cutters, specialized equipment, a 21st-century wood shop, and an advanced manufacturing research center. Open to all UD students, faculty, and staff, the MakerGym offers workshops, training, classes, and individual instruction.
Innovative ideas can become a reality at the UD MakerGym.
The Make It Happen Challenge offers students from all backgrounds and disciplines a chance to bring their ideas to life, and a chance to change the world.
The Challenge, presented by UD MakerGym and Horn Entrepreneurship, is an academic year-long design competition that provides up to a $3,000 grant for makers with innovative ideas. This is a chance to determine feasibility through ideation, proof of concept, prototyping or small batch production. Students will also gain financial support, training, tools, materials, and mentoring throughout the process.
Students are asked to submit a proposal of their idea by October 29, 2021. The most promising proposals will pitch their idea virtually on November 5, from 2:00 to 4:00 p.m., to determine funding status. Program details and information on the participants from spring 2021 can be found on the MakerGym website.
The Make it Happen Challenge is designed to open the realm of creative possibilities. Basically, if you can imagine it, you can create it using UD's Maker Network of over a dozen spaces. The MakerGym is the University-wide hub in that network for creative collaboration, design, prototyping and entrepreneurship.
The MakerGym opened its doors just before UD moved to online classes in March of 2019. It is now open for in-person and hybrid learning. Brooks Twilley, Operations Manager for the MakerGym, shared, "It is like a grand opening, and we are glad to welcome students back in person."
The Make It Happen Challenge will be an annual competition hosted at the start of each fall semester and ending in May of spring semester. For maker-related updates, reservations, and virtual tours, visit the MakerGym website.
About the MakerGym
The MakerGym is an interdisciplinary design and fabrication studio focused on student empowerment and collaboration. This creative space offers 3D Printing, Laser Cutting, Computer Numerical Control (CNC) Router and Mill, Hand Tools, Work Benches, Sewing Machines, Water Jet and Wood Shop, which complement and provide depth to existing making capabilities on campus to support education, research, and personal growth. All students have access to our resources, including the necessary training and design consultation to help them turn their ideas into action. This is everyone's sandbox.
About Horn Entrepreneurship
Horn Entrepreneurship serves as the creative engine for entrepreneurship education and advancement at the University of Delaware. Currently ranked among the best entrepreneurship programs in the US, Horn Entrepreneurship was built and is actively supported by successful entrepreneurs, empowering aspiring innovators as they pursue new ideas for a better world.