Editor's note: this is an article in a series that explores how the Horn Team practices entrepreneurship.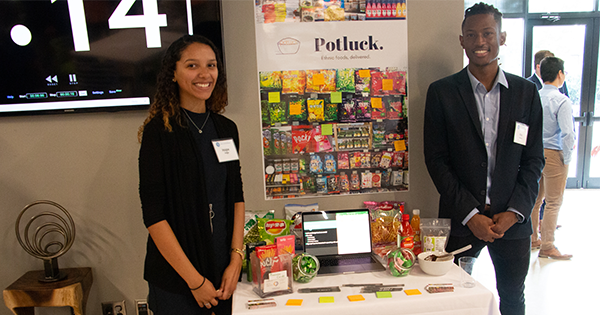 Hope Vega and Abu Kamara presenting Potluck at Demo Day in August 2019.
Just like domestic students, international students are continuing with a full-course load as classes move online. In these tough times, international students are missing home more than ever.
The Potluck team is raising money right now towards their mission of helping students by providing them with online grocery delivery orders from ethnic stores, both essential and a reminder of home. Funds raised will help them do so efficiently throughout the COVID-19 crisis. Potluck team member Kim Jiang shares that she has been cooking everyday, getting most of her recipes from her family and online.
"Eating has become one of the happiest times in our daily lives," Kim said, speaking for many international students.
Potluck is on a mission
The pressures and stresses of the current pandemic have been nevertheless tough for all students across the country. But in trying times, individuals find new ways to adjust to the new normal. Our same daily problems stay relevant, but in new ways. In particular, international students at UD have been having a hard time adjusting to such problems.
Two senior students, Abu Kamara, College of Arts & Sciences, Mathematics, and Hope Vega, College of Health Sciences, Nutrition and Dietetics, came together last summer to pursue mutual opportunity. The concept for their startup Potluck emerged from the co-founders' experience in the Horn Entrepreneurship Summer Founders 2019 Program.

Throughout the summer program, the team interviewed roughly 100 students and found that a major problem international students face is the lack of convenient access to ethnic groceries. Throughout the summer with Vince DiFelice and other Horn faculty, the Potluck team was also able to grow their business with advice from real-world founders, while also surrounded by like-minded business students. Potluck came together to create a feeling of home. One great addition to the team was Kim Jiang, a freshman international student that was seeking involvement, as she found herself passionate about Potluck's mission.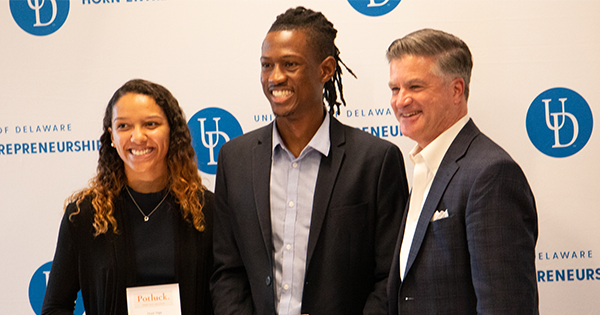 Hope, Abu, and Vince DiFelice at Summer Founders, August 2019.
The team continued to work on Potluck throughout the fall and in the spring, just before the pandemic. As semi-finalists for Hen Hatch, they were saddened by the cancellation of the competition for this year, but are eager to keep working on problems within their control. The team noticed that now, more than ever, international students need access to groceries, while small ethnic grocery stores need business as well.
"International students undergo many difficulties living here, but what makes them feel at home are the foods that they know and love from home," Abu said, as this feeling is in demand now more than ever.
Abu said that international students are facing major difficulties, similar to what domestic students are feeling, except they didn't get to go home. Flights back home to China have costs upwards of $20,000. Flyers have limited access to food, drinks, or bathrooms, and also have to wear a mask throughout the entirety of the flight.
Realizing the value of this service for both international students and ethnic grocery stores, Potluck has continued to work hard on their mission. Just a few weeks ago, Potluck established itself as an LLC and has started to raise the funds needed to run operations as sanitary, safely, and smoothly as possible.
The selflessness and authenticity of Potluck's team is admirable, and a great representation of what Horn ventures aspire to be.
Not lemonade, but still something sweet:
Kim Jiang's "Sweetcorn-Egg Soup" Recipe
Pour two bowls of water into a pot and boil it
Add in 1 cup of sweet corn and some pieces of chicken shreds in it
Keep it boiled on medium-high heat for a few minutes until you see the soup turns to a little bit white
Beat an egg with one chopstick, turn off the heat
Pour the beaten egg into the soup ALONG with the chopstick SLOWLY
Then you will see these eggs float on the top like floccus clouds
Add some salt as you want and then it's time to ENJOY!
About Horn Entrepreneurship
Horn Entrepreneurship serves as the creative engine for entrepreneurship education and advancement at the University of Delaware. Currently ranked among the best entrepreneurship programs in the US, Horn Entrepreneurship was built and is actively supported by successful entrepreneurs, empowering aspiring innovators as they pursue new ideas for a better world.