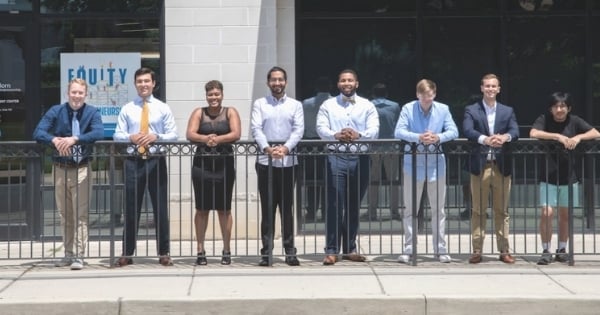 Milestones can be celebrated as a measure of accomplishment. For the Horn Entrepreneurship Summer Founders, they have reached an important one of being at the halfway point.
Individual progress is dependent on their biggest challenge of "getting out of the building" to meet potential customers and learn how valuable their startup solution is, or how it could be appreciated even more. By this measure, they have collectively made 442 visits, in-person locally or somewhere in the USA, virtually. The best personal growth measure is what they each find from one another. The pre-accelerator program is designed to collaborate and that is why on a daily basis, they work together to advance each other's product potential.
The Summer Founder experience is about personal growth. Vincent DiFelice, Senior Instructor of Entrepreneurship & Faculty Director, Venture Support, explains how "startups provide a powerful vehicle to accelerate a student's learning about themselves, about where they and their passions fit into the market and the world. A startup helps a student discover their interests and successfully pursue individual aspirations aligned with these interests."
The Summer Founders Program is a 12-week program designed for students with early-stage startups to work on their ventures and receive a stipend, mentorship and education sessions.
Here is a summary of their mid-point progress:
Cybersec Labs by Casey Rock, CE '22, Computer Science
They seek to solve: cyber technology experiences swift and advancing technology change. Recent graduates benefit from hands-on experience to gain employment. Cybersec Labs is identifying fun and realistic education spaces to learn skills, defeat hackers, and to keep current with fast-changing technology.
Stemmer, by Sam Goetz, CE '21, Mechanical, Electrical, and Computer Engineering
They seek to solve: song artists will digitally send audio engineers multiple pieces of a song leaving engineers with hours of organization before they can actually "mix" to achieve optimal sound. Hours of time are saved with an automated web application.
Spray Less LLC, by John Mouser, BE '21:
They seek to solve: why getting your car, fleet vehicles, or boat painted is so expensive.
QuickDress, by Curtis Aiken III, AS' 22, Communications
They seek to solve: a way for clothing retailers/brands to advertise to the consumer directly and help consumers with a specific style then connect with clothing retailers/brands based on their closet inventory.
Dynamic Factory, by Mohammad "Mo" Mahmood, AS '23, Entrepreneurship minor
They seek to solve: a need to provide Delaware entrepreneurs with the resources they need to succeed in the state and to work closely with local startups to reach their fundraising and scaling goals.
SYNO, by Carlson Cheng, CE '23, Computer Science, Neuroscience, and Cognitive Science
They seek to solve: Asian representation in fashion by building a streetwear brand that incorporates Asian themes into all of their apparel. SYNO is an innovative streetwear startup. AR brings the next level of self-expression to fashion. When users can customize clothes' visual effects through a Snapchat-like camera.
Next Step Global Healthcare, by Colton Keetley, BE '23, Entrepreneurship
They seek to solve: Next Step Global Healthcare is solving the problem of lower market healthcare providers being able to successfully exit their businesses by creating an investment consortium to consolidate the lower market of assisted living, then looking to leverage that success into larger deals and other growing healthcare verticals.
Special Space, by Domenic Messimo, BE '22, Entrepreneurship
They seek to solve: a need for a social online platform made specifically for people with special needs that will preserve the privacy and security of its users in a safe online space. This community of social media users struggles to connect, engage, and extend friendships through current social media channels.
Common Grounds, by Lynn Roberts, CHS '23, Molecular Biology, Biotechnology minor
They seek to solve: a feeling of displacement felt by international students due to cultural and communication differences. International students attend U.S. Universities to immerse themselves in a new culture only to feel isolated. Common Grounds will act as an intermediate between international and local students by orchestrating fun cultural exchange opportunities.
Grow the Game Southeast, by Josh Bayer, BE '23, Entrepreneurship
They seek to solve: southeast Washington D.C. has had a long history of oppression while it is surrounded by wealthy suburbs in southern Maryland. The game of Lacrosse has surged in popularity and with a higher cost for entry. Grow the Game Southeast will engage youth-at-risk in playing community-based lacrosse with funding, coaching, facilities and meals.
The next milestone for these entrepreneurs is Demo Day 2021, a showcase event held at the end of an accelerated program. Here each founder will reveal a full scope of their startup progress and needs for the next steps. Demo Day will remain virtual this summer and will be held on August 19, 2021, from 1-3 PM. To secure your spot sign up here: Demo Day 2021 Tickets
The audience will have the chance to learn more about each venture startup during the Demo Day event. As in all post accelerator programs audience members can also meet the founders immediately following the event to gain better insight from the founders themselves. This will be an event you don't want to miss!
About Horn Entrepreneurship
Horn Entrepreneurship serves as the University of Delaware's creative engine for entrepreneurship education and advancement. Built and actively supported by successful entrepreneurs and thought leaders, Horn Entrepreneurship empowers aspiring innovators and entrepreneurs as they pursue new ideas for a better world.