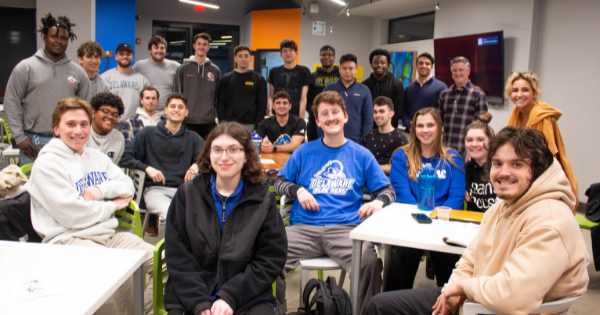 Members of VentureON take a moment before beginning earlier this spring semester.
This semester brings a brand new opportunity for VentureOn teams to expand their viewability and grow their own support network for their startup!
An online voting event will be held from May 9 and will remain open until May 20. Founders will fully promote themselves and their startups to gain the most votes.
Founders are awarded for having the most votes, along with two runner-ups. That does not reflect the amount of exposure, or funding opportunities they will encounter. Founders will have a unique opportunity to build a stronger network.
A principal benefit of VentureOn at Horn Entrepreneurship is how it provides a community where founders lean on each other for support, along with the inspiration of a collective creative mind, which is a winning formula semester after semester. One of the participants, Derek Mihalecsko, talked about what VentureOn means personally to him. "VentureOn has provided me a community to support my entrepreneurial endeavors through group discussion and advisor meetings." Additionally, Yannick Nguenkam, another participant talks about the benefits besides community. "VentureOn has given me confidence, the opportunities, and resources to figuring how to bring this solution that I have identified to life. The amount of benefits provided through the program is tremendous!"
The VentureOn-Line voting event contains several items to review, a 90-second video pitch, a business description, and contact information for each VentureOn participant seeking your vote. They are also ready to discuss ideas viewers may offer. We encourage anyone to participate by visiting the VentureOn-Line voting event page.
Ready to begin your own startup journey?
VentureON is a semester-long program that is accessible through an application and will return next fall semester. The VentureOn application period for fall is now open. VentureON helps to navigate through the many resources, opportunities, and programs available to startups within the UD community and beyond.
Not ready for VentureOn but want to get involved? Two options exist. First, this summer the VDC Community Sessions @ Horn continues. Community Sessions has an open-house format that gathers the UD community with a range of experience for entrepreneurial discussions. It serves those with no idea or a new idea, wishing to learn more about finding solutions to a problem they identified. Community Sessions will take place online and resume on Zoom, Wednesdays, beginning Jul 6, 2022, from 6-7 p.m.
Second, Horn Entrepreneurship offers assistance and a place to start; from curiosity to a class project to developed technologies, experienced faculty and staff are here to guide anyone affiliated with UD. Each person and startup path is different, this form is reviewed by an experienced team member who will contact you with where to begin and recommendations.
About Horn Entrepreneurship:
Horn Entrepreneurship serves as the creative engine for entrepreneurship education and advancement at the University of Delaware. Currently ranked among the best entrepreneurship programs in the US, Horn Entrepreneurship was built and is actively supported by successful entrepreneurs, empowering aspiring innovators as they pursue new ideas for a better world.