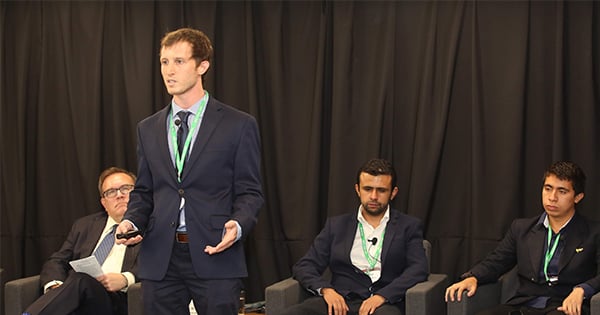 Horn Entrepreneurship is excited to announce all of the accomplishments and successes of our community of creative thinkers, trailblazers and world-changers this quarter.
Students
Danilo Vicioso and his startup, Main Street, have been accepted into the prestigious Y-Combinator accelerator program.
Three out of the four winners at Brainstorm-a-Palooza, an event scheduled for students to use their creativity to help develop products that help UD football players deal with hamstring injuries, were Entrepreneurship students Nico Repolle, Lexi Gilbert, and Taylor Modicon.
TRIC Robotics was the winner of the 2019 CEC Youth Innovation Challenge.
Grants
The following teams have been awarded grants for the promising work completed to this point.
Amplus won a $140,000 grant from the Air Force for its cybersecurity and electronic warfare technology.
Lectrolyst, XSpectra, and Lignolix were each awarded a $50,000 National Science Foundation I-Corps Teams grant.
4th Phase Water, led by Chunhong Li, DISTAT, led by Helen Zhuang, and Lyapunov, led by Duanyi Wei and Anthony Rossi each were awarded $25,000 Air Force STTR grants.
TRIC Robotics, headed by Adam Stager, won a $5,000 VentureWell E-Teams grant.
Terry Papoutsakis received a grant for $250,000 from the University City Science Center and CSL Behring QED Program.
Faculty
MCET Technologies, spearheaded by Sagar Doshi and Erik Thostenson, was selected for the Delaware Innovation Space FastPass.
W7 Energy pitched at the Gore Innovation Pitch in Silicon Valley, and have qualified as finalists for the H2 Refuel Accelerator, a program based on a special partnership between Fraunhofer TechBridge, Greentown Labs and the Urban Future Lab.
Alumni
Sage Smart Gardens was selected to present at the Mid-Atlantic Diamond Venturev(MADV) Fall Venture Forum.
Rikarbon won $50,000 from the Delaware Technical Innovation Program.
Amputee health startup TheraV, founded and run by Amira Radovic, has started a Youtube series titled Amputee Wisdom that shares the stories of struggles and perseverance of people living with limb loss.
Sage Smart Gardens obtained a $50,000 investment from the Ben Franklin Technology Partners.
Structural health monitoring startup Smartenius won first place at the 2019 InnoSTARS Houston competition for the Information and Communication Technology track.
Smartenius also raised $500,000 from angel investors in a pre-seed investment round.
About Horn Entrepreneurship
Horn Entrepreneurship serves as the University of Delaware's creative engine for entrepreneurship education and advancement. Built and actively supported by successful entrepreneurs and thought leaders, Horn Entrepreneurship empowers aspiring innovators and entrepreneurs as they pursue new ideas for a better world.