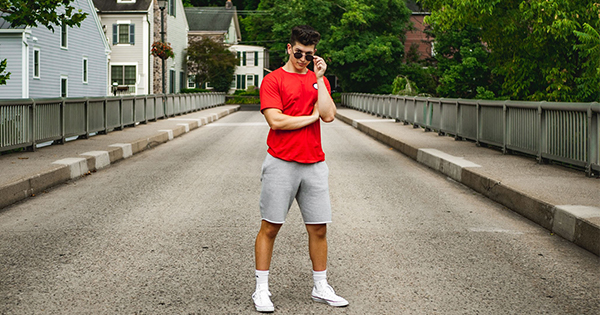 Jamie Brown started creating music as a way to connect heavy-weight lifters with heavy-EDM listeners. Now he is a musical artist going by the name Deadlyft. What he calls "muscle music" is about more than just the brand. For him, creating and sharing his music has become a lifestyle.

Deadlyft is an EDM artist and producer that is growing at an extremely fast pace. Jamie developed the idea to start producing music through searching for a niche within the heavy-weight lifting industry. Being a fitness enthusiast himself, he wanted to create a brand, with music to match, that he identified with. He targets lifters that favor EDM music to pump them up at the gym, and his fan-base continues to grow. Jamie says that if he ever feels like taking a day off, he reminds himself of the impact he has had on his audience so far. Balancing music and a full course load, Jamie creates the time to work on his passion. This requires him to be grounded in his goals and values. He holds himself accountable as Deadlyft, constantly reminding himself of where he wants to be next.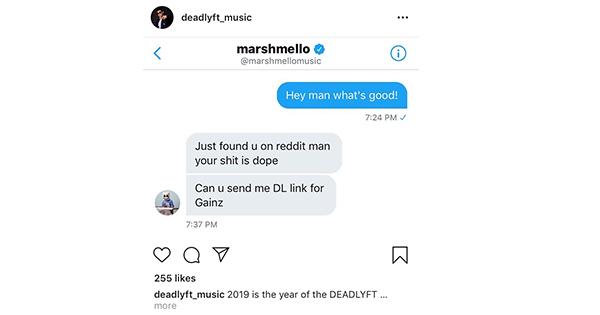 Jamie toured the University of Delaware in the fall of his senior year of high school. He walked into the Venture Development Center (VDC), home to Horn Entrepreneurship, and applied to the entrepreneurship major immediately. The VDC community is welcoming and inspiring, which is evident to prospective students. He says that the nature of the people and the environment is what drew him to the major. He knew that he would develop his passion for music and discover opportunities to help him grow. Reflecting on these last three years, Jamie says "Horn has given me a lot of time to be myself. It is the path of least resistance." He is thankful for the resources and connections he has made through the major.
"Horn has given me a lot of time to be myself. It is the path of least resistance."
Jamie believes that success can come from instinct. And because of this mentality, most of his success has been purely organic. He was scrolling through Reddit one night and decided to post some of his tracks on the feed. A little bit later, Marshmello, an Electronic music producer and DJ best known for Happier featuring Bastille, noticed it. Marshmello went to Twitter to direct message Jamie, but because of his privacy settings, he had to tweet at him until he got his attention. This quick connection resulted in Marshmello playing one of Jamie's top tracks, "Gainz," at Ultra Music Festival in Miami, Florida, in front of thousands of people. The momentum didn't stop there. Since April, Deadlyft has been played by major DJs at major festivals including Moonrise in Baltimore, Maryland; Bass Canyon in George, Washington; Lost Lands in Legend Valley, Ohio; and Imagine Fest in Atlanta, Georgia.
Jamie says that one of the things that drew him to Horn Entrepreneurship was the nontraditional approach to business studies. Entrepreneurship students find new ways of doing things. They spend time generating ideas, where they are encouraged to work with each other and find solutions to real-world problems. His biggest mentor has been Tricia Monnig, Manager of Academic Enrichment at Horn. A music lover herself, she has been partial to Jamie's success and wants him to challenge himself to get Deadlyft off the ground running.
Horn has made pairing school with music effortless. Everything he learns in class can be directly replicated in his real-world business development. His advice for anyone that might be hesitant about jumping into the next stage of his/her life is to find a purpose now. He says that life is more meaningful when you find it early.
After graduation, he wants to continue to pursue music and his brand's momentum by moving out to Los Angeles, California, to devote his time to just that. Ideally, Jamie would like to live with other producers, to surround himself with inspiration to keep making music, similar to Horn Entrepreneurship, where you are always surrounded by like-minded individuals.
"Life is more meaningful when you find your purpose early."
Jamie Brown was able to curate his own lifestyle through Horn Entrepreneurship and the University of Delaware. While here, he was able to validate his niche market, while creating a network of people to support him. He says that he surrounds himself with people that are taking steps for the future now rather than waiting for after college. The entrepreneurial process encourages you to get out there now and do something about the things that you care about.
Support Deadlyft:
Instagram @deadlyft_music
Facebook @deadlyftmusic
Twitter @deadlyftmusic
Stream Guns Out music here https://fanlink.to/guns-out
About Horn Entrepreneurship
Horn Entrepreneurship serves as the University of Delaware's creative engine for entrepreneurship education and advancement. Built and actively supported by successful entrepreneurs and thought leaders, Horn Entrepreneurship empowers aspiring innovators and entrepreneurs as they pursue new ideas for a better world.