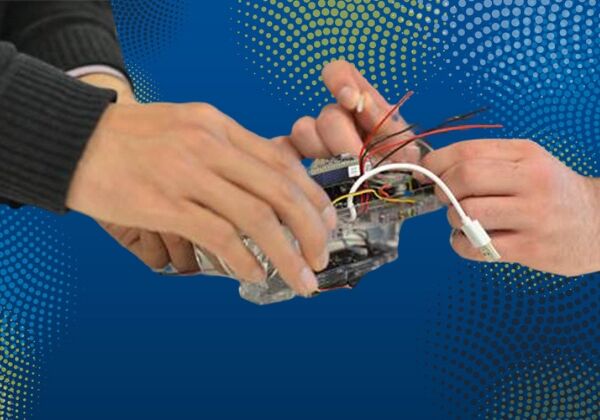 Technology Innovation & Entrepreneurship is offered through the College of Engineering and revolves around utilizing emerging technologies to improve business practices and entrepreneurship. In an interview with current certificate member Erin Hogan, a junior Chemical Engineering student, I learned more about the relationship between technology and entrepreneurship and how entrepreneurs can benefit from understanding this relationship.
---
---
How would you describe Technology Innovation and Entrepreneurship to someone who's never heard of it, and how is it different from other types of entrepreneurship?
Technology Innovation and Entrepreneurship is building a business model around solving a problem utilizing new technologies and scientific discoveries.
Were you ever interested in entrepreneurship growing up, or was it something you became drawn to in college?
The summer between my freshmen and sophomore years, I interned at W. L. Gore & Associates. While there, I took the opportunity to conduct many informational interviews to learn about different career paths and positions at the company. While exploring my interest in new product development, I learned about the concept of intraprenuership where entrepreneurial thinking is applied to developing new products or methods to provide solutions to problems customers are facing. When I came back to the University of Delaware for my junior year, I decided to utilize the resources at Horn to learn more about entrepreneurship.
As a Chemical Engineering Major, how did you get involved with the Tech Innovation program specifically (rather than the other ENTR certificate options)?
When I looked at the different certificate programs, the Technology Innovation program aligned most directly with my interest in solving problems using novel materials science solutions. Also, it is offered by the College of Engineering and aligned easily with my coursework which allowed me to complete the certificate program in two semesters.
Have your entrepreneurial studies changed your perspective of Chemical Engineering or your approach to it in any way? Do Chemical Engineering and Tech Innovation correlate in ways that surprised you?
Engineering is all about problem solving. Engineers apply principles of science and mathematics to develop products that solve problems people experience everyday to the world's grandest challenges. Learning about entrepreneurship has provided a new perspective around the importance of fully understanding the problem before jumping in and working towards a solution. It is really easy to get excited about a technology, see a solution to a problem, and start building an awesome new product. However, I've learned that sometimes the product or idea you've developed may not be what the customer or user wants - even if it was awesome and solved a problem you saw. Instead, by diving deep in understanding the problem and what your customers want, you can solve the problem the customer really has with a solution they need and want.
What's the most surprising thing you've learned about entrepreneurship so far?
Originally, I thought entrepreneurship was building a company around a product you had already developed or were in the process of developing. I've come to learn that entrepreneurship is a mindset and evidence-based process to search for a validated problem where you can deliver unique value. As an entrepreneur, you have to remain focused on your problem and business model without getting attached to a certain solution as your hypothesized solution or product will change a hundred times as you learn more and more about the problem.
Do you plan on utilizing your entrepreneurial skills in your career, life, or studies moving forward? Have the things you've learned impacted what you'd like to do with Chemical Engineering in any way?
Will I ever start and own my own company? Maybe! Horn has definitely equipped me to do so. I think for now I am most interested in an intraprenuerial role in front end innovation of new products within existing companies, and possibly even walking with products through their development process. The entrepreneurial skills I've learned have prepared me to focus on problems, ask the right questions, work to develop solutions the customers and users want, and to evaluate if a solution/product is worth the time, money, and resources to develop.
Lastly, would you recommend entrepreneurial studies or the certificates program to other students?
Absolutely, to those interested in being an entrepreneur or just learning more about how to solve problems! The certificate is designed so that the courses fill requirements for your major, allowing you to complete it without having to add time to your degree. There are hands-on options for the three course requirements in the program. Two of the classes I selected were designed around having your own start-up and pitching it to real investors at the end of the semester. I've really enjoyed the opportunity to reach outside of my major and explore entrepreneurship with Horn; I'd encourage other students to utilize the resources Horn has to offer!
---
Horn Entrepreneurship offers seven entrepreneurship-based certificates that can help expand students' knowledge of entrepreneurship, as well as how to apply entrepreneurial thinking to a wide variety of fields.
Each certificate is a collaboration between Horn Entrepreneurship and one of the seven colleges at the University of Delaware. These certificates offer students the opportunity to enhance their creativity, problem-solving abilities, leadership skills, and much more. Current certificate members offer nothing but praise for the program, and many cite this brief introduction to entrepreneurship as a wonderful starting point for any student who may be interested in business or innovation. To learn more about the certificates offered, check out our introductory article.
These certificate programs typically only require students to take nine to ten credits in order to reach completion, and many of the current certificate program members have emphasized how manageable and beneficial the certificate program has been for them. They stress how empowering an entrepreneurial education can be, and note that entrepreneurship has evolved their understanding of their other studies as well.
Technology Innovation & Entrepreneurship is a great opportunity for students to learn about emerging technologies, new scientific discoveries, and the application of technology in business and entrepreneurship. In a world characterized by constant technological advancement and accessibility, it has become increasingly important to understand the many ways in which technology can be integrated into business and how it can revolutionize different industries. If you have an interest in learning about the intersection of business and emerging technologies, then Technology Innovation & Entrepreneurship would be great for you! To learn more about the requirements for Technology Innovation & Entrepreneurship, visit the Horn Entrepreneurship website
For more information about the other certificates, click here.
About Horn Entrepreneurship
Horn Entrepreneurship serves as the creative engine for entrepreneurship education and advancement at the University of Delaware. Currently ranked among the best entrepreneurship programs in the US, Horn Entrepreneurship was built and is actively supported by successful entrepreneurs, empowering aspiring innovators as they pursue new ideas for a better world.