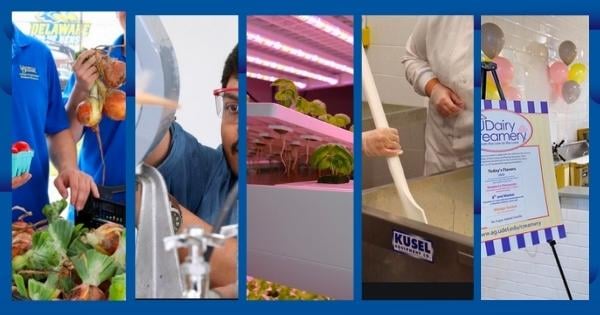 New Product Development is offered through the College of Agriculture & Natural Resources and teaches students about the product development process, from the inception of a product and the natural resources used to create it to it's shelf-life. I spoke with Alanna Weiss, a senior Hospitality Business Management major, about how a trip to Switzerland got her involved in entrepreneurship, how the certificate program has shaped the way she interacts with objects in her daily life, and what she plans to do with her entrepreneurial education in the future.
---
Have you always been interested in learning about entrepreneurship, or is that something you gained interest in while at school and then decided to pursue?
I think I've always had a strong interest in starting new things and working in business. I used to have idea notebooks, and in elementary school I would always be writing down stuff I wanted to invent when I was older. When I started in Hospitality, I ended up going abroad and doing culinary school in Switzerland, which was amazing, and I came back to UD in the fall of sophomore year and started a quesadilla business out of my room. That kind of spiraled into how I learned about entrepreneurship and got involved at Horn.
What made you interested in New Product Development specifically?
So I was looking through the course search and I realized you could search for specific keywords, and that led me to find the NAMA team, which is the National Agri-Marketing Association. NAMA has a chapter at UD and I got into that, so then I met with Dr. Kelly Davidson who is the academic lead for NAMA (and also the director of the New Product Development certificate). I started taking a class with Dr. Davidson and one day I was in the Venture Development Center and I was like 'What's up Dr. Davidson what are you doing here?' and she said 'Oh I'm supporting the New Product Development Certificate, you should look at it' and I said alright this is cool and started from there. I took one or two agriculture classes that I wouldn't have taken if I hadn't added the certificate and they were awesome. I learned so much about what's going on underneath the surface of our food and it's helped me understand my own major better.
Has your perspective or approach towards Hospitality (or your other studies) changed since you began the certificate?
Oh my, absolutely. It's definitely taught me a lot more about my environment, and now when I look at an object I can understand what's going on beneath the surface. For example [she holds up her pillow on the camera of our zoom call] this pillow is blue and fluffy and it's from Target. But in reality, the microfibers were probably grown in Indonesia and then dyed with products made from a plant in India, and then the cotton was probably grown in Texas using a specific kind of pesticide [and so on]. It's just crazy that you can dive so deep into any topic that it's like mind boggling. If you even look at a McDonald's hamburger, the sesame seeds only grow in three locations in the entire world, and sesame seeds grow in these little pods that have to be broken down by a specific machine and can only be harvested during one time of the year. So they have to go through that [entire process] just for the tiny seeds that are used in the factory to make the buns that then get shipped to the McDonald's stores. Once you understand [the layers to the process] you can take that information and say 'how do I develop my product, if I invent something where do I need to source it from, and how can I do it in the best way possible' and that's the goal of all of it I think.
Is there a certain course you feel you learned the most in, or was most beneficial to you?
That's a hard question cause I've had three or four professors that have really changed the way I look at things. Dr. Davidson was very influential in getting me started on the path [of New Product Development]. Then there was this Ag class I took called Farm to Table (PLSC 206) that taught me a lot. I'm working on this one project right now which is pretty cool and I have a mentor for it, his name is David Lawson. He's super intelligent and shares a lot of information and resources. But there's so many professors who have been great. Once I found entrepreneurship, it was just great professor after great professor and it's awesome to be able to take classes that you really care about and your professor really cares about teaching it because it's inspiring.
Has New Product Development changed anything you'd like to do after graduation?
Yeah, I'd say a lot of techniques I've learned in NPD have shaped the way my entire career will unfold. It's something that I definitely want to pursue in the future, and for me this made college worth it. So now I actually feel like I have an education that I want to use and am excited to make a positive influence on the world. Right now I'm working with a fellow student and we're trying to develop insulation and building materials out of mushroom mycelium. We're able to use recyclable materials to make a new material that's better for the environment and might actually solve a big problem in the world someday. If I can leave behind what I learn than maybe someday somebody else can pick up the project and does something with it, it's worth exploring.
Owning a restaurant is really cool and working at the corporate level of a business can be awesome, but for me I feel like new product development is a catalyst for me to address really large issues and change the things I care about.
Is there anything you learned about entrepreneurship that surprised you or was different from what you expected?
Yeah, I always thought an entrepreneur looked like Steve Jobs or Elon Musk. You know? They always look like they have an attitude and they're intimidating, but honestly that's not what entrepreneurs are like. Most of them are very humble and have an understanding that we are trying to solve problems, and there's no reason to be pompous or exclusive about it, because when you're exclusive you end up solving fewer problems. Everybody has an asset or something they're really good at that can be applied in entrepreneurship, and when it comes to actually working with customers you need to keep your eyes and ears open and really get to know people. You know it's all about the people in the end, so that's how I like to look at it. And that's a big thing in hospitality too. Putting people first; that's important in NPD too.
Lastly, would you recommend the New Product Development Certificate to other students?
I would definitely recommend it for people interested in entrepreneurship because this is a really cool area to go into. Understanding how things form and how they come to be can help you no matter what field you go into. I do think that seeing a visual of products developing and working in agriculture has given me a deeper understanding of the world, the problems that we face, and how to solve them. These certificates can really help you develop the repertoire of information you can use. For me, I only had to take three or four extra classes but it completely reshaped my experience in school, so do some research and figure out which certificate is best for you and just try it.
---
Horn Entrepreneurship offers seven entrepreneurship-based certificates that can help expand students' knowledge of entrepreneurship, as well as how to apply entrepreneurial thinking to a wide variety of fields.
Each certificate is a collaboration between Horn Entrepreneurship and one of the seven colleges at the University of Delaware. These certificates offer students the opportunity to enhance their creativity, problem-solving abilities, leadership skills, and much more. Current certificate members offer nothing but praise for the program, and many cite this brief introduction to entrepreneurship as a wonderful starting point for any student who may be interested in business or innovation. To learn more about the certificates offered, check out our introductory article.
These certificate programs typically only require students to take nine to ten credits in order to reach completion, and many of the current certificate program members have emphasized how manageable and beneficial the certificate program has been for them. They stress how empowering an entrepreneurial education can be, and note that entrepreneurship has evolved their understanding of their other studies as well.
New Product Development teaches students to look at objects at the most micro-level, all the way down to the smallest fibers. If you're interested in learning about how things are made, how production impacts the environment, or ways to reduce your carbon footprint through environmentally friendly entrepreneurial decisions, then New Product Development has much to offer. You can learn more about the Horn Entrepreneurship certificate for New Product Development on our website.
About Horn Entrepreneurship
Horn Entrepreneurship serves as the creative engine for entrepreneurship education and advancement at the University of Delaware. Currently ranked among the best entrepreneurship programs in the US, Horn Entrepreneurship was built and is actively supported by successful entrepreneurs, empowering aspiring innovators as they pursue new ideas for a better world.