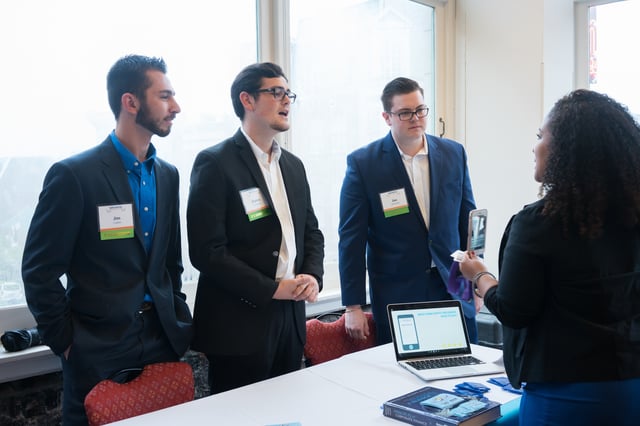 Hen Hatch is University of Delaware's premier startup funding competition for students, alumni, faculty and staff. It provides the opportunity to make connections, collect feedback on ideas and build your passion all while competing for in-kind services and a prize pool of $100,000.
One student's Hen Hatch experience led to greater opportunities of growth. Danilo Vicioso, Economics major with a minor in Entrepreneurial Studies and Founder of Influencia, began his Hen Hatch experience a year before actually submitting to the 2017 competition, according to Vince Di Felice, Assistant Professor of Practice, Manager of Venture Support.
"I taught Danilo in our course, Startup eXperience (ENTR 455). I also worked with him on several startups he launched through our venture support program, VentureOn. In all instances, he stood out. Very few students apply the level of effort he brought to the Startup eXperience course. Each of Danilo's VentureOn startups generated revenue."
Vicioso submitted his latest VentureOn startup, Influencia, to Hen Hatch 2017. His experience went smoothly through the qualifying steps and brought him to the Hen Hatch final round stage in April 2017. On stage he experienced a challenging question and answer session that ultimately led to a third place win in the student track. Danilo shared the same feelings described by alumni, Jacob Jeifa, who placed third in the alumni, faculty and staff track the same night, "If you make it on the main stage, you're a winner regardless. Not many opportunities provide such a platform to develop your skills -- including public speaking, pitching and networking."
Hen Hatch allowed Vicioso a chance to improve Influencia regardless of the outcome. "The biggest outcome of my Hen Hatch experience was the structure and people that aided my concept development through the application, preliminary and semi-final rounds. Having the opportunity to work with Vince [Di Felice] on timelines, concepts, representation, structure and most importantly in developing accountability to your own concept was invaluable."
Di Felice understood the passion Vicioso embodied for his latest startup. Di Felice explains, "I've encountered many successful entrepreneurs. In my opinion, entrepreneurs are passionate problem solvers; problem solvers who understand how to inspire and sell their vision. Successful entrepreneurs do the same, but 'hang on' when others have given up, seek to self-improve when others resign to self-perceived insurmountable personal failings. Successful entrepreneurs are passionate about their mission, but can step back and critically review their work and accept their failings."
Vicioso is now paying it forward. Influencia is currently working with companies such as Universal Music Group. He's also grabbed the attention of Ted Foltyn, Adjunct Faculty and Horn Entrepreneurship Internship Coordinator. Foltyn brought Vicioso's passion into his classroom in the fall 2017 semester.
Foltyn explains, "The experience gained working on Influencia, as well as a previous startup, gave Danilo the idea to inspire other students to take meaningful steps toward directing their own career paths. This inspiration led to Danilo writing a book, Getting in the Door, on the step by step process students should take to kick-start a career. The book resulted in a pilot course titled, Landing Your Dream Internship, which Danilo and I ran last fall and will run again this spring."
Hen Hatch consists of two tracks and three rounds to determine award winners. The preliminary round consists of participants submitting a three to five page written business concept for evaluation on the Hen Hatch website. The deadline to submit is Jan. 22. A live stream for a how-to submit workshop is available for viewing on Facebook. The final round of the Hen Hatch competition takes place at the Queen in Wilmington, Delaware on April 24.
About Horn Entrepreneurship
Horn Entrepreneurship serves as the University of Delaware's creative engine for entrepreneurship education and advancement. Built and actively supported by successful entrepreneurs and thought leaders, Horn Entrepreneurship empowers aspiring innovators and entrepreneurs as they pursue new ideas for a better world.