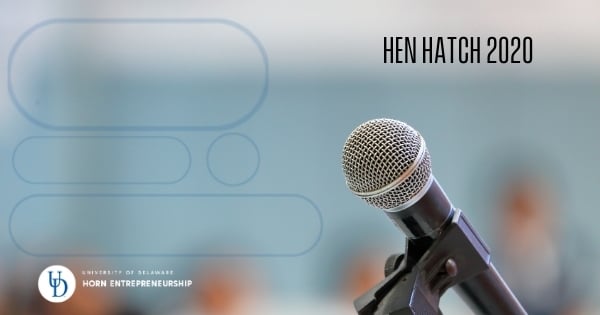 Hen Hatch, Horn Entrepreneurship's premier startup funding competition, will hold its semifinal round on Nov. 5, 2020 to determine which six most promising business concepts will advance to the finals to be held on Dec. 3, 2020. The 20 semifinalist teams have already progressed through one round of judging.
Hen Hatch now consists exclusively of student-led startup teams, and it is divided into two competitive tracks: a Pre-Revenue Track, which features startups that are not yet in a revenue-generating stage, and a Post-Revenue Track, wherein startups qualify by either having generated revenue or having received customer consideration or equity investments.
It should also be noted that changes to Hen Hatch structure and format were planned implementations even prior to Covid-19 complications, in an effort to expand Hen Hatch opportunities within the University of Delaware community of student entrepreneurs. The track that used to run parallel and qualified alumni, faculty and staff has been merged into Startup 302 and will debut at NeoFest 2021, next May.
The current semifinalist teams draw from top student startups from each of several UD co-curricular programs including VentureOn and Pitch Party, as well as several eligible teams that are enrolled in the undergraduate capstone course, Startup eXperience. Earlier this year, Hen Hatch was cancelled as shut down orders were put in place due to Covid-19. Those teams that qualified from the student division are also participating now.
Semifinal presentations will be limited to 7 minutes per team and will also include a Q&A session with judges of up to 5 minutes. Semifinals will take place without an audience. 3 semifinalists from each track will advance to the 2020 Hen Hatch Final Round, which will take place on Dec. 3. Rewards of startup cash and prizes will total $50,000 with additional in-kind gifts.
To see the competition guidelines in full detail, click here.
The semifinal teams are:
ære, Andrew Cercena, BE21 and Nicholas Smith, BE21
ære seeks to reduce inefficiencies in registered investment adviser operations through a standardized security protocol, allowing them to scale and onboard more clients.
Alchemize Fightware, Maya Nazareth, BE20
A women's Mixed Martial Arts gear and apparel company that taps into an under-addressed market. A portion of all proceeds are also donated to trauma recovery and women's self defense initiatives.
Backyard Gig, Suryanuj Gupta, EG23 and Shahroze Ali, EO22
An online platform and two-sided marketplace where students can connect with community members, residents, or small businesses that need tasks, or gigs, completed.
Blue Tusk Biotechnology, John-Carlos Saponara, BE21
Data consultancy for the food processing and handling industry that provides proactive data analytics and is able to find and diagnose productivity bottlenecks before they cause slowdowns or breakage of factory equipment.
CyberSecLabs, Casey Rock, EG20; Dylan Martin, EG20; Jason Reynolds, EG19
CyberSeclabs' mission is to provide hands-on training tools for students and cyber security professionals, while preparing them to combat the cyber threats of today and tomorrow.
Dear Volunteer, Isabella Duarte, AS24
An app for volunteers and charities that provide the utmost convenience by gearing to each individual and group – aiming to compliment their schedules, not rearrange it.
Denney's Delights, Tony Denney, BE23
A candy company that is inclusive of the vegan diet and features sustainable packaging in the belief that candy should be for everyone while simultaneously supporting our planet.
Dobbie Ridez, Jack Dubecq, BE22 and Peter Coker, BE22
A mobile advertising company utilizing company-owned vehicles that are used as alternatives to current ride-share services while employing student drivers.
EQuip, April Singleton, BE21 and Izzy Hughes, AS21
For school administrators who want to engage their students in social justice work but don't have the time, EQuip designs sprints, guidebooks, and social justice incubators to unleash youth-driven change.
Imperium, Susan Varghese, AS21 and Lauren Burkett, BE19
A heart health startup that aims to give the power back to the heart patients that have lost it by creating educational cardiac care packages that loved ones can purchase for patients.
Mental Health Gym, Michael Shumate, AS23
The Mental Health Gym is a game-like platform membership where families and communities can learn about mental health, and social challenges related to mental illness.
Mosaic Classroom, Sophia Angeletakis, HS22
An online classroom conferencing program that integrates peer interactions back to virtual learning. This program will allow for students to have a more personal learning experience even when there are physical barriers.
Nuvensus, Markos Zerefos, BE21, Henry du Pont, BE22 and Mason Faust, BE22
A real estate investment startup that uses a proprietary data interpretation that can outperform commercial real estate investment benchmarks by utilizing various data providers and applying advanced modeling architectures.
OnoBowls Food Truck, Benjamin Quinutolo, AG23
An acai bowl and smoothie startup that prides itself on spreading health throughout New Jersey to people who would not normally have access to health products.
Pickup Sports, Micheal Meola, BE23
Pickup Sports is a youth sports program that looks to improve the sports experience for young children by exposing them to a variety of sports and letting them find what they're interested in.
Potluck, Hope Vega, HS22 and Abu Kamara, AS20
An app that connects international food markets with college students, with a mission of helping students access food and remedy homesickness by providing them with an online delivery platform for ethnic grocers.
Stemmer, Samuel Goetz, EG22 and Julian Wahl, BE23
A website to streamline file sharing between music recording engineers.
UP Cycle Design, Sierra RyanWallick, BE22 and Michelle Yatvitskiy, AS21
A sustainable fashion brand that creates cause-themed patches from upcycled material (preventing fabric and clothes from ending up in landfills), while raising awareness and money for social, environmental, and community issues.
Ultimate Tournament, Alex Picket, EG22 and Dan Goodman, EG21
An Esports betting platform that registered gambling institutions can white-label to offer Esports betting to their customers. Their website features access to live streams for Esports matches, with betting, stats, and chat rooms, as well as upcoming tournament schedules across a wide variety of games and consoles.
About Horn Entrepreneurship
Horn Entrepreneurship serves as the creative engine for entrepreneurship education and advancement at the University of Delaware. Currently ranked among the best entrepreneurship programs in the US, Horn Entrepreneurship was built and is actively supported by successful entrepreneurs, empowering aspiring innovators as they pursue new ideas for a better world.