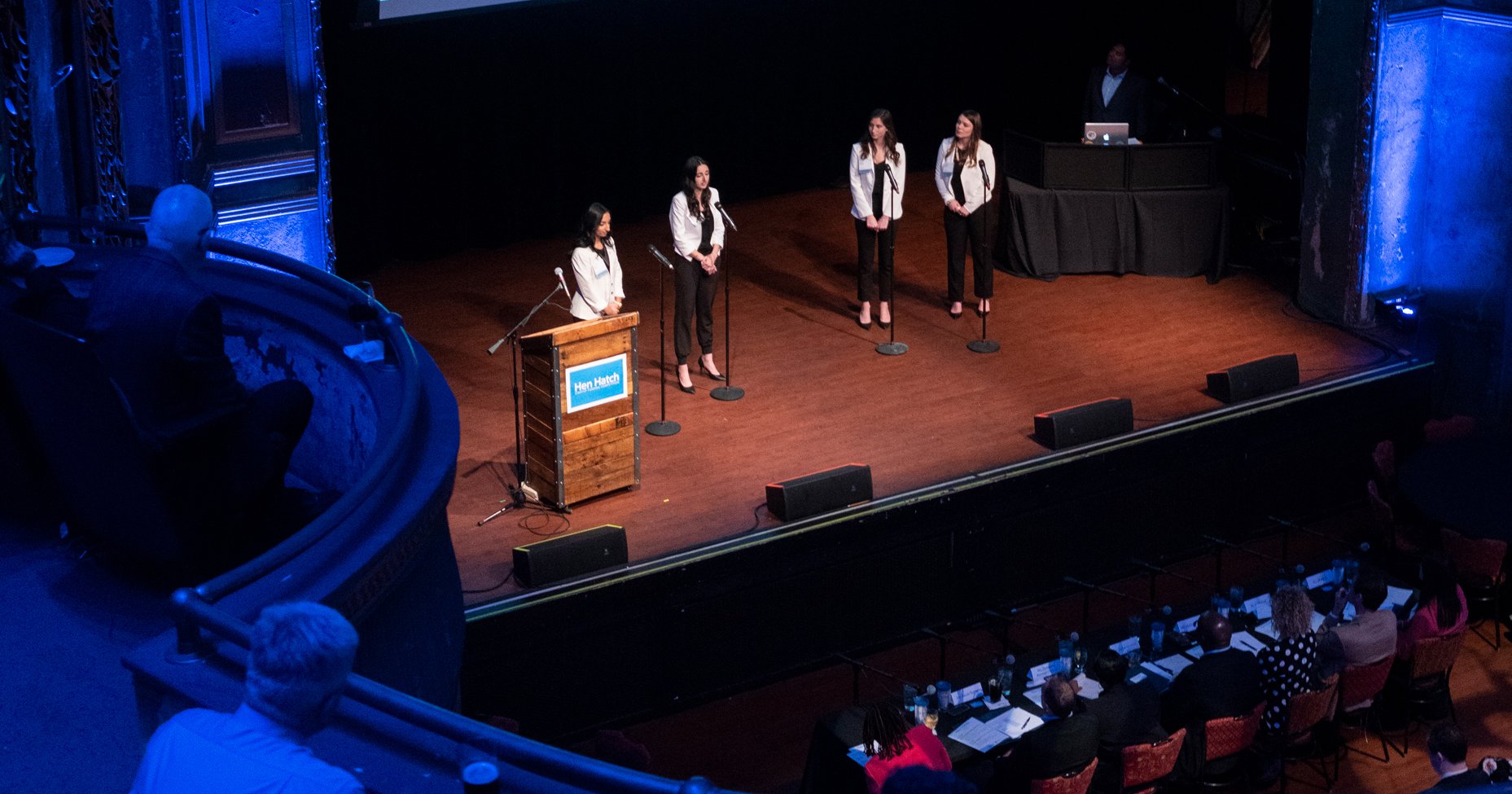 Hen Hatch, University of Delaware Horn Entrepreneurship's premier startup funding competition, returns in spring 2019 to provide students, alumni, faculty and staff an excellent funding opportunity as well as the chance to get in-depth feedback from seasoned entrepreneurs and investors. Outside of being a fantastic platform to pitch your ideas, Hen Hatch provides the amazing chance to explore ideas and passions more fully, something that everyone in the UD community can take advantage of, win, lose or draw!
All it takes is an idea
Hen Hatch winners and participants start no differently, at least according to Vince DiFelice, Manager of Venture Programs, who said: "I think all potential entrepreneurs believe 'Oh I don't have an idea, I don't have a company or any partners. I can't pursue entrepreneurship or apply to Hen Hatch,' but that's not how it works," said Vince. "All it takes to grow and learn something about yourself is an idea, and everyone starts there."
The Horn Entrepreneurship professor co-founded The Reinvestment Fund, a billion dollar social impact fund serving the Delaware Valley community, and Probaris Technologies, an industry leading cybersecurity company. And Vince says his experience starting companies can be shared through participating in something like Hen Hatch.
"Hen Hatch is an open opportunity for everyone within the UD community to experience what I experienced. All you need is an idea and you can compete for funding. Even with no entrepreneurial experience, if you have an idea, submit. You can only grow from engaging in new things."
Grow your idea with insightful feedback
All three rounds of Hen Hatch, preliminary, semi-final, and final, have built-in portions for participants to get feedback on their idea. All participants can get actionable advice to give them a path forward and something to work on for next year.
"Hen Hatch is not just a competition, it is a learning experience," said Vince. "At every level of Hen Hatch you get advising and feedback because we bring in judges and mentors that are experienced entrepreneurs and dedicated to helping others. The feedback they give is powerful not only because it gives an angle on how to improve, but it shows different perspectives and may open you up to even more opportunity."
Explore your interests
Entrepreneurial education is about how the pursuit of a startup – even if the startup never launches – is the key to success and a rewarding career
The experience of Hen Hatch connects participants to mentors and opens doors for opportunities in niche fields. Through exposure to new job and professional environments, participants can better understand what interests them and, arguably more importantly, what doesn't interest them.
"The point is to come here and explore interests, that's what students I work with benefit from most," said Vince. "What I've come to realize in my time as an entrepreneur is that you aren't born with an interest, or a passion or a purpose. You're born an empty vessel and through life experiences, you generate and develop interests, so it's all about getting those life experiences. Entrepreneurship is simply a way to chase those life experiences and Horn offers several different ways to do that, Hen Hatch is just one of my favorites."
Register for Hen Hatch to fund your venture or find your passion! View an archived live stream of the Q&A workshop on Facebook. The deadline for submission is Feb. 15.
Looking for other ways to get involved with Horn Entrepreneurship? Email hornprogram@udel.edu to set up a consultation to see what program offering is best for you!
About Horn Entrepreneurship
Horn Entrepreneurship serves as the University of Delaware's creative engine for entrepreneurship education and advancement. Built and actively supported by successful entrepreneurs and thought leaders, Horn Entrepreneurship empowers aspiring innovators and entrepreneurs as they pursue new ideas for a better world.