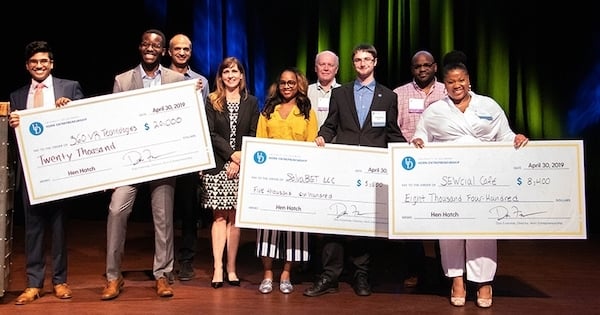 Do you have a unique idea for a potential business and want to get feedback, exposure, and funding to further develop it? If so, Horn Entrepreneurship's Hen Hatch competition could be a perfect opportunity for you! Through the Hen Hatch startup funding competition, UD students are able to share their business concepts with accomplished industry professionals, making connections, gathering feedback and gaining experience all the way through. On top of the value that the feedback and experience offer, the top teams selected by our panel of judges will receive a combined total of over $50,000 in funding and prizes. Start your application today!

WHY NOT? Reasons for Not Signing Up Debunked.
I don't think my business is good enough.
Even if you are concerned that your business concept is not well thought out enough or might not be well received, Hen Hatch can be a great opportunity for you. Our experienced judges, mentors, and advisors will give you constructive feedback that could potentially help you in an assortment of ways, whether your idea has the potential to be successful or not. Failing is not an entrepreneurial word. In fact, some of the most successful Blue Hen founded businesses, like TRiC Robotics and Second Chances Farms, never made it to the final round. All entrepreneurs have setbacks in their careers, but the ones that are able to learn from their obstacles go on to be the highest achieving.
I'm scared of public speaking.
To start, only the top ten business proposals from each track that move on to the semifinal round present pitches to the judges and an audience. The preliminary round consists of a 3-5 page written business concept, which goes to evaluation by seasoned entrepreneurs, investors and business consultants. If you are selected to proceed to the semifinal round, you can speak with confidence knowing your idea has been validated by some of the most experienced entrepreneurs in our community. Not only that, you can form a team with others that compliment you for the competition, such as someone who excels at public presentations. In the end, all the people watching you are only looking to help in any way they can.
I don't think my business is ready.
The Hen Hatch competition is designed to provide the most innovative business concepts with funding, but even if your business is still a work in progress you can greatly benefit from it. Our judges are there to help guide your entrepreneurial journey, no matter what stage you are at.
I don't have time.
While the thought of participating in Hen Hatch may seem intimidating in terms of time commitment, there are easy ways to lessen the strain of the competition. Like we mentioned earlier, you can always work with one or more students and form a team, where the load of the work can be spread evenly. Turning to Horn's resources, you can utilize the support of the VDC to meet with mentors and advisors that can streamline your process.
I'm afraid I'm not creative or entrepreneurial enough.
Forget about whether or not you are creative or entrepreneurial, all you need is a drive to solve problems for the world.Taking the first step is one of the most important parts in the entrepreneurial journey. Making a conscious effort to solve a problem or make life better for people in a way not done before. Innovation doesn't come out of thin air, it is derived from the current needs and wants of society. Start off thinking about what would make your life better or easier, and you might just fall into an idea you never thought you could think up.
About Horn Entrepreneurship
Horn Entrepreneurship serves as the creative engine for entrepreneurship education and advancement at the University of Delaware. Currently ranked among the best entrepreneurship programs in the US, Horn Entrepreneurship was built and is actively supported by successful entrepreneurs, empowering aspiring innovators as they pursue new ideas for a better world.