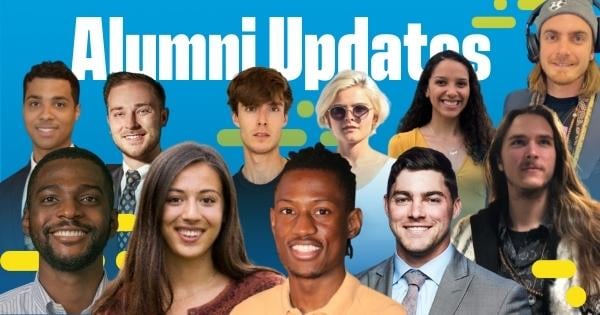 After graduation, university startups can go in many directions. Some founders continue to work solely on their startup, while others come up with new ideas or combine their drive with other startups. One thing that is consistent among university entrepreneurs is their passion to continue to grow and succeed.
Horn Entrepreneurship had the chance to talk with a few alumni, all of which began their startup while attending classes at University of Delaware. Today they bring us up to date on their companies.
Alchemize Fightwear is "fightwear for the fierce female" - clothing made to allow female grapplers to feel more comfortable while training. Founder Maya Nazareth graduated from UD in 2020 with a BA in Economics and a BS in International Business. She started the company when she was training herself and became frustrated with the clothing available for women. She was training Brazilian Jiu Jitsu, which is a grappling martial art very similar to wrestling. Every piece of equipment made for women was bright pink or purple and the clothing made for men did not fit her properly.
Nazareth was previously working at her mentor's organization, but stepped out to pursue Alchemize Fightwear fully. Not only is she working to make clothing that allows women that are training to feel more comfortable, but the company has multiple other initiatives going. Currently, they are working on a compression short specifically for women to train while menstruating. Alchemize also donates a portion of every sale to women's trauma recovery and self defense initiatives and is in the process of creating a recycling program for used gis to be turned into different things that women in the jiu jitsu community can use to represent themselves.
Moving forward the main focus is to scale the business. Alchemize is building up an initiative to offer a free program to women who may never become fighters or may never have access to a gym, but want to learn how to protect and defend themselves. "Giving people these fundamental tools that will change their outlook on life and how they interact with people, I think, is huge," said Nazareth.
AndAgain is a sustainable fashion label that started by upcycling denim and has grown to working with deadstock materials - remnants from larger brands - to provide more sustainable solutions to the industry. Morgan Young, one of the founders, graduated from UD in 2018 with a degree in Fashion/Apparel Design. She believes that Horn and events like Hen Hatch were what allowed the company to grow. Constant feedback from people within the industry who understand the nuances of the bigger picture is what allowed her and co-founder Greg Harder to create "the most sustainable, luxury fashion label in the world."
The company was originally focused in the Newark community, but they repositioned to New York City because they felt that it better fit their company and their targeted audience. Recently, the brand moved from New York to Los Angeles because the founders felt like it was the best move for their personal growth.
The company has been using TikTok, a video-focused social media platform, to promote itself. By sharing a behind-the-scenes look at how they use deadstock and reclaimed fabrics to create zero-waste manufacturing techniques, they are growing in popularity. Not only are they able to show their customers how their products are made, but they are able to educate consumers about sustainability and why it is so important to move towards a zero-waste lifestyle in terms of fashion. "It's helped to connect me with other people, connect me with clients, and just be more open with sharing a process that's not always the prettiest," explains Young.
Although they have moved from just repurposing denim to repurposing scrap textiles, they were still able to repurpose upwards of 500 pairs of jeans. Moving forward, the company is looking to take their innovations and expand them to collaborate with big, luxury brands. "We want to create a movement around zero-waste fashion that can be wearable and can still have a strong message behind it while not losing any of the creativity," said Young.
First Founders Accelerator is a company dedicated to Underrepresented Minority (URM) entrepreneurs and is on a mission to build a more equitable and inclusive startup ecosystem. They organize accelerator programs, host pitch competitions, and have a global community of more than 200 founders working on various companies. Founder Garry Johnson received a BS in Exercise Science and a MS in Entrepreneurship and Design from UD. He came up with the idea when he realized that organizations like Horn, which allow entrepreneurs to flourish within the field, are not widely accessible to those outside of the college community.
Recently, First Founders represented the greater Philadelphia region in a nationwide Resource program where they connected with other leaders of entrepreneur support organizations. The company has grown from one cohort that supported eight entrepreneurs to three cohorts with participants from New York to Miami to San Francisco to Morocco. During the pandemic, they were able to upscale since everything was done online, and their mission is something that resonates globally. "People are always going to be underestimated. You know, and there's always unfortunately going to be discrimination. But entrepreneurs are the ones who persevere and figure it out," said Johnson.
To date, First Founders Accelerator has helped entrepreneurs raise over $300,000 in non-dilutive funding and also partnered with some of the top accelerators in the world. Moving forward, the company hopes to continuously get better at supporting entrepreneurs. Since they are still a startup themselves, it is important to work to scale up their clients while also creating meaningful one-on-one connections.
GetPotluck originally started as a grocery delivery service that delivered ethnic and international grocery items to international students within the UD community but has now moved into the Philadelphia area. To get a handle on the Philadelphia ecosystem, they partnered with a local organization called Urbanity Lush to share ideas and get a culturally immersive experience.
While the pandemic may have hindered some companies, it did the exact opposite for GetPotluck. They were given the opportunity to reach a larger community since people were less willing to go outside and buy their own groceries. Through Horn, GetPotluck founders Abu Kamara and Hope Vega, both UD class of 2020 graduates, were able to participate in First Founders Accelerator and grow even more. Kamara is currently a fellow at Venture for America and Vega recently received her Registered Dietician Nutrition certification. She is also currently a Dornsife Public Health Fellow at Drexel University.
Currently, the company is still looking to expand. "We want to build a community around ethnic and international people, bringing them together and creating more cultural experiences for them to have together," said Vega.
Mettā Creative connects and inspires like-minded individuals to live more sustainably through creative, collaborative, in-person experiences. Currently, they help plan, promote and facilitate a free weekly in-person Art Market at The Phoenix Art Yard in Baltimore, Maryland. Along with that, they are also involved with operations for the non-profit organization The REED Center for Ecosystem Reintegration and just recently partnered with Roots to Sky Sanctuary. There, they host volunteer events to build infrastructure on the land for self-sufficiency and transformational events focused on rebuilding natural ecosystems.
Dylan Nunn and Davis Pfund are alumni of Horn who worked together during their undergraduate careers to create Mettā Creative, and they are both still heavily involved. Currently, the company is working on multiple projects. One is flipping old school buses into "skoolies" which allow people to live off-grid and travel the world while engaging in a more sustainable lifestyle. They are also looking to build a retreat center and international eco neighborhood in Costa Rica.
Ultimately, they are working to simultaneously solve problems of climate change and loneliness. "We want to help make more connections and consistently provide more opportunities and resources for our community members," said Pfund.
Patient Sortal manages the healthcare journey for people leaving prison and sets them up with high-quality healthcare upon release. Founder Kenny Eck received both a Master's degree in Clinical Exercise Physiology and Entrepreneurship and Design from UD. They manage all healthcare data and healthcare coverage for Medicaid, Medicare and private insurance and also set up all initial appointments with high-quality healthcare providers within their community.
Currently, they are streamlined within Arizona, Colorado, Pennsylvania and Texas, but they have plans to grow nationally as they have recently become a venture-backed company. They were accepted into an accelerator program, Sputnik ATX, that is helping to fund the early stages of the company and help Patient Sortal reach its full potential.
The main goal of the company moving forward is to expand their reach in the community and raise a Series A in early 2022. They plan on being the main healthcare system for people leaving the criminal justice system. "You find a need and you work tirelessly, and put a lot of sweat equity into fixing that problem. The ultimate goal is just to make life better for other people - and I've been fortunate enough to do that," said Eck.
Wilminvest believes that everyone deserves access to affordable, safe housing. Their mission is to provide reliable housing and connections to social resources while also giving support to the community. As of October, the company has already helped 54 people find affordable housing across six different locations within the greater Wilmington area.
An idea that started in the Lil Bob gym at UD has grown tremendously and the founders, Joel Amin and Bryce Fender, are hoping to reach 12 locations within the next calendar year. By being part of the Horn community, Wilminvest was able to participate in various events such as Hen Hatch to not only help them raise money, but give them a lot of publicity.
The company was able to create a business model that greatly helped the community and became a viable solution for the housing insecurity crisis in Delaware. "We're at the forefront of redefining what it means to be a socially minded landlord. It's my hope that our work inspires others to pick up the torch, do the same, and invest in people's lives by providing quality housing," said Fender.
Each of these Horn alumni used their education to take their startups to the next level. As Vince DiFelice, senior instructor of entrepreneurship said, "An entrepreneur does not seek to solve the problem right. An entrepreneur seeks to solve the right problem; a problem that leads to a method to make money."
About Horn Entrepreneurship
Horn Entrepreneurship serves as the creative engine for entrepreneurship education and advancement at the University of Delaware. Currently ranked among the best entrepreneurship programs in the US, Horn Entrepreneurship was built and is actively supported by successful entrepreneurs, empowering aspiring innovators as they pursue new ideas for a better world.