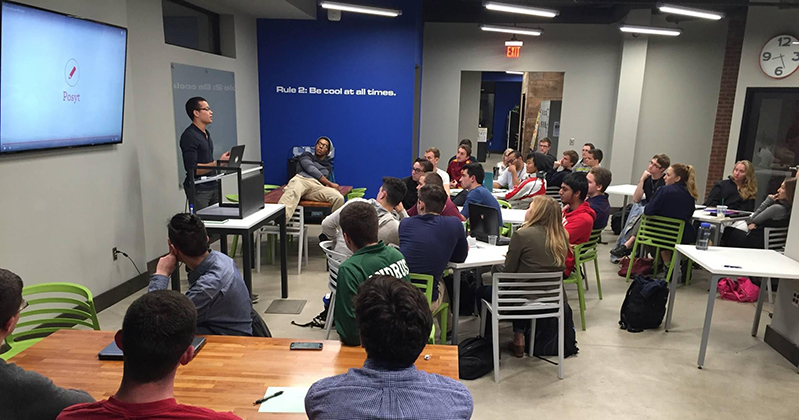 John Smothers, Leadership and Entrepreneurship & Technology Innovation, Alfred Lerner College of Business and Economics, discovered his true passion through the entrepreneurial journey and pivoted away from his business management degree to dive into leadership and entrepreneurship. Now, John is a founding partner at Dimension Ventures, an investment firm eager to create real impact for a better future through investments in highly selective startup ventures. But John's journey wouldn't have been possible without his work ethic and the transformational relationships he was able to form.
"I first came into the University of Delaware as a management major," said John "but I very quickly switched to Leadership with Entrepreneurship & Technology Innovation. I really love finance, especially as it pertains to early stage companies, but I was not a fan of how the management curriculum promoted transactional management styles. The leadership and entrepreneurship curriculum taught me how to build transformational, rather than transactional, business cultures and relationships."
John got his first taste of building transformational relationships through making connections at Horn Entrepreneurship. The young student connected with Mona Parikh, an Adjunct Professor at Horn Entrepreneurship, before interning at The Mill, an up and coming collaborative workspace in Wilmington, Delaware founded by Horn Entrepreneurship friend, Robert Herrera.
"Rob Herrera was just starting The Mill at the time, so through Horn, other students and I had the opportunity to work closely with Rob," said John. "His work ethic was incredible. I got the chance to see someone manifest their idea into reality. Rob showed me what hard work and persistence can do. He would often take time at the end of each day to share what it's really like to build a business from the ground up. He'd go over the ups and the downs of the day. It was an inspiring experience."
The positive experience at The Mill dovetailed into John getting more involved in the academic side of Horn Entrepreneurship. The newly minted Entrepreneurship & Technology Innovation student enrolled in a startup finance course with Peter Danby, real estate finance with Rick Lynch, as well as in entrepreneurial leadership with Tony Wedo. "Peter, Rick and Tony's classes were all pivotal for me. All three of them are domain experts in their field and took the time to mentor me outside of the classroom. It's instructors like them, entrepreneurs who have lived what they're teaching, that make learning easy."
"Through the Horn Entrepreneurship courses, I was able to build a large knowledge base on how to finance early-stage businesses," said John. "My brother, who is an entrepreneur in New York, was working on obtaining funding for Spacious, a startup that repurposes empty commercial space for collaborative working space. Through watching my brother, I got the second-hand experience of what it actually takes to raise venture capital."
After getting a taste of the venture capital scene, John couldn't wait to get more involved. The young entrepreneur started sending out cold call emails to internships and part-time jobs in the venture space. Soon enough, Phil Nadel, founder of Forefront Venture Partners, responded and John began working for Forefront as a Venture Scout.
"I would send Phil preliminary due diligence on potential deals," said John. "Then he would determine if it was worth presenting to his syndicate. I had to reach out to founders and understand the intricacies of different markets. It was a hugely beneficial experience; I started to get a feel of what Phil was looking for in an investment but I also learned more about what it takes to get involved in the venture scene."
With his improved venture resume, John was eager to take the next step into venture capital. In the summer of 2018, John worked as a Summer Analyst at Array Ventures, dove into the Silicon Valley scene and started searching for permanent opportunities in the venture capital space.
"I started applying for jobs but had a real epiphany in an interview with Kapor Capital, a firm run by some of the most successful and thoughtful early-stage tech investors. At some point in venture capital it can become just about the money, but what I loved about Kapor was their mission. Their desire to have every investment have real potential to produce both significant financial returns and large-scale social impact resonated deeply with me. After receiving an offer, I called my brother Chris before making a decision. Though the people, mission and values all aligned with my personal ethos, I decided to strike out and take the risk to start Dimension Ventures, which wouldn't have been possible without the support from my family and Horn Entrepreneurship."
The risk has paid off, and Dimension Ventures has already lent their support to some exciting up and coming startups. The venture firm focuses on seed stage and pre-seed stage ventures and includes three other partners along with John and his brother, Chris, with the goal of being an entrepreneur's first institutional partner.
"Our focus right now is to get other investors engaged besides just our firm," said John. "We think through the Gen Z lens, the generation of 1995 - 2010. Many are entering the workforce while many still are very much kids and teenagers. And as consumers, the data is showing that Gen Z makes their buying decisions very differently; Gen Z values like sustainability and ethical consumption drive buying behavior; this generation deeply cares where products are being sourced from and how to consume more sustainably."
By combining his love of venture capital with the new consumer patterns of Gen Z, John has been able to capitalize on his goal of delivering socially impactful venture capital. Now, John spends his time on the west coast searching for the next startup to add to the young firm's portfolio. One of their recent investments, Brew, a podcasting app that helps creators monetize and engage with their audience, just finished going through Y Combinator, the startup accelerator whose alumni include Airbnb, Stripe, Dropbox and more. John led Dimension's investment in Brew before their Y Combinator acceptance.
"I can't say enough about the people at Horn Entrepreneurship who not only helped me navigate through to the founding of Dimension Ventures but also helped me find my interest and what I excel at. Vince [DiFelice, Senior Instructor of Practice and Faculty Director of Venture Support,] was there supporting me whether I was struggling or making progress, and having somebody to support me and root for what I'm most interested in is something very rare in higher education."
Besides making meaningful connections for impactful relationships, John believes students can do more in their time on campus to create something truly powerful for themselves.
"Don't overlook who you're around and who you're spending time with," said John. "Take advantage of who you have access to and who you can learn from. If you're heads down and just getting through the coursework, you miss out on the experiential learning that your time in college can provide."
To find out how Horn Entrepreneurship can help you start your entrepreneurial journey today, email hornprogram@udel.edu to set up a consultation appointment.
About Horn Entrepreneurship
Horn Entrepreneurship serves as the University of Delaware's creative engine for entrepreneurship education and advancement. Built and actively supported by successful entrepreneurs and thought leaders, Horn Entrepreneurship empowers aspiring innovators and entrepreneurs as they pursue new ideas for a better world.