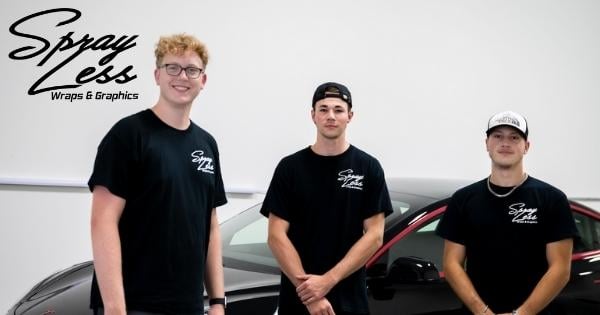 David Breyla and Noah Lux have been in the vinyl car wrapping industry for years. Working for University of Delaware alumni Greg Star and Mac Macleod at Carvertise since late high school, the pair gained unparalleled experience overseeing vinyl installations at the nation's largest rideshare advertising company. They also spent time at several other vinyl wrapping businesses over the years, combining for over 12 years of hands-work. With a mass of experience behind them, Breyla and Lux saw a gap in the market where they could fill a need no one else could.
While Carvertise has managed to develop into a huge, dominant company in the industry, they mainly coordinate with larger businesses and outsource the actual wrapping process to outside vendors. Carvertise's strategy left room for Breyla and Lux to develop a venture of their own in the personal and fleet vinyl wrapping industry, one that supplements the advertising titan instead of encroaching on its business. While the duo was primed with plenty of hands-on experience to launch their own venture in the vinyl wrapping industry, they lacked the business acumen to build a market and maintain the back end of their startup. Realizing they needed to recruit a business-minded individual, Breyla turned to friend and fellow Alpha Kappa Psi member John Mouser, an entrepreneurship major with previous experience starting his own business and observing other successful entrepreneurs. And with that, the Spray Less LLC founding team was complete.
The co-founders then made the decision for Mouser to participate in Horn Entrepreneurship's Summer Founder's program at an early stage, almost a month prior to their launch date. During the experience, Mouser worked to take advantage of mentoring and networking opportunities essential for growth, while Lux and Breyla continued to do vinyl installations for various other wrapping companies to nourish the relationships they already had and to build capital.
"I had 40 dedicated hours a week at the very least to work on the startup. We received a lot of different connections through Summer Founders, including what are now some of our largest fleet clients," said Mouser of his time in the program. "It was so helpful talking with advisors, meeting with Vince, and bouncing-off ideas with the other founders. Even though the other founders were in different industries, it was still nice to hear their thoughts and relate on challenges that we were all facing at the same time."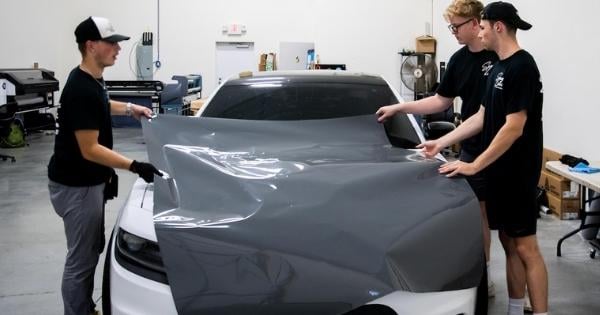 In July of 2021 the startup officially launched, and not long after that they found a garage that became their shop. Located just a few miles from the UD campus, their outfitted 2,000 sq. foot facility features cutting-edge vinyl wrapping technology unparalleled by the few competitors nearby. The Spray Less team has made full use of the space in the few months they have been operating, servicing over 150 businesses and wrapping around 100 cars, plus wall murals and signs. Their jobs so far have included wrapping vehicle fleets for big businesses like Amazon and 2018 Hen Hatch winner and Summer Founders graduate D150 Fueling, walls and signs for many local businesses, and personal vehicles for various individuals like former Philadelphia Eagles running back and Delaware native, Wendell Smallwood. Their work has been met with an abundance of praise, with Mouser accounting their success to an emphasis on customer satisfaction.
"The way we differentiate ourselves is through customer service, communication with the customers, quick turnaround, and consistency. Those are our top four priorities, and we've had some great reviews from focusing on that."
Social Impact Work and Plans for The Future
Spray Less has been able to help out with some great social causes as well since launching. A project the team really took pride in came back in September, when Martin & Co. Creative owner Damon Martin connected the team with the Down Syndrome Association of Delaware, who just opened a location on Kirkwood Highway. They were able to collaborate with another company and transform the place by installing banners, window decals and wall graphics featuring the organization's members and mission statement. They also donated a banner for the 2nd annual Elise Midili Breast Cancer Battle & Brewery 5K, a run to raise awareness and funds for the Delaware Breast Cancer Coalition held by Midnight Oil. The Spray Less co-founders greatly appreciated the opportunity to help out such commendable causes, and hope to be able to work with more charitable groups in the future.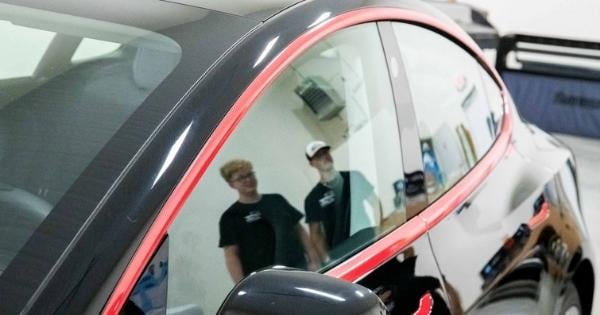 As Spray Less continues to grow, the three entrepreneurs have made adjustments in their lives to adapt to their new work environment. Faced with transitioning from close friends to co-founders, they've had to navigate through some unique challenges. Balancing work, school, and life as they work 50 to 90 hours a week comes with a certain level of difficulty.
"It's kind of hard sometimes to not get off track and stay focused when you're in a shop with two of your best friends," Breyla said about the trio's time spent working. "I'm being honest, it hasn't really felt like we've even been working when I'm looking forward to going into work on Monday, which I never thought I'd be saying."
As for the future, Spray Less LLC has a lot more coming. They have a ton of projects in store for the coming year and plan on building on what they started in this first year. Check them out at https://www.spraylesswraps.com/ .
About Horn Entrepreneurship
Horn Entrepreneurship serves as the creative engine for entrepreneurship education and advancement at the University of Delaware. Currently ranked among the best entrepreneurship programs in the US, Horn Entrepreneurship was built and is actively supported by successful entrepreneurs, empowering aspiring innovators as they pursue new ideas for a better world.