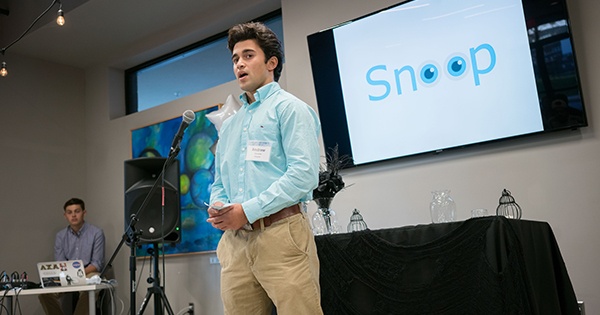 Snoop, an ambitious new tech student team in University of Delaware Horn Entrepreneurship VentureOn program, is led by freshman Entrepreneurship & Technology Innovation major Andrew Cercena. The Delaware native graduated from Tower Hill and has used his own experience transitioning from high school to college to inspire entrepreneurial creativity.

"My own experience applying to colleges has definitely colored my perception of the process," said Cercena with a smile. "Being short on time for travel like I was, really blocks out the ability to actually see colleges. I realized almost straight away that it was a problem that needed attention and Snoop is my attempt at the solution. The app aligns prospective students with school ambassadors based on interests and then allows the prospective student to set up a video chat call with the ambassador," explained Cercena. "Ambassadors can provide a tailored level of service even while the prospective students are remote."
The venture is still in its early stages but progress has already been made. The VentureOn program provides 24/7 access to the Horn Entrepreneurship Venture Development Center and Cercena has been spending free time in between classes working on the project. "My business model canvas is complete and I have started to do some early-stage customer discovery to bring a fine tuned edge to it. I am aiming for about 200 customer interviews by the end of the semester."
This fine tuned edge includes incorporating and developing tech that presents a new series of challenges and hurdles. However, utilizing existing resources and platforms has already occurred to Cercena. The ambitious founder is set on developing his own tech. "I want to develop our own proprietary tech to be in full control of what we can offer users. I want to make the experience highly customizable to increase the value of usage and really make it a meaningful way for students to experience college tours or information sessions."
"There are so many critical decisions to be made that will influence the way Snoop will fare; but by being surrounded by the awesome community of Horn and with the connections to so many successful entrepreneurs, I hope to best prepare myself to navigate the growth and progress."
About Horn Entrepreneurship
Horn Entrepreneurship serves as the University of Delaware's creative engine for entrepreneurship education and advancement. Built and actively supported by successful entrepreneurs and thought leaders, Horn Entrepreneurship empowers aspiring innovators and entrepreneurs as they pursue new ideas for a better world.