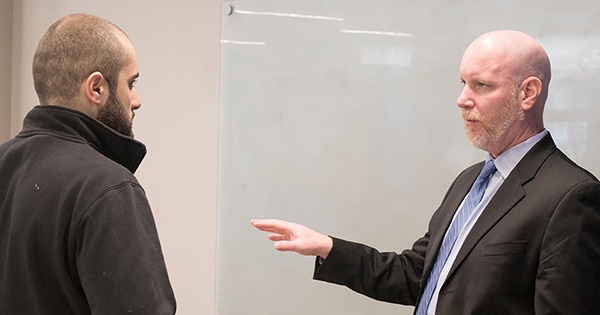 Horn Entrepreneurship launched a new program this fall that provides free legal advisement for student entrepreneurs every other week of the fall 2017 semester in the Venture Development Center.
Each session an attorney from local law firms including Morgan Lewis, Pepper Hamilton and Young Conaway Stargatt & Taylor, will be available to answer any legal questions one may have about starting or growing a business.
"No question is too small," said Christina Pellicane, director of commercialization programs at the Horn Entrepreneurship. "Whether you're wondering how to write up a founder's agreement, or what your patentability is, or what your freedom to operate is, this program will give you a clearer sense of how to move forward with your startup."
Attorneys available for advisement are experts in a range of topics including intellectual property, patent licensing, deal negotiations and many more. What is unique about this new program is that the advisement is not limited to one meeting or one attorney.
"They're bringing the whole firm to you, it's not just one person. If [the attorney in residence] can't provide you with the answers that you're looking for, they'll direct you to someone within their firm who can."
Any University of Delaware innovator or entrepreneur, regardless of their major or concentration, is able to reserve half hour time slots with the attorneys in office by visiting http://horn.udel.edu/wednesday-sessions.
About the Horn Entrepreneurship
The Horn Entrepreneurship ignites imaginations and empowers world changers through educational offerings that emphasize experiential learning, evidence-based entrepreneurship and active engagement with entrepreneurs and other members of the broader entrepreneurial ecosystem. Through participation in Horn offerings, students gain the knowledge, skills, personal capacities, experiences, connections and access to resources needed to successfully manifest innovation and thrive in the rapidly changing world.