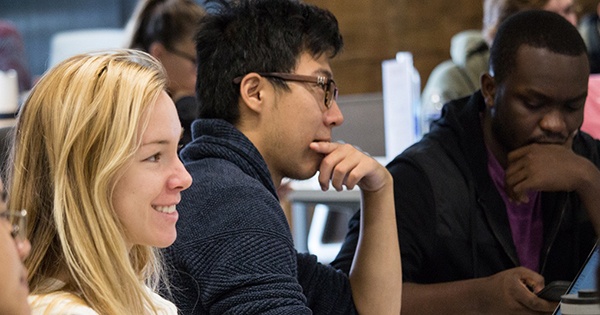 This year's Workshop Wednesday series will be held every Wednesday of the fall 2017 semester at 12:30 p.m. in the Venture Development Center.
"Workshop Wednesday is an opportunity for anyone from University of Delaware or the broader community in Delaware to learn about a really specific topic, in a deep dive kind of way, in an hour," said Christina Pellicane, director of commercialization programs at the Horn Entrepreneurship.
From stress management to LinkedIn tips and tricks, the topics included in this semester's instructional series are applicable to a broad audience. The weekly speaker series is open to all University of Delaware students, regardless of major or academic background, as well as the general public.
"It's not necessarily only for people who are doing startup work now," said Pellicane. "It's for anyone who might be interested in potentially ever being an innovator within a company or an entrepreneur of their own right."
Workshop Wednesday not only allows for attendees to learn about interesting and useful topics, such as building a website or developing minimum viable products, but it also presents an opportunity to network with peers, community members and leaders in entrepreneurship who represent organizations including Microsoft and NextFab.
Attendees are able to sign up for 15-minute, one-on-one meetings with that week's speaker between 1:30 p.m. and 3 p.m. directly following the event. To see the full, fall 2017 schedule, and to sign up for one-on-one meetings visit http://horn.udel.edu/wednesday-sessions.
About Horn Entrepreneurship
The Horn Entrepreneurship ignites imaginations and empowers world changers through educational offerings that emphasize experiential learning, evidence-based entrepreneurship and active engagement with entrepreneurs and other members of the broader entrepreneurial ecosystem. Through participation in Horn offerings, students gain the knowledge, skills, personal capacities, experiences, connections and access to resources needed to successfully manifest innovation and thrive in the rapidly changing world.