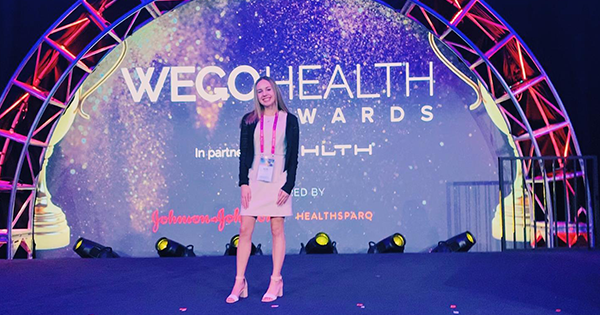 Editor's Note: Alexa's mission started before COVID-19 but she has since continued to work hard as the majority of people in her community suffer with chronic pain and underlying health issues. Keep reading to hear about what Fight Like A Warrior is all about.
This story of entrepreneurship is unique in that the entrepreneur's passion grew out of her personal circumstance and care for others.
Alexa Chronister, founder of Fight Like A Warrior, created a non-profit organization starting from her dorm room freshman year here at the University of Delaware. Her goal was to build a community of people that could rely on each other. Alexa created the organization to spread awareness and create support for the many people living with chronic illnesses every day.
Both sisters of Pi Beta Phi, Alexa and I have been friends since freshman year, but I myself didn't know that she was running this business. Scrolling through LinkedIn on a random weekday earlier this year, I saw a post of hers about an award she had won, and my first reaction was, why is no one talking about this????? And yes, I had that many question marks go off in my head. After talking with Alexa, she shared that through Instagram and word-of-mouth marketing over two years, she began to gain traction. She now has over 20,000 Instagram followers and counting.
How It's Done
Entrepreneurs leverage their passions to break the status quo. Success in doing so is truly admirable and inspiring for many others. We all want to find value in our daily pursuits. For Alexa, public policy major and social entrepreneurship minor, BA '20, a lasting desire to help others suffering paired with social entrepreneurship classes led to what she now calls Fight Like A Warrior. Alexa started this organization as a way to pursue her passion for health policy, paired with her personal experiences with chronic illness.
Fight Like A Warrior branched out of Cards For Warriors, which Alexa started in 2016. Alexa created an online community that would send handmade cards to anyone battling an underlying health condition to push them to keep fighting. But she wasn't just looking for a handful of students to write "get well soon" on cards to anonymously send out. Instead, her purpose was to inspire positivity and a sense of community by finding volunteers that were patient advocates as well. They would write to loved ones and friends of loved ones, and nominate others that they wanted to get involved. Alexa says her main channel of awareness is through Instagram, where patients share pictures of cards they receive in the mail.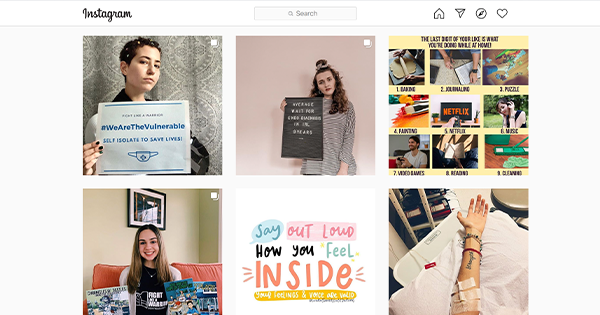 This once small group turned into a much bigger network, and funneled into what is now Fight Like A Warrior. Alexa notes that they have sent out over 1,000 cards. "After seeing the impact we were making and how positively it was being received, we wanted to continue to grow it," Alexa said. Doing so, she took on the role of patient leader, and was able to lead her community of volunteers into continuing output.
In her first year of college, Alexa was diagnosed with two chronic illnesses herself. Because of this, she felt compelled to do something to help others. Humble, quiet, and informed while bright, compassionate, and purposeful, Alexa doesn't allow these illnesses to slow her down. She understands how quickly lifestyles can change, which fuels her outlook on the problem.
Alexa's Fight
Alexa suffers from Ehlers-Danlos syndrome, commonly called EDS. She has type 3, known as Hypermobile EDS. Although being the most common type, it doesn't lessen the pain that she experiences everyday. This causes hypermobility in joints and organs, by defects of connective tissue. Patients suffer with chronic pain in their joints, which leads to various other health issues. As a result, she was diagnosed with Postural Orthostatic Tachycardia Syndrome, called POTS. Essentially, this is a condition that affects parts of the nervous system, and bodily functions that we don't typically think about. Issues concerning breathing, digestion, and other functions occur together.
The problem to be solved is the lack of research that has been done on the condition. Being that every symptom is different, a patient like Alexa has to go to several different doctors to manage her pain. Physical therapy sessions are what help her most with pain. The stress of treatment and impact on her lifestyle is what inspired Alexa to raise awareness on these conditions. The goal she has with Fight Like a Warrior is for people to understand the fight, and to unite on a topic that isn't getting enough attention.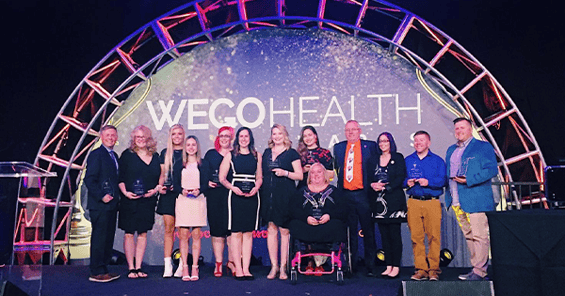 WEGO Health Conference
Fast forward to her senior year of college, Alexa and her team accepted the award for 2019 WEGO Health Best in Show: Community Award at the WEGO Health Conference in Las Vegas, Nevada. Held in October, the conference united a community of professionals and patient leaders working to solve problems in healthcare. Alexa and her team accepted the award on stage in front of hundreds of supporters and patient leaders, which was a milestone as it gave them an open platform to speak. "This was a big step for the pharmaceutical industry and positions big players in the space to listen to the patient voice, and value what they have to say," she says. The award encompassed the recognition for the community Alexa and her team created, and how they came together to raise awareness for chronic pain and illness.
Additionally, conference winners are put on a patient advisory panel to elevate patient voice. This past year, there were over 130,000 votes and endorsements collected for the multitude of nominations. When reflecting on the experience, Alexa says, "the other leaders are incredible, and represent advocacy for people from across the country."
Social Entrepreneurship for the Win
Alexa took Professor Stephanie Raible's ENTR 420 Social Entrepreneurship and ENTR 464 Social Entrepreneurship Practicum classes over the 2018-19 academic year, which greatly helped her to find purpose in her passion. The ENTR 464 course was the capstone course for her social entrepreneurship minor, which resonated with her because of the design of the class. The focus of the course is do a semester-long, 50-hour project in the area of social entrepreneurship, which for Alexa, helped her focus on her venture. One thing she really enjoyed about the class was the unique nature of being able to exchange ideas and help classmates focus on their team's goals. Her class had just eight students, which made room for active conversation and feedback. To her, it was an outlet for impact. "It was a good opportunity to be in school and still work on something I already was pursuing," Alexa said.
From talking to Professor Raible, I gathered that the class is designed to study how people are connecting and making change. She wants students to find what other social entrepreneurs are doing and to actively pursue what sticks in their own ventures. Students find how they can scale their ventures to be feasible in the real world. The class also focuses on responsible leadership and ethical practice, which both help students to align their efforts with serving the greater good.
Professor Raible has nothing but wonderful things to say about Alexa and her mission. Recalling her class from last year, she says that Alexa took hold of the opportunities given to her, while finding the space to put her unique, personal stamp on her work. Prof. Raible designed her course to be flexible and reflect the busy schedules of her students, blending small group discussion sessions, hands-on work, guest speakers, and thought-provoking content. She explained, "The work that Alexa did while in the practicum class reflects what a dedicated student can achieve through the course. More importantly, the course helped her continue to grow and thrive as a person and professional, and that's the biggest 'win' we can have."
Coming into college, Alexa was interested in the opportunities of social entrepreneurship in the real world. Being connected to the Horn Entrepreneurship Program, she says this has ingrained how social entrepreneurship can be used in a non-profit business model. "I didn't know a place existed where I could solve social problems through entrepreneurship," she continued.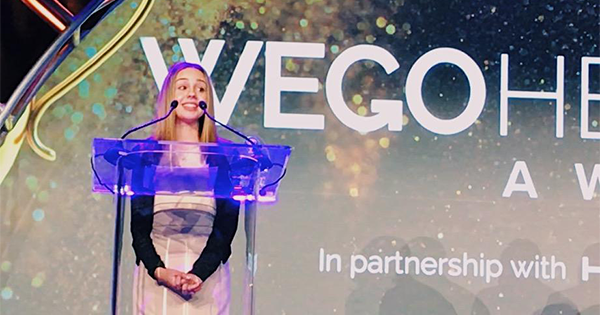 So what is next for Alexa?
Alexa's mission is important everyday, but especially in times like these where there are everyday uncertainties dealing with COVID-19. Everyone knows they need to be staying home to protect themselves, their families, and the people around us. These are practices that people suffering with chronic pain and illness have to take into account everyday.
She is passionate about her non-profit business and it's potential, and hopes to continue now as a graduate. She has since started a podcast on Spotify, and is working to find new partnerships, and grow the team of patient leaders and ambassadors. They hope to bring more awareness into new spaces. But with the momentum and speed that Alexa and her team are moving at, the opportunities are endless.
Since graduating early this past winter, Alexa has recently accepted a job in Washington, D.C. working in health policy. The conference that Alexa attended exposed her to new connections with organizations and individuals doing great work in this space which led to her current role. WEGO Health conference, which shows how being entrepreneurial can put you in the right place at the right time. She hopes to attend law school in the next year as well. This is only just a small glimpse into Alexa's story, and those stories that make up hers. We urge you to find out more and join the movement proving that #sickfightsback.
Entrepreneurship is about opportunities. When you follow what you love to do, and fully invest yourself into it, new things will come along that you never would've found before.
About Horn Entrepreneurship
Horn Entrepreneurship serves as the creative engine for entrepreneurship education and advancement at the University of Delaware. Currently ranked among the best entrepreneurship programs in the US, Horn Entrepreneurship was built and is actively supported by successful entrepreneurs, empowering aspiring innovators as they pursue new ideas for a better world.