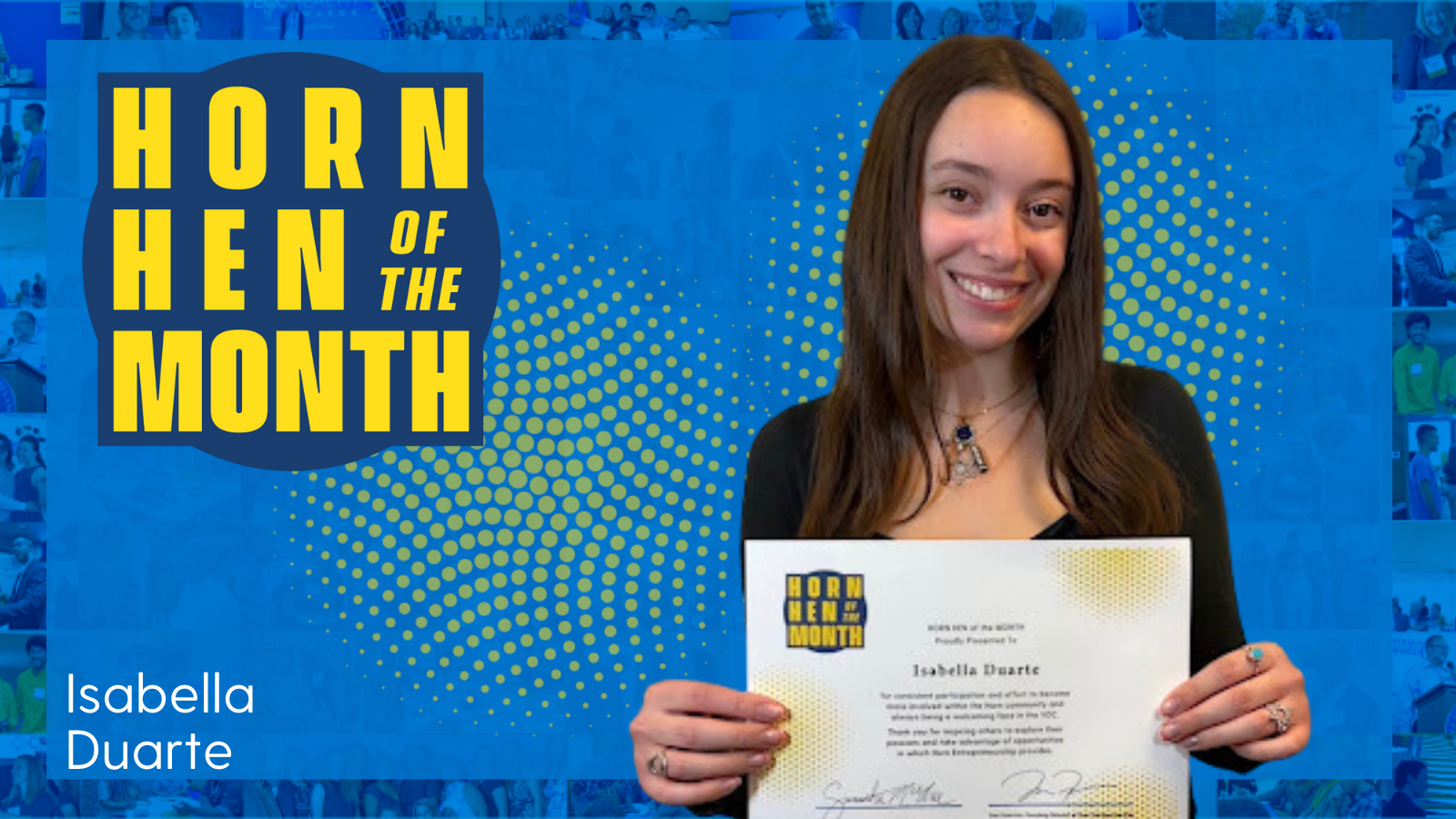 The Horn Hen of the month article series is a new series dedicated to highlighting Horn students that are inspiring others and impacting their community. One nominated Horn student will be chosen each month and a written feature will document their hard work and progress as they go through their time at Horn, within our community and beyond. The winning student will also receive a gift card and a Horn Hen of the Month certificate.
To nominate a student, fill out this Google form. Any student involved with Horn Entrepreneurship is eligible to be nominated.
For the month of February, Isabella Duarte has won the Horn Hen of the Month award. She is a Junior Entrepreneurship major with minors in Social Entrepreneurship and Jewish studies with Hebrew. Isabella is from Huntingdon Valley, PA, a small town where she built a name for herself in the community through constant volunteering and fundraising efforts. Now that she is in college, she is even more passionate about the nonprofit and social entrepreneurship space. Having recognized her peers' struggles to find volunteering opportunities and charities' lack of volunteers, Isabella founded Dear Volunteer, a platform and community where volunteers find their calling and charities find their people. The startup combines her passion for innovation and entrepreneurship with her love of volunteering and helping others, using them to foster more impact for more people.
The University of Delaware has had a large impact on her entrepreneurial experience. Isabella quotes, "Becoming a part of the Horn community has changed my life… this program is one of a kind and truly a community that is able to help students reach their highest potential as entrepreneurs, students and people.'' Throughout her time at Horn, Isabella has been Entrepreneurship Club President, a Horn Ambassador, a member of VentureOn and VDC Community Sessions, took part in Hen Hatch, and was a Diamond Challenge Judge. Immediately upon learning about Horn Entrepreneurship, she decided to apply to UD; she attributes her success and involvement to the faculty, staff and students within the Horn community.
One word that she uses to describe the Horn Community is welcoming. As soon as students walk in the door at the VDC (132 E. Delaware Ave), there is always someone there to greet you and introduce themselves. The Horn Entrepreneurship community welcomes everyone with open arms and helps you find people with similar interests who will push you forward on your goals and aspirations. With Horn's support, you will become more innovative, improve your networking skills, and expand your entrepreneurial mindset.
Asked if there was one piece of advice she could give to next year's incoming freshman, Isabella responded, "Take advantage of everything the Horn program has to offer. Walk in the doors of the VDC, talk to anyone you see, find things you have in common, go to various activities and workshops. It will change your life forever".
About Horn Entrepreneurship
Horn Entrepreneurship serves as the creative engine for entrepreneurship education and advancement at the University of Delaware. Currently ranked among the best entrepreneurship programs in the US, Horn Entrepreneurship was built and is actively supported by successful entrepreneurs, empowering aspiring innovators as they pursue new ideas for a better world.