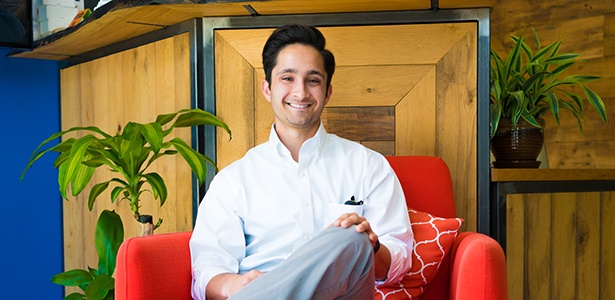 Matt Phifer found his way into entrepreneurship on a whim. The exercise science student was introduced to Horn Entrepreneurship through a seemingly trivial conversation with a friend that ended up being critical to Matt's future development.
"I was introduced to Horn Entrepreneurship through a friend who described a place where people were trying to build something cool in their free time."
The atmosphere and community Matt found at the Venture Development Center, the collaborative workspace for Horn, immediately inspired him to spend more time in the building. He soon found that he couldn't keep himself away.
"As soon as I stepped in here, I fell in love with the place," said Matt with a laugh. "The constant movement and problem solving; people are in here everyday not because of a school project, but because they are motivated to make something special."
Matt slowly proved himself to Horn Entrepreneurship staff through his dedication to work. ("Day after day in the VDC turned into night after night.") Vince DiFelice, Assistant Professor of Practice, extended Matt, and his startup partner Peter Fomin, Lerner College of Business and Economics, Class of 2019, the opportunity to participate in Summer Founders 2017, the signature pre-accelerator program of Horn Entrepreneurship.
"I worked like I had a chip on my shoulder," said Matt as he described his experience. "I was trying to show everyone that even though I hadn't taken entrepreneurship classes or been around the VDC for long I was ready to work. I wanted to get as much out of this program as all the students before me."
The first few weeks of the program had a profound effect on Matt's outlook.
"Slowly, after developing connections and relationships with the mentors and students involved, your mindset and thought process changes," said Matt. "Instead of looking at things at face value, you look at them and ask, 'How can I make that better?'"
Matt spent the rest of the Summer Founders program accruing business knowledge and tips that focused on operations, management decisions and presentation skills. The conclusion of the program signaled the time for Matt to find a full-time job. But rather than follow a conventional path to employment, Matt utilized his entrepreneurial outlook and dedication to problem solving to create his own unique opportunity.
"I already had a job as an aide to physical therapists at Performance Physical Therapy and Fitness. I walked into the Fitness Center one day and it was just empty, there weren't any patients receiving treatment, there weren't any members working out. I noticed there wasn't a driving force behind the Fitness Center, there was no marketing behind that part of the business, and there was also no one actively trying to optimize the space. So I looked at the situation through the lens I developed at Summer Founders and asked myself, 'How can I improve the Fitness Center, this whole part of a company that isn't really being addressed? How can I make this better?'"
Matt's inquisitive attitude and motivation to improve his surroundings at work resulted in another meaningful conversation that created opportunity. The young entrepreneur was able to approach his supervisor and present his ideas for a rejuvenated Fitness Center, with a full marketing plan and customer validation to strengthen his proposal.
"I pitched my plan to a room full of department heads and executives but I felt so comfortable because of the Summer Founders experience. Four months before this pitch I would have never even thought of the idea, and I would have just done my job for the day and left. The company had never had anyone run the Fitness Center, but after pitching my idea they decided it might be time to have someone. I was able to fill a position that never existed and right now we are up 44% in revenue from the Fitness Center."
The exercise science major turned entrepreneur was able to create his own opportunity and success by looking at situations through an entrepreneurial lens and by asking himself how he could improve his surroundings. Matt continues to apply his new perspective and is currently developing new ideas to further improve the performance of the Fitness Center.
Horn Entrepreneurship Success Stories
As the world continues to evolve, the value of an entrepreneurial skill set only rises. The Success Stories series showcases the alumni from Horn Entrepreneurship creating opportunity and impact as they blaze their own trails following their time with the University of Delaware.