Horn Entrepreneurship's EntreX Lab dual enrollment program equips students to thrive amidst rapid change by cultivating agile thinking and developing their creative problem-solving skillsets.
On December 19, student teams from Saint John Vianney and ASPIRA Academy gathered on Zoom to participate in an EntreX NASA Innovation Sprint. Equipped with documents describing a handful of innovative technologies from NASA, several teams brainstormed potential applications for the tech to solve problems in their local communities and contexts. The event brought out lots of creative ideas for applications of the tech, and inspired some young entrepreneurs along the way.
The teams were given a detailed description of three different NASA innovations: a Micro Scale Electro Hydrodynamic (EHD) Modular Cartridge Pump, a non-mechanical pump that uses an electric field to move liquids in a loop in order to provide cooling for computers, cars, planes and rockets; AeroPod, a device that flies with and stabilizes weather instruments attached to balloons, planes, and blimps; and the Miniaturized High-Speed Modulated X-Ray Source (MXS), a small, portable version of an X-Ray machine.
Experienced representatives from NASA and W.L. Gore & Associates helped guide the innovation sprint and assess the team's ideas. A huge thank you to our amazing panel of judges:
Samantha Kilgore, Technology Liaison Specialist at NASA Goddard Space Flight Center
Erin Majerowicz, Marketing Lead at NASA Goddard Space Flight Center
David Liss, Global Business Leader at W.L. Gore & Associates
To kick the event off, NASA representatives shared about how the tech transfer office works and how companies license NASA technologies to create spin-offs and set up new ventures. They then briefly discussed each technology and answered questions before the students split into teams and moved into a 60-minute brainstorming session. The teams reconvened and groups from each school had the opportunity to present their most impactful ideas for the use of the technology followed by questions from the judges.
After careful consideration and deliberation, the judges named Team Moon the winner, which was comprised of Saint John Vianney students Christina Stafyleras, Matt Recco, and Emily Krichevsky. Team Moon's idea centered around using the Miniaturized High-Speed Modulated X-Ray Source (MXS) to create "MiniRAY" which would be utilized in emergency situations for on-site sports injuries, ultimately providing more information for medical professionals while minimizing response time and time to treatment. To celebrate their creativity and innovation sprint win, Team Moon was awarded some NASA swag to show off.
The team continued working on their initial idea born from the sprint activity, ultimately creating a new business venture: X-Save. Their progress paid off as they took the top prize at the EntreX Regional Venture Showcase in February and have qualified to compete for the $100,000 prize pool at the Diamond Challenge Summit on April 23-25.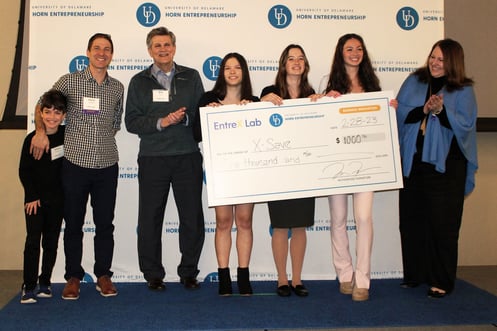 The experience was a great way for young innovators to be exposed to new and exciting technology that they otherwise wouldn't have seen. Although the innovation sprint was the first of its kind for Horn working with NASA, a formal partnership has been established to bring more events and similar experiences to EntreX classrooms in the future.
About Horn Entrepreneurship
Horn Entrepreneurship serves as the creative engine for entrepreneurship education and advancement at the University of Delaware. Currently ranked among the best entrepreneurship programs in the US, Horn Entrepreneurship was built and is actively supported by successful entrepreneurs, empowering aspiring innovators as they pursue new ideas for a better world.