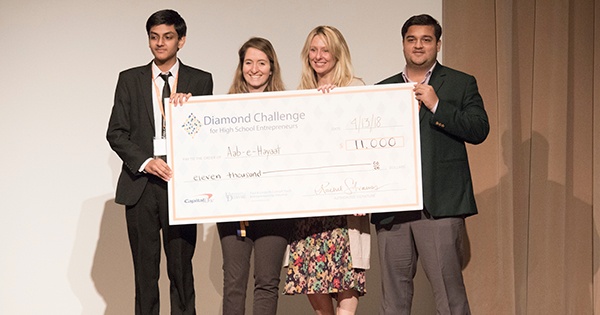 University of Delaware's Horn Entrepreneurship announced the winners of this year's Diamond Challenge at the Diamond Challenge Youth Entrepreneurship Summit (Summit) on Friday, April 13, in Clayton Hall.
The Diamond Challenge is an international competition for high school students, which teaches participants about entrepreneurship while allowing them to put their ideas into action. The final round of the competition was held during the Summit, with over 400 young entrepreneurs and educators in attendance.
This years semifinalists came from 17 countries and nine states, all of which gathered in Clayton Hall on Thursday, April 12, for the semifinal round, and again Friday, April 13, where six finalists pitched their ideas and answered questions from a panel of judges.
The final round panel included Founder of ROAR for Good Yasmine Mustafa, Founder and CEO of Labware Vance Kershner, CEO of Camden Partners David Warnock, Director of Investments and Operations at SeventySix Capital Chad Stender, VP and Delaware Market President of Capital One Joe Westcott and Partner of McConnell Johnson Real Estate, LLC and the namesake of Horn Entrepreneurship's Paul and Linda McConnell Youth Entrepreneurship Education Initiative.
The winners from the business concept track, which focuses on the development and validation of new business models for generating revenue and profit, were Project X of Landenberg and Brookhaven, PA with a third place prize of $3,500, Campus Select of Rosemont, PA with a second place prize of $7,000 and Hydration of Dover and Bear, DE with a first place prize of $11,000.
Hydration developed a new water filtration system capable of filtering out all metals. The team, which included Saman Verma, Joseph Sun and Max Medroso, described their preparation leading up to the Diamond Challenge as a grueling six months, but after having come in first place, Sun said the team was "ecstatic, relieved and hopeful for the future."
The Hydration team, who plans to use their winnings to file a utility patent, credited much of their success to the mentorship they received as part of their participation in the competition.
"Our mentor was absolutely incredible and provided so much insightful information," said Verma, "we would not have won without him."
For the social innovation track, which focuses on the development of new, social impact models, the winners were Paradise Care of Montego Bay, Jamaica with a third place prize of $3,500, Digital Bridge of Austin, Texas with a second place prize of $7,000 and Aab-e-Hayaat of Islamabad, Pakistan with a first place prize of $11,000.
Aab-e-Hayaat developed an artificial, non-toxic, biodegradable soil that absorbs more water than regular soil and petroleum substitutes, allowing plants to grow without watering them for an extended period of time. This team, which was the first from Pakistan to make it to the semifinal round of the Diamond Challenge in the history of the competition, was lead by Hesham Danveer and Hassan Sohail.
"We weren't sure we were even going to make it past the first stage of the competition, said Sohail. "It feels really great to be here and to have won."
This was the first international competition for the duo, who plan to use their winnings to further develop and launch their product to 200 farmer families. The pair enjoyed the networking opportunities that were integrated into both the Diamond Challenge and the Summit.
"Meeting and speaking with the people here has been one of the best experiences we have ever had," said Danveer.
Participants competed for a total prize pool of $100,000. Before the winners were announced, Diamond Challenge finalists spent the day at the Summit, a conference for high school students that features interactive workshops, engaging speakers and networking opportunities.
Students had the opportunity to attend workshops on a variety of topics, including creativity and creating and sustaining a community. They also were able to hear from keynote speakers lie Executive Director and Founder of ScholarCHIPS, Yasmine Arrington, CEO and Founder of The League, Amanda Bradford, Editor-In-Chief of Entrepreneurship Magazine, Jason Feifer and Yasmine Mustafa, who also served as a judge during the final round of the Diamond Challenge.
The Summit and the Diamond Challenge are part of the Paul and Linda McConnell Youth Entrepreneurship Education Initiative. Since its founding in 2012, the Diamond Challenge has reached more than 10,000 students worldwide and is ranked one of the top 29 international business plan competitions by Alpha Gamma, a business portal for millennials.
Capital One supports this program as part of its Future Edge initiative, a five year $150 million initiative designed to help people get the skills they need to be competitive in this digital economy.
About Horn Entrepreneurship
Horn Entrepreneurship serves as the University of Delaware's creative engine for entrepreneurship education and advancement. Built and actively supported by successful entrepreneurs and thought leaders, Horn Entrepreneurship empowers aspiring innovators and entrepreneurs as they pursue new ideas for a better world.