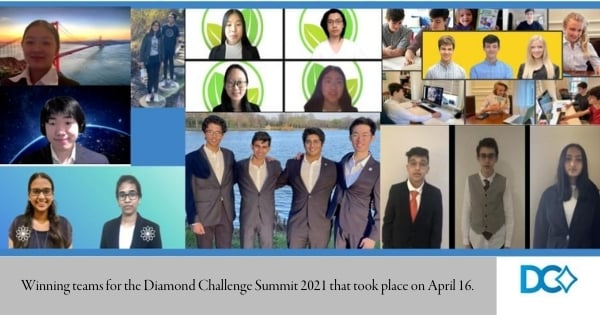 The Diamond Challenge, an entrepreneurship platform for high school students from around the world, recently wrapped up its week-long summit which took place virtually this year, from April 11 - 16, 2021. The summit marked the culmination of the Diamond Challenge's year-long program, where students develop solutions to the world's most pressing challenges for a chance to engage and network with a global community of entrepreneurs and to compete for awards and monetary prizes.

A full list of the 2021 Diamond Challenge Summit semifinalist teams and team descriptions can be found here. Each team was awarded money to be used as venture funding or scholarship to a higher ed institution. All finalists will join the Entrepreneurial Ventures Summer Accelerator powered by Diamond Challenge and Schoolyard Ventures to further their winning ideas and access an additional $10,000 funding pool.

The winners of the Business Innovation Track included:

3rd Place (Tie): Innovative Solar - California, U.S. $2000
3rd Place (Tie): Shift - California, U.S., $2000
2nd Place: ListenIn Inc. - Texas, U.S., $4000
1st Place: EVAC - Pennsylvania, U.S., $8000


The winners of the Social Innovation Track included:

3rd place: Hello Oasis - Canada, $2000
2nd Place: Serene - India & Washington, U.S., $4000
1st Place: Intutorly - North Carolina & Virginia, U.S., $8000


The Topical Prize Awards recognize Diamond Challenge semifinalist teams that have shown significant promise and excellence in a particular field of entrepreneurial capacity. All Topical Prize Awards are sponsored by innovative companies investing in the next generation, and each award is accompanied by a $1,500 cash prize.

Topical Prize Awards and winners included the following:

The Chemours Company Covid-19 Safety Solutions Prize is awarded to STEM-based concepts that directly tackle safety challenges associated with the global pandemic. The winners of this award were:
Clean Mask - New Jersey, U.S.
PinkIt - Maryland, U.S.
The Delaware Solid Waste Authority Waste & Recycling Innovation Prize is awarded to the teams that foster sustainability within both the community and the environment. The winners of this award were:
Earthlips - Sustainable Beauty - Greece
Lenti-Terre - China
The W.L. Gore Associates Innovation Excellence Prize is awarded to teams that best represent the application of technology to improving lives. The winners of this award were:
MADS - Virginia, U.S.
Strabi-Cure - India & Saudi Arabia
The Horn Entrepreneurship Equity Thru Entrepreneurship Prize is awarded to teams with the greatest potential to advance social justice and equal opportunity. The winners of this award were:
Speak UP - Delaware, U.S.
AUesome - Autism Therapy Play Kits - California, U.S.
Elevate the Future - California, U.S.
The newly debuted Global Prize, powered by Horn Entrepreneurship, recognizes the top global teams that demonstrate entrepreneurship excellence and embody the true spirit of the Diamond Challenge. The winners of this award were:
Queens' Foris Labs - Nigeria
DyslexiaGenius - China & New Jersey, U.S.
Diamond Challenge social media opportunities and activities during the 2021 Summit also encouraged new and creative ways for students to express their entrepreneurial passion.
Winners of the 2021 Summit Instagram Giveaway included:
Kichemy Dorcena, Powerful Block - Haiti
Alicia Gan, Hermes Pointe Shoes - California, U.S.
Tanvi Jammula, TimeTek - Virginia, U.S.
Congratulations also to our 2021 Summit TikTok Challenge winner, Fátima Farela from Organic Sprout. Check out her video on the diamond challenge TikTok account, @diamondchalleng.
Horn Entrepreneurship and Diamond Challenge extends a special thanks to keynote speakers Alex Osterwalder, co-founder of Strategyzer AG, and Ann Makosinksi, an inventor, speaker, and writer named in Forbes and Times Magazines' 30 under 30 lists.
Additional thanks to Diamond Challenge sponsors: Capital One, Brandywine Electronics LTD, Chemours, CSC, Delaware Solid Waste Authority, and W.L. Gore & Associates. And final thanks to all participants and semifinalists for making Diamond Challenge an unforgettable experience!
About Horn Entrepreneurship
Horn Entrepreneurship serves as the creative engine for entrepreneurship education and advancement at the University of Delaware. Currently ranked among the best entrepreneurship programs in the US, Horn Entrepreneurship was built and is actively supported by successful entrepreneurs, empowering aspiring innovators as they pursue new ideas for a better world.

At its founding in 2012, Horn Entrepreneurship launched a youth initiative to address major gaps in secondary entrepreneurship education. At the time, most existing youth programs focused on small business management. In contrast, Horn Youth has been built to focus on unleashing creativity, encouraging a mindset of abundance and self-determination, and promoting purposeful entrepreneurial action. Today, Horn Youth is internationally recognized and has a robust local and global ecosystem and a network consisting of more than 20,000 alumni, 1800 educators, and 60 organizations that catalyze entrepreneurship education and impact.