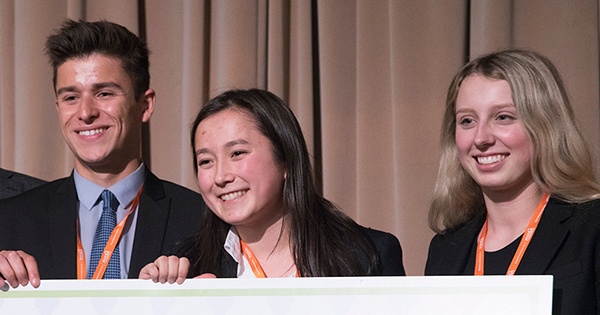 Registration for the 2018 Diamond Challenge competition is now open and will remain open until January 5, 2018 when submissions are due.
The Diamond Challenge is an innovative entrepreneurship concept competition for high school students offering $100,000 in awards. Created in 2012 by the University of Delaware's Horn Entrepreneurship, and sponsored by Capital One, the competition has reached over 4,000 students from over 39 countries and 27 states. Last year, the Diamond Challenge was ranked one of the top 29 best international business plan competitions by Alpha Gamma, a business portal for millennials.
"The Diamond Challenge is a special program because it gives high school students the opportunity to not only explore, but experience the world of startups and discover whether that's something they want to pursue, whether that be now or in the future," said Julie Frieswyk, manager of youth programs for Horn Entrepreneurship.
The competition is broken up into a business concept track, which focuses on the development and validation of new business models for generating revenue and profit, and a social innovation track, which focuses on the development of new, social impact models.
Participants will initially submit a written concept and slide deck. After Diamond Challenge judges review submissions, the teams who are chosen to move on will pitch live at pitch sites around the world. Participants who do not live near a pitch site are able to compete virtually. Finally, semifinalist and finalist teams will pitch live April 11, 2018 through April 13, 2018, during the Diamond Challenge Youth Entrepreneurship Summit at the University of Delaware.
"There is truly no good reason to wait if you think innovation, passion, making a difference and creating something valuable for others is something for you," said Frieswyk.
To register your team, or to learn more about the Diamond Challenge, visit http://diamondchallenge.org.
The Diamond Challenge is one program in the Paul and Linda McConnell Youth Entrepreneurship Education Initiative.
About Horn Entrepreneurship
The Horn Entrepreneurship ignites imaginations and empowers world changers through educational offerings that emphasize experiential learning, evidence-based entrepreneurship and active engagement with entrepreneurs and other members of the broader entrepreneurial ecosystem. Through participation in Horn offerings, students gain the knowledge, skills, personal capacities, experiences, connections and access to resources needed to successfully manifest innovation and thrive in the rapidly changing world.