How bias affects pitching competitions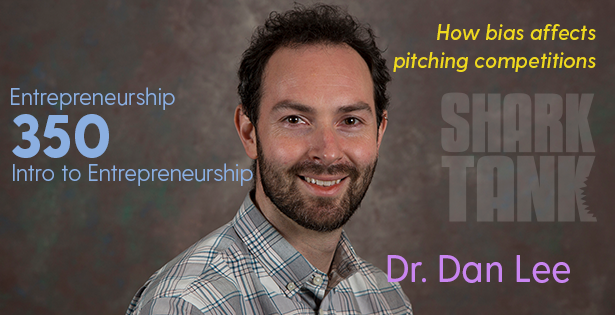 Dr. Daniel Lee is one of the newest and most intriguing professors at Horn Entrepreneurship at the University of Delaware. Professor Lee earned his B.A. in math and economics from Emory University, as well as his M.A. and Ph.D. in economics from Georgia State University. His economics start led him to entrepreneurship because he wanted to see how economic theory would translate into the real world, where people were actually starting up businesses and requesting funding. Dr. Lee saw a lack of public data and focused on finding results to help future entrepreneurs. Dr. Lee is currently studying the effects of free time on entrepreneurship.
In his own free time, professor Lee loves spending time with his two cats, going for runs, reading comic books, and cooking. He enjoys many different tastes and flavors, but he is a master of cabbage based dishes. Professor Lee didn't anticipate coming here when he was teaching in Virginia, but he fell in love with Newark and has an appreciation of his colleagues here at the University of Delaware, so he is feeling right at home. Any UD student who is interested in learning more from Dr. Lee should check out Entrepreneurship 350: Intro to Entrepreneurship, and take advantage of learning from an expert with real world experience. The following section will see Dr. Lee discuss his most recent study titled, Gender bias in high stakes pitching: an NLP approach.
Current Research Shows Gender Bias
For now, let's take an in-depth look at Dr. Lee's study on gender bias in pitch competitions. Dr. Lee and his esteemed colleague, Dr. Indu Khurana analyzed Season 3 of the show Shark Tank, and used natural language processing (NLP) software to study the biases of the judges, and how those biases go on to impact the entrepreneurs.
Professor Lee's research showed that male judges were more likely to use positive language when addressing pitch teams that had at least one female, but they were less likely to ink a deal and provide funding to those teams. Furthermore, the opposite was true for female judges. Female judges were less likely to give exaggerated positive feedback to pitch teams with females, but they were more likely to sign those teams to deals.
Dr. Lee dropped in to answer some questions as to why this occurs and what this bias means for females interested in breaking into entrepreneurship.
Horn: What were the overall takeaways of your research, and what do the results mean for future entrepreneurs?
Dr. Lee: There are two big takeaways from the results. The first shows a bias in entrepreneurship. Big takeaway two is that the bias is a little more nuanced and a little less clear cut than at first blush. I anticipated men would talk down to women and use negative words and polarized language. However, the data shows when men are talking to women they use kinder words and less polarized language, but then go on to refuse funding.
Next is your question, what does that mean? I think it means there's work left to do. We have this goal of making access to entrepreneurship and access to funding more fair and equitable. However, because these biases are at play and not as obvious, we need to understand the scope of this bias and level the playing field for entrepreneurs.
Horn: Can you explain NLP and how it aided in your results?
Dr. Lee: NLP means natural language processing. It's basically the way a computer will read words. The type of NLP we used is called sentiment analysis. Sentiment analysis extracts tone from text, which helps the computer identify if people are speaking positively or negatively. What we did is use the transcripts from season three of Shark Tank and examined the whole transcript, both the judges and the entrepreneurs. A Sentiment analysis NLP program allows for computerized standards to gauge how people reacted and measured positive or negative tones through word use.
Horn: What are heuristics? What is homophily? How did these concepts help to advance your research?
Dan Lee: A heuristic is basically a rule of thumb. It's like a mental shortcut that your brain takes. One of those shortcuts is homophily. This means we like things that are similar to us. In terms of entrepreneurship, an example could be that male venture capitalists (VC) are more likely to fund male led teams while female VCs are more likely to fund female lead teams. If these mental shortcuts exist, consider more VC firms and more venture capitalists are male, and engaged in this sort of apocalyptic thinking. Results would show fewer female firms are getting funded. Since this bias is less obvious, we need to understand it to overcome it.
Horn: What are some suggestions for female entrepreneurs entering pitch competitions?
Dan Lee: The number one thing is just forming a connection with the panel you're pitching to. You tend to see people who can bring a more personal component, or a great story doing well. There are points you want to address in any pitch, whether it is entrepreneurial or not:
What the heck are you doing?
Why the heck are you doing it?
Why the heck should the panel care?
Being able to build that personal story helps answer those three questions quite well. All of this advice could go either way, but one of the things we found in our data is that women are less likely to ask for money. Women should ask for more and not just assume it will be offered. Go big, don't be conservative, give up less, and find every opportunity to pitch your idea.
About Horn Entrepreneurship
Horn Entrepreneurship serves as the creative engine for entrepreneurship education and advancement at the University of Delaware. Currently ranked among the best entrepreneurship programs in the US, Horn Entrepreneurship was built and is actively supported by successful entrepreneurs, empowering aspiring innovators as they pursue new ideas for a better world.
About Lerner College
For more than 100 years, the University of Delaware's Alfred Lerner College of Business and Economics has invested in its students and communities, giving back philanthropically and with its valuable skills. A top-ranked business school, the Lerner College creates impactful initiatives that advocate for diversity and inclusion across industries. It's 150+ faculty conduct research on meaningful topics like third world economic development, cybersecurity, women's leadership, corporate social responsibility and more. Through collaborations with students and alumni, the Lerner College creates businesses that work to solve society's greatest problems.