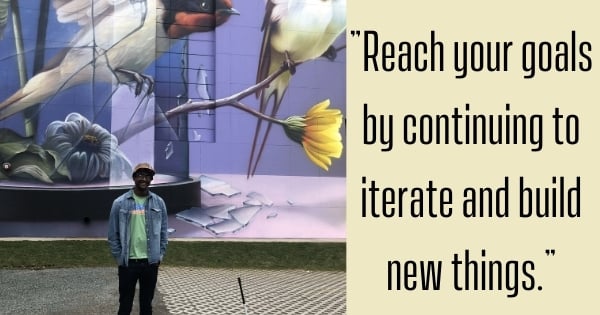 Since graduating from the University of Delaware in 2017, Daniel Farmer has gone out into the world in ways others only hope they could. But from cycling across the United States to moving to Taiwan, Farmer's mission has always been to uplift and empower communities.
One week after completing his bachelor's degree in environmental studies, Daniel Farmer began his nearly three-year career as an officer for the Peace Corps. Doing environmental education in rural communities in Mexico, he designed activities and lessons for the classroom and the community at large. Working with students of all ages, Farmer covered topics of climate change, plant ecology, solid waste management, diversity monitoring, and weather monitoring.
Later on in his time with the Peace Corps, Farmer trained volunteers and designed curricula around building life skills for youth and supporting gender equity programming. Overall, Farmer described the work as some of the most impactful experiences of his life.
"It was incredible," Farmer said. "I'm really grateful to have been given the space to think about the bigger picture about my service when I was in my extension. Being on the ground and doing work is really incredible, but also thinking in a very specific context and really designing something that's for the people that I lived with directly."
After wrapping up his years of service with the Peace Corps, Farmer started working for Songs of Adaptation, a project that seeks to measure and identify population sizes of different birds by utilizing bio acoustic data. The program is a research initiative of Future Generations University, a global graduate school centered around applied community development, and it aims to empower and educate local communities by informing them about the biodiversity status of their local ecosystems.
"There are community members who are worried about the changing climate or seeing things like failed crops, and they're seeing the ecosystem change around them," Farmer said. "So we can provide that data to empower these communities to adapt better to climate change."
Along with sharing the stories of the groups and individuals working on Songs of Adaptation to create a community excited about conservation efforts, Farmer and his colleagues record sounds with bio acoustic equipment and match different calls and noises to species of birds. The data then feeds into a machine learning model that uses artificial intelligence to train itself to identify the distinct sounds.
The work is of particular importance to mountain communities that do not have consistent scientific data on ecological changes, although there may be informal, anecdotal data that has circulated from person to person.
"More than anything, we want to connect the communities with the data that we're getting ready," Farmer said. "To provide the data to the communities to say, 'This is what we're finding. How does this mesh with the things that you're experiencing and how can you use this data to empower yourselves to make whatever changes are necessary, given that the climate is changing?'"
Although their first model was 95% accurate, Farmer said, he and his team are still trying to collect more data that accounts for other ambient sounds like rain, wind, and non-avian animals.
Ultimately, Farmer hopes that Songs of Adaptation continues its focus on informing communities and giving them the support they need to make changes that they believe are valuable, such as conservation projects for endangered species.
Most recently, Farmer has been residing in Taiwan, where he has moved for reasons of personal exploration, but where he is also able to complete work remotely and assess next steps for his project in light of the pandemic.
"COVID-19 has thrown a huge wrench into things," Farmer said. "By necessity, we're going to have to follow what those changes are. We're putting a lot of effort right now into building these online education modules. And I think and hope that those continue to grow. I think engaging in science in this way is really exciting."
Despite being a long way from the University of Delaware, Farmer still credits his roots as an undergraduate at Horn for equipping him with the entrepreneurial mindset which he now uses to approach his work with the Peace Corps and Songs of Adaptation.
"When you work for the Peace Corps as a government agency, bureaucracy is slow, that's just a thing," Farmer said. "But to go into my projects with a lean startup methodology in my head like, 'OK, I'm just going to try out this class and see what happens…' I know what the objectives of the organization are and I'm going to reach them by continuing to iterate and build new things."
Farmer's advice to the undergraduate Blue Hens of today is to gain new perspectives and understand more of what is happening around you by exploring the abundance of opportunities while in college.
"Try as many things as you can try," Farmer said. "But don't try them because you think it's going to be good for your resume or for some culminating experience… Especially in a school like UD, there's just so much going on, there are so many resources that go without students taking full advantage of them. But you may as well."
Farmer's philosophy boils down to a kind of spontaneity and readiness in the everyday, wherein most progress in life can come out of a curiosity in the unknown, Farmer described.
"I think that readiness, for me, a lot of that comes from experiences that I did at Horn," Farmer said. "Just knowing that if you get an idea to create something, you should go try and create and see what happens."
About Horn Entrepreneurship
Horn Entrepreneurship serves as the creative engine for entrepreneurship education and advancement at the University of Delaware. Currently ranked among the best entrepreneurship programs in the US, Horn Entrepreneurship was built and is actively supported by successful entrepreneurs, empowering aspiring innovators as they pursue new ideas for a better world.