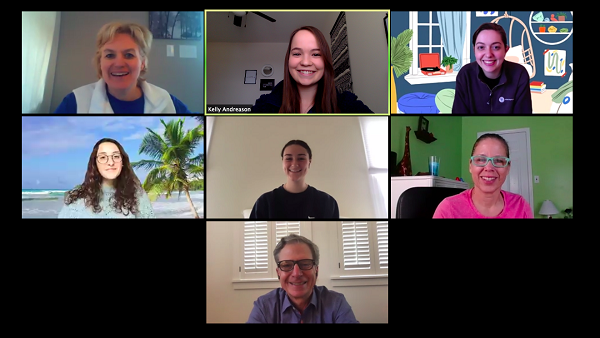 My name is Kelly Andreason and I work at Horn on the Enrichment team as a Special Projects Coordinator. One of the best parts of my job is being able to build community among our students. As an Entrepreneurship student myself, I have the advantage of being one of our "customers" and can better understand what will resonate with students. This has led our team to run a variety of community-building events from our annual Welcome Party to a Shark Tank Watch Party to a De-Stress Fest for finals! I love these events because our students are able to come together, make new friendships, and strengthen the Horn community.
But on March 30, all of UD's classes had to go online because of COVID-19. I'm beyond thankful that we are able to conduct classes online and prioritize the safety of our students but it left me wondering "Classes are going online… but what about our community? Can that be transferred online too?" This was uncharted territory for me and my team but we weren't afraid. We are entrepreneurs and entrepreneurs look at challenges as opportunities. This was an unique obstacle that allowed us to use our creativity and problem solving skills in ways we haven't before!
After we found out this news, our team had a brainstorming session. We came up with tons of ideas - silly ones, decent ones, dumb ones, amazing ones! We then filtered through our many ideas (a process called convergent thinking) and selected the ideas that best solved the problem with our available resources. We weren't going to let going virtual stop us from staying connected with our community!
We started by creating a Facebook group called "Horn Entrepreneurship Community" for everyone who normally interacted with Horn or the Venture Development Center on campus. We invited people we knew, shared on student group chats, and on our social media to spread the word about our new virtual community. Students in the Facebook group share a variety of things such as their favorite TV shows, polls, pictures of their dogs, tips for online classes, and more. It's been great to see the community continue to thrive even though we aren't physically together for the time being.
Another idea that came out of our brainstorm session was to recreate our annual ReConnect Party online. We came up with the name of ReConnect Party 2.0 with the slogan of "Reboot your semester". We invited all the entrepreneurship majors for a party over Zoom the night before virtual classes began. We had a Q&A session, funny polls, great conversation and even a collaborative drawing game! While this party didn't have the same feel as our normal ReConnect Party, it was special in its own way and it was great seeing everyone's faces again.
Just like an entrepreneur, we are never fully satisfied and always looking for new ways to innovate. We plan on creating more virtual community-building events, taking what we learned from the first one to make the next ones even better! An entrepreneur's work is never done and we're just getting started!
Have an idea for a virtual community-building event? Email Kelly Andreason at kellyll@udel.edu and share your ideas!
Lemonade Recipe:
Ingredients:
Transportation
Money
Cup
Simply Lemonade
Directions:
Go to the grocery store (or Instacart!)

Head to refrigerated drink section (usually near the orange juice)

Purchase "Simply Lemonade"

Go home

Pour into a cup- delicious!
About Horn Entrepreneurship
Horn Entrepreneurship serves as the University of Delaware's creative engine for entrepreneurship education and advancement. Built and actively supported by successful entrepreneurs and thought leaders, Horn Entrepreneurship empowers aspiring innovators and entrepreneurs as they pursue new ideas for a better world.