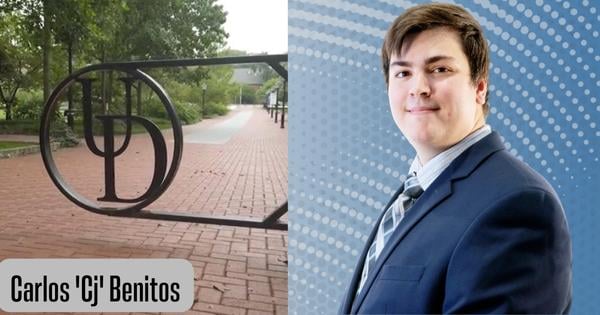 In the US, there are currently thousands of incarcerated students attempting to gain an education, yet their environments lack the needed resources to effectively facilitate learning. Working feverishly to solve that issue is Sia Precision Education, a software development company that uses artificial intelligence to improve education for students in low-resource settings. Acting as their Chief Business Officer is Carlos Benito, a senior at the University of Delaware and an avid member of the Horn Entrepreneurship community.
Connecting with Sia
Acting as a teacher's assistant for a virology class taught by Dr. Carlton Cooper, Benito was recommended by Cooper to Yasmin Mann, also a former student of Cooper's and Chief Communications Officer at Sia. Impressed by Benito's pitching experience at Horn's Spring Pitch Party and the Hen Hatch venture startup competition, Mann brought Benito on as a volunteer for his skill set and ability to teach the company's developers how to pitch effectively. Working with a pitch team for Microsoft's Imagine Cup, Benito handled the written submissions and helped coach the team through nationals in the UK onto the Imagine Cup World Finals. Due to the success of the team in the competition, leadership elevated Benito to his current position of Chief Business Officer.
Speaking on the experience, Benito shared, "It was a lot of work. But the team performed very well. We all came together, I'm proud of our performance. We know where there are some aspects of our presentation, ways we communicate our ideas we need to improve upon, but we're making those improvements as we speak."
The Mission: Ensuring Peak Performance in Low-Resource Environments
Sia's targeted audience is individuals in low-resource environments like students incarcerated by the Department of Corrections, Sia Precision Education provides the tools students need to absorb course material. Partnering with third-party content providers including Columbia University, Case Western Reserve University, Medical College of Wisconsin, and nonprofits like The Community and Prison Cells to PhDs, they utilize artificial intelligence and the fundamentals of learning theory to keep students engaged and without being overwhelming.
Benito explained, "Our AI performs a number of tasks based on the fundamentals of learning theory so that we can better keep students engaged in their educational tasks. And then we also utilize predictive analytics on a faculty side so that faculty can preventatively address problems before they arise, rather than try and address them after they've occurred."
The program reads your mood based on the responses you give back, manages content to keep users from getting angry, frustrated, or bored, and alerts faculty members if a potential issue arises. This is especially important for students faced with high student-to-faculty ratios, as the platform analyzes low-performing students in the class and uses predictive analytics to get them back on track.
A Foundation in Problem Solving and Entrepreneurship
Carlos Benito's journey to solving problems was initially instilled in him by his family, who operate a side business in New Jersey called Benito Family Renovation. There, Carlos began working as a project manager from the age of 16, renovating houses during weekends and calendar breaks from school. The experience instilled in him an understanding of business management and a drive to help others, which still guides him today. Following in his father's footsteps of becoming a doctor, in 2018 he enrolled at the University of Delaware in pursuit of a degree in biology with a minor in entrepreneurship. Carlos quickly grew immersed in Horn Entrepreneurship's programming and courses, becoming a Horn Ambassador and Delaware Innovation Fellow. In the spring of 2021, he participated in Horn Entrepreneurship's annual Spring Pitch Party, presenting a venture with fellow Startup Experience classmate Sophia Angeletakis called Metamorphic Housing Solutions. The two peers proposed creating a community housing initiative for people three to five years after college, aiming to alleviate feelings of loneliness experienced by graduates.
Benito elaborated, "They've moved more than an hour away from their family and from the university that they went to for their first career position. They've essentially lost all their social connections. And they enter this one to two years of postgraduate loneliness, and for some people, it develops into postgraduate depression because they've lost all of their connections."
2021 was a big year for the venture Benito and his then Co-Founder, Sophia Angeletakis. The pitch won the "Most Interesting" team superlative at the Spring Pitch Party. Benito went on alone to pitch at a second Horn Pitch Party in the following fall semester and also participates in the semifinal round of Horn Entrepreneurship's Hen Hatch competition - all in 2021. Although Benito has since found an appreciation for working in a team and shelved the project to focus on Sia, he says he will probably return to it at some point in the future. Regardless of its potential return, pitching the startup set Benito up for success with Sia, giving him the tools and background to coach them through the Imagine Cup and help guide their business strategy as Chief Business Advisor. For now, Benito is continuing to work with Sia Precision Education and preparing for medical school.
About Horn Entrepreneurship
Horn Entrepreneurship serves as the creative engine for entrepreneurship education and advancement at the University of Delaware. Currently ranked among the best entrepreneurship programs in the US, Horn Entrepreneurship was built and is actively supported by successful entrepreneurs, empowering aspiring innovators as they pursue new ideas for a better world.