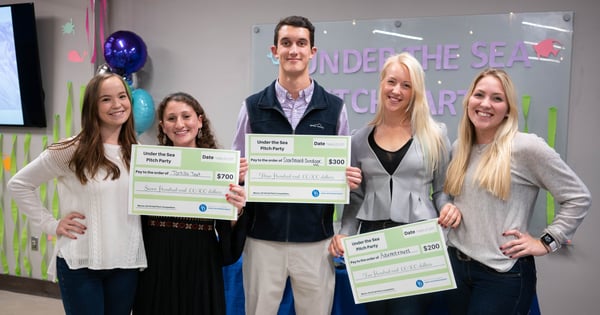 The University of Delaware Horn Entrepreneurship hosted the Under the Sea Pitch Party Wednesday, Oct. 24 in the Venture Development Center.
The annual fall pitch event featured students from across the university that each pitched their business ideas to a panel of judges. The panel was comprised of Sarah Lamb, Buccini Pollin Group, Dee Ridgeway, Predictive Analytics Group and Kyle McLaughlin of Stitch House Brewery.
The judges selected three winning teams, and the audience had the chance to vote for their favorite participant to receive an audience choice award.
A first place prize of $700 was awarded to Tortilla Text, a quesadilla catering service that offers an innovative marketing strategy that runs advertisements on free quesadillas. Tortilla Text is led by Alanna Weiss, who is a junior Hotel, Restaurant and Institutional Management major. The motivated founder returned to the pitch party competition with a desire to prove herself after becoming more involved with the program.
"Last year, I pitched the same business but with a different strategy," said Weiss. "I didn't make it to the second round, but I was inspired to learn more about Horn Entrepreneurship and began spending more time at the Venture Development Center. This year I came prepared to win. By utilizing school resources, practicing public speaking at my job as a Blue Hen Ambassador, and putting an extraordinary amount of effort put into research, I was confident in my ability to earn first place."
Second place was awarded to Starboard Outdoor, LLC, founded by Declan McCarthy, which aims to build billboards and lease outdoor advertising spaces to small businesses.
The third place award of $200 went to Adventravel, an app designed to connect backpackers with locals to create a more authentic traveling experience, presented by Isabella Rimton, an Entrepreneurship and Technology Innovation major, Class of 2020.
"I have come a long way since the red face and cracking voice of middle school," said Rimton as she reminisced about previous public speaking experiences. "There is always more to learn in being an effective communicator on stage. Competing in the pitch competition was an amazing opportunity to practice preparing a pitch, delivering a powerful message in only 90 seconds and being able to improvise answers to questions on the spot."
Finally, the audience voted for Joseph Osinubi's Pack to receive the audience choice award. Pack aims to help families pack and move their belongings without any additional labor to themselves.
Horn Entrepreneurship hosts two pitch parties annually for students to practice their pitching and public speaking skills. The date for the spring pitch party will be announced as the spring semester begins.
About Horn Entrepreneurship
Horn Entrepreneurship serves as the University of Delaware's creative engine for entrepreneurship education and advancement. Built and actively supported by successful entrepreneurs and thought leaders, Horn Entrepreneurship empowers aspiring innovators and entrepreneurs as they pursue new ideas for a better world.