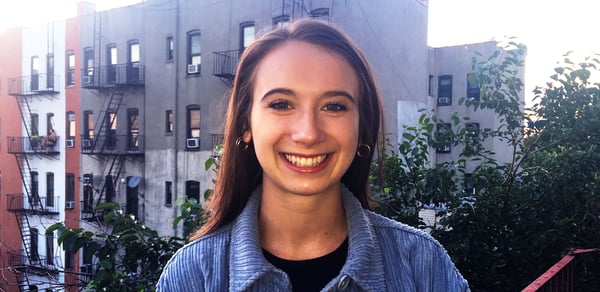 Cassidy Nalbone experienced a minor setback when a position with a student event group fell through. With that came some uncertainty in her own abilities.
Rather than allowing failure to define her, Cassidy found success in her own response to a difficult situation.
Implementing the skills and confidence she acquired from Horn Entrepreneurship, combined with her passion for working in the music industry, Cassidy was able to land two internships in New York City. One position involves creating promotional content and digital designs for Red Light Management, a music management company representing the Dave Matthews Band and others with an entrepreneurial spirit; something Cassidy was all too familiar with.
"Their entrepreneurial mindset is reflected in the way they conduct their business and the way they promote their artists" said Cassidy. "Their whole idea is being a part of something timeless. Working with other artists has given me so much insight into the music industry."
The other internship involves the handling of daily financial statements for PS Business Management, LLC, a firm that specializes in business and financial management for the entertainment industry. One opportunity led to another and Cassidy was recommended for a third internship with Q Prime Inc, a music management company who represent a number of popular artists such as Metallica, Muse, Red Hot Chili Peppers and more.
"It's definitely possible for one person to connect you to so many opportunities" said Cassidy.
During her time in Summer Founders with her team member Ariel Ramirez, she was able to acquire skills and insight in order to catapult herself from setback, to success.
"One experience doesn't have to define where you're going to go the rest of your life. I worked to put passion into other projects, and that's when I ultimately found Horn Entrepreneurship and participated in the Summer Founders Program. It definitely provided me a sense of growth and accomplishment and I'll always be thankful for that."
While uncertainty was once something she feared, Cassidy aims to embrace the uncertainty for the future. She hopes to work in event promotions or branding with different festivals, but in the meantime is obtaining as much knowledge as she can seeing where the progress takes her.
Horn Entrepreneurship Success Stories
As the world continues to evolve, the value of an entrepreneurial skill set only rises. The Success Stories series showcases the alumni from Horn Entrepreneurship creating opportunity and impact as they blaze their own trails following their time with the University of Delaware.