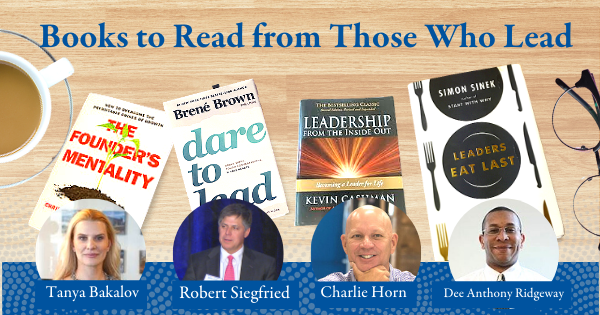 Reading books is one of the best ways to exercise your mind, offering stress relief, memory enhancement, and improved cognitive function. Along with the mental health benefits that reading offers, books can teach new skills, help readers find growth, and share the valuable experience of other accomplished individuals. Need a book to start off your reading? Try one of the recommendations given by our Horn National Advisory Board Members and Friends in the latest UD Magazine.

Leaders Eat Last by Simon Sinek
"The book correlates well to work and personal life. It speaks to what matters to people, how to to treat people and ultimately what inspires people. Very important components for leadership." - Dee Anthony Ridgeway BE98, Chief Data and Analytics Officer for Predictive Analytics Group
Dare to Lead by Brené Brown
"I love this book because it teaches the importance of embracing vulnerability and leading with self-awareness and courage." - Tanya Bakalov BE04, CEO and Founder of HelloTeam
Leadership From the Inside Out by Kevin Cashman
"A great practical and reference guide to the meaning, skills, tools and practices of leadership." - Charlie Horn AS75, Co-founder of Horn Entrepreneurship at UD
The Founder's Mentality by Chris Zook & James Allen
"I so connected with many concepts within this book, which have supported our success, especially the idea of an insurgency when setting a Bold Mission with a Limitless Horizon." - Robert L Siegfried Jr BE81, CEO & Founder of The Siegfried Group and Founder of the Siegfried Initiative for Entrepreneurship Leadership at UD
To read the full feature on leadership, go to page 24 in the UD Magazine.
About Horn Entrepreneurship
Horn Entrepreneurship serves as the creative engine for entrepreneurship education and advancement at the University of Delaware. Currently ranked among the best entrepreneurship programs in the US, Horn Entrepreneurship was built and is actively supported by successful entrepreneurs, empowering aspiring innovators as they pursue new ideas for a better world.