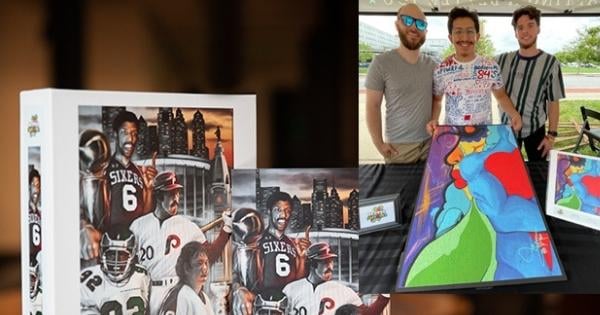 Meet Bryce Fender, a University of Delaware alumnus, real estate agent, marketing consultant, and most importantly an entrepreneur. As an entrepreneur, Fender has two main goals: to end homelessness and to provide quality, sustainable jobs through art. To reach those goals, he has helped co-found two startups, WilmInvest and Better Puzzles, each helping make his visions a reality.
WilmInvest and Entrepreneurial Beginnings
A Wilmington native, Fender grew up well aware that many people living in his city had a substantially lower standard of living. Many of these people were forced to live on the street by lack of adequate housing, opportunities and resources. Inspired to make a change while taking Horn Entrepreneurship's Startup Experience class with Vince DeFelice, Faculty Director of Venture Support at Horn Entrepreneurship, Fender joined up with old high school friends Joel Amin Jr. and Demetrius Thorn in January 2017 to co-found WilmInvest. WilmInvest is a business that would buy abandoned and dilapidated properties in their home town, renovate them, and lease them out as supportive housing. After a period of fine-tuning and optimization done through Horn Entrepreneurship's Summer Founders and VentureOn programs, the team tied for first place at UD's Hen Hatch startup funding competition, and later that year was able to run a successful pilot program. Using a model they described as social impact real estate investing, the trio has used returns from renovated houses to fund further housing acquisitions, and has grown from fixing up one distressed property to housing 15 families previously homeless.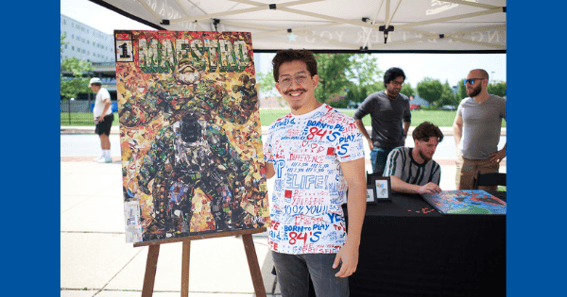 Better Puzzles and Other Business Pursuits
Knowing that he would need multiple streams of income after graduation to support himself and fund his passions, Fender planted the seeds for several other business opportunities. From his background and relationships in marketing, management and housing, he found roles as a real estate agent with Barksdale & Affiliates Realty and as a consultant for large brands, small startups and different local businesses. Then, in the midst of the pandemic, Fender realized a long-term desire to collaborate with Emmy-award winning filmmaker and friend Moises Velazquez in creating a new venture, Better Puzzles. Seeing that many isolated families and friends were gathering together to do jigsaw puzzles that were poor quality and featured bland, overused artwork, the duo leaped to recognize the opportunity to make an improved product.
"We always knew we wanted to start something together, and then the pandemic hit. And Moises basically realized that there have been all these jigsaw puzzles everybody was doing, but where was the art? So we took a lot of time to research and talk to a lot of customers and understand what made a good puzzle, a good puzzle. We realized the art itself hadn't been relatable to everyday people. I didn't understand art at the time. But after reaching out to a number of artists and connecting, we learned that there is room in the market for a lower cost item that has real art, art that becomes a lesson itself. A lot of people appreciate art in museums and galleries but never can afford it, and puzzles fill that natural gap."
While they were first starting to develop Better Puzzles, the startup found a lot of growth due to the co-founders' working relationship with beard care company Maestro's Classic. Both Fender and Velazquez helped with the company's digital marketing advertising, business development, and design thinking work, allowing them to learn what worked with Maestro's as they built out the early factions of Better Puzzles. They also made connections with artists Jae Martin and Jordan Spector through Maestro's Art Maestro's program, who were joined by Cult Class and artist duo Tratos to become the creators of Better Puzzle's first ever collection.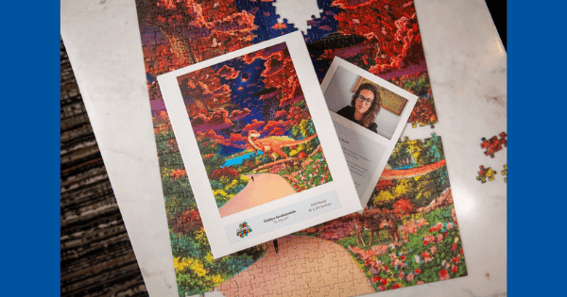 The Art and The Movement Behind It
The first collection launched by Better Puzzles features one puzzle by each of the four artists, each featuring premium thickness and a sturdy velvet feel, uniquely cut pieces, and a matte non reflective finish backed by a no glare guarantee. The puzzles showcase the distinct styles of the artists behind them, sharing unique stories based on the experiences and memories of their pasts. Better Puzzles seeks to give these artists and story-tellers a platform, supporting them in any way they can.
While they came up with the idea behind Better Puzzles of making higher quality puzzles and bringing diverse and unique art to everyday people, they also want to provide value and service to the creatives behind it. In exploring the puzzle industry, they found an alarming lack of compensation and appreciation for the artists behind the puzzles. Most puzzles netting artists an average of only 3-10% of retail and most often no name recognition. Better Puzzles aims to highlight their artists, giving them 20% of everything sold, and compelling promotion of their names and art. That promotion includes name recognition on each of the pieces, individual artist biography pages packaged with orders and on the Better Puzzles website, and a video series highlighting the artists and their backgrounds. But they don't want to stop there, hoping to eventually scale the business to provide a multitude of services and jobs using art, acting almost as a liaison between artists and businesses, government entities, and everyday people.
Fender explains, "Our mission to better puzzles is to bring art to everyday people, and we understand that jigsaw puzzles are just one way to do that. So we're building on the jigsaw puzzle brand we have, and Moises is doing a fantastic job with the artist video series to actually tell their stories and connect the artists to everyday people. The ultimate goal, however, is related to jobs. How do we create as many jobs as possible, enough to justify a manufacturing facility?"
Making Sense of the Industry
Right now, Fender and Better Puzzles are learning, growing, and innovating in the spaces they already exist in. Operating in a completely different industry than the social entrepreneurship housing work he has grown accustomed to, Fender has been forced to learn new lessons about being an entrepreneur. Splitting his time between Better Puzzles, WilmInvest, and his other jobs leaves little room for daydreaming or time off, especially if he wants to achieve his lofty goals for each venture.
Fender credits his experience working on Better Puzzles with grinding him down to reality, concluding that, "What Better Puzzles taught me is to speak to what people are actually thinking, rather than what you want them to think about. What you're thinking about does not matter. And if the sooner you can accept that, the easier it will be, the more successful you'll be. Speak to other people, not yourself."
Next Steps
With their first collection launched, the Better Puzzles team is now focused on next steps. While there isn't anything solidified for their 2nd collection yet, they've still got a ton in the works as they continue to communicate with their network of artists. One thing to look for from Better Puzzles are limited edition, higher quality black box models for art, and puzzle fans looking for more exclusivity. Each black box model would have a set number of puzzles printed, while the rest of Better Puzzles' collections would be available forever in different editions.
For now, head to the Better Puzzles website and be one of the first 20 people to use discount code "ROLLHENS20" for 20% off any of their current offerings.
​About Horn Entrepreneurship
Horn Entrepreneurship serves as the creative engine for entrepreneurship education and advancement at the University of Delaware. Currently ranked among the best entrepreneurship programs in the US, Horn Entrepreneurship was built and is actively supported by successful entrepreneurs, empowering aspiring innovators as they pursue new ideas for a better world.