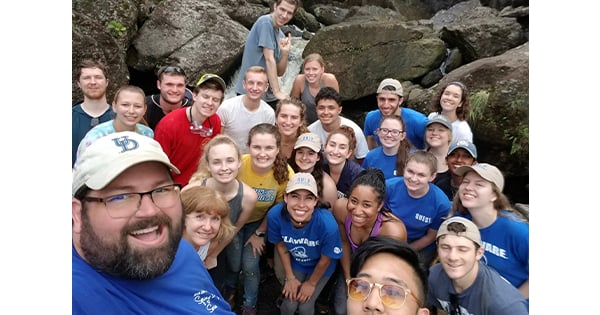 Jaeah Yoo, Mechanical Engineering, Class of 2021, was inspired to help Puerto Rico recover from natural disaster and traveled to the United States territory in conjunction with Blue Hen Leadership Program (BHLP) and Community Collaborations to help repair and restore the local community around San Juan. Jaeah's registered student organization (RSO), People for Puerto Rico and BHLP brought a team of more than 25 students and built authentic relationships while delivering community impact.
The ten-day trip started in the northeast of the island in San Juan, where Jaeah and the group arrived and stayed during their time. "We flew into San Juan a week after two earthquakes had hit Ponce, in the southwest. There wasn't any earthquake damage in San Juan, but getting off the plane and traveling to our rooms the first thing I noticed was just how much plants, vegetation and green covered everything."
In the aftermath of the hurricane that hit Puerto Rico in September 2017, the territory was no longer able to keep up with normal maintenance of the island. Left without anyone to clean up the vegetation, plant overgrowth has become a large problem. Jaeah and his team on the service trip spent a full day helping a homeowner with overgrowth in their backyard.
"We broke up into two teams to help make the work more efficient," Jaeah explained. "My group worked on a house for William and Rosa." William, wheelchair bound, and Rosa, going through chemotherapy treatments, were unable to make their own home improvements. "The roof was leaking and they'd had a bad contractor that we had to make up for. We also spent a ton of time in their backyard, chopping down weeds as tall as us."
The team gathered clippers, machetes and weed whackers to cut the overgrowth back while painting and repairing seals on the interior of the house. "Before the trip, I was a little worried about what kind of workers we would have with us," shared Jaeah. "My fears were for nothing. This incredible group was absolutely committed to giving meaningful service and our productivity was as amazing to see as it felt."
The traveling students stayed in the living quarters of a local church. They enjoyed simple meals for breakfast and lunch but interacted with community leaders over home cooked dinners.
"Our days followed the same routine throughout the trip. Wake up, have breakfast and then it's off to the work site," said Jaeah. "We had some time at the beach and for sightseeing, but most of our bonding came on the actual work site. It was crazy to see a group of college kids bond like we were, having fun in that setting, laughing about nothing and just enjoying the experience and the service."
After dinner, the students engaged in reflections on the day's work, Jaeah's favorite part of the day on the trip. The last group reflection revealed the emotional impact the trip had on the students, something Jaeah worked hard to create.
"I had this feeling that just because the trip was my idea didn't mean I actually deserved to be a service leader," said Jaeah. "I worked hard to create an open environment and impactful atmosphere that encouraged students to connect and give all they had to the service. The last group reflection put this into perspective for me. Everyone was giving and getting shoutouts and shared just how much the trip meant to them in closing speeches. It was one of the most special emotional experiences I've had in college."
Beyond helping local homeowners, the students aided in a beach and rainforest cleanup. The impact of the cleanups may not have been large, but it galvanized a community that sorely needed it. Seeing the tangible effects of his work, Jaeah has been inspired to continue to look for ways to create meaningful service.
"Connecting with Horn Entrepreneurship was my biggest inspiration in college and is why I started looking for ways to create value for other people. Everyone in this community is working hard, putting blood, sweat and tears into what they want to create, and I knew I had to do the same to fulfill my dream and goal of impactful service."
This story is a continuation of an earlier story about how Jaeah secured funding for the trip. Read the first story here.
About Horn Entrepreneurship
Horn Entrepreneurship serves as the creative engine for entrepreneurship education and advancement at the University of Delaware. Currently ranked among the best entrepreneurship programs in the US, Horn Entrepreneurship was built and is actively supported by successful entrepreneurs, empowering aspiring innovators as they pursue new ideas for a better world.