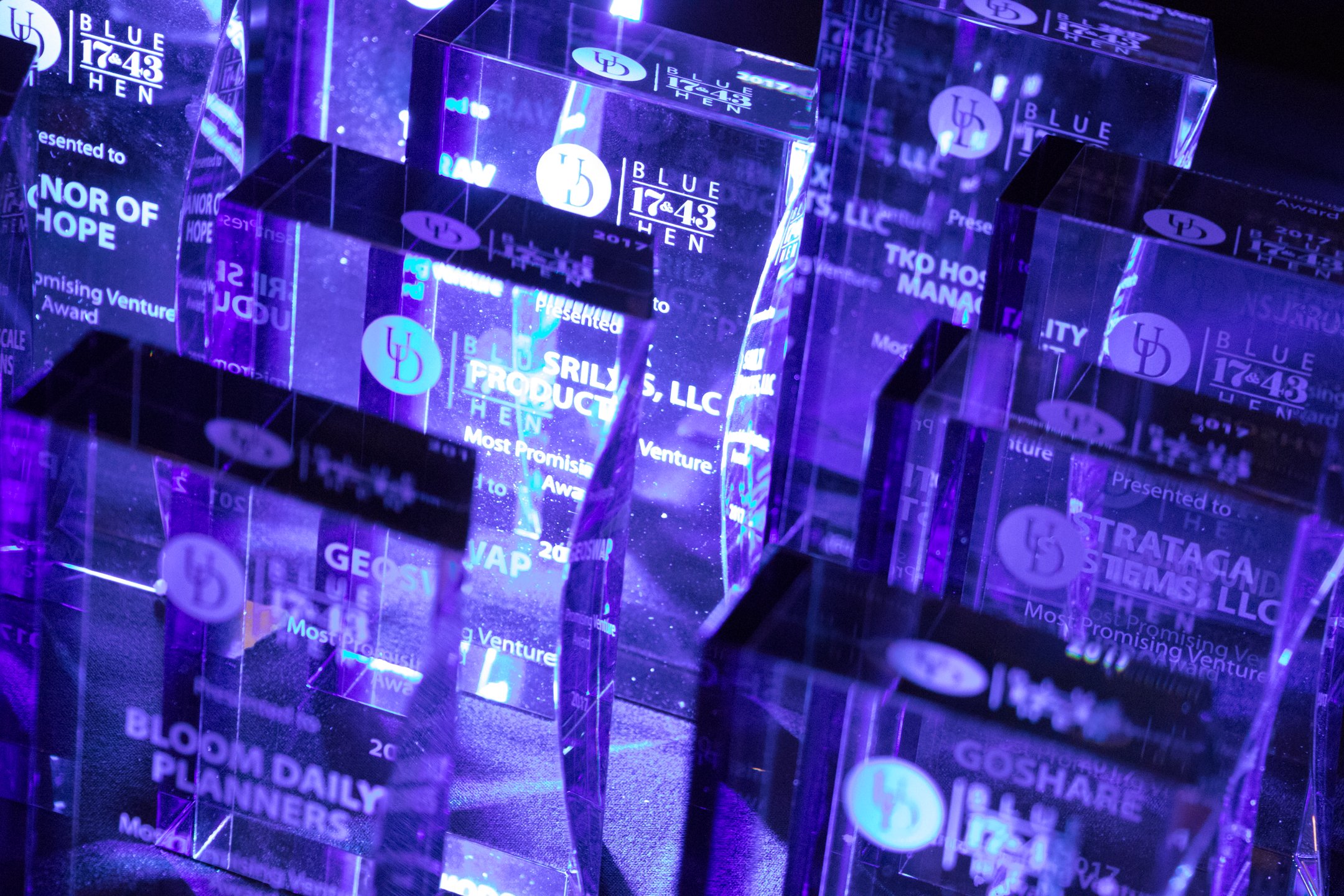 The Blue Hen 17&43 Awards are the University of Delaware's way of recognizing students and alumni who are part of today's most promising new ventures and fastest-growing companies. Applications are being sought through July 23, 2021, with an award presentation planned for September.
Harkening back to when the University itself was founded in 1743, the Blue Hen 17&43 Awards honor entrepreneurs and leaders blazing the way in their fields and who have a connection to University of Delaware. Any venture or company that is Blue Hen-founded or Blue Hen-led is eligible. Read more about eligibility and selection criteria here.
In 2020, past award winners in the first category, which recognizes the most promising Blue Hen ventures, included student-led projects like GetPotLuck, LLC, Nuvensus as well as alumni-led businesses such as 6amRun, Patient Sortal, and The Wedge Beverage Company.
The second category, which recognizes the fastest-growing companies led by UD alumni, has included well-established companies like The Siegfried Group, a national leadership advisory, and talent delivery firm which traces their connection to UD decades back. With four former UD alumni as company leaders, including BE'81 graduate and founder Rob Siegfried, The Siegfried Group most recently reconnected with UD by founding a new leadership initiative and certificate program through Horn. Other winners in the Fastest Growing category include SIA Solutions, CompuData and TechSolutions.
One of our honorees, Rick Monnig, Founder of TechSolutions, has found new meaning in being honored. "When business owners win awards it means something special not just for the moment but that ideas are working, the staff is acknowledged and customers are being served well. It is most important to note that such an award is a reminder to help others grow their businesses and to look for potential in every new opportunity. Winning reminds us to pay it forward."
Whether you are a Blue Hen Alumni with a new venture that is starting to build momentum, or if you have an established, rapidly expanding company, the 17&43 Awards are meant to recognize any and all UD community members who are championing innovation and leadership as entrepreneurs.
Applications are open from now until July 23, 2021. To learn more, or begin your application for the Blue Hen 17&43 Awards, click here.
About Horn Entrepreneurship
Horn Entrepreneurship serves as the creative engine for entrepreneurship education and advancement at the University of Delaware. Currently ranked among the best entrepreneurship programs in the US, Horn Entrepreneurship was built and is actively supported by successful entrepreneurs, empowering aspiring innovators as they pursue new ideas for a better world.