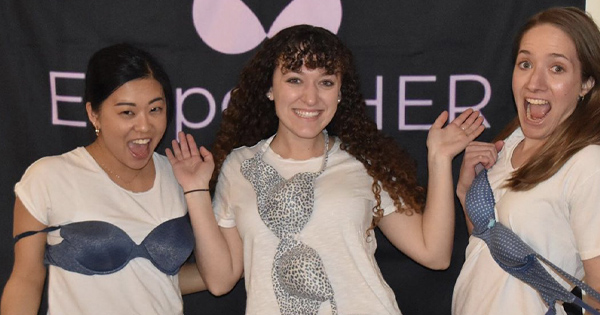 Joining Startup Island in the spring of 2019 and later that year the Horn Entrepreneurship Summer Founders program, Amanda Monachelli, Class of 2021, was eager to build her business, EmpowHER, which works diligently to create undergarments that comfortably fit a diverse range of body types. Now splitting her time between being a full-time student, working at an internship over the winter, being a Diamond Challenge judge, and running EmpowHER, Amanda constantly has her hands full.

After finding growth through the difficult challenges her startup faced and the programs she participated in, Amanda continues to push herself and her business forward with a reinforced drive to pursue her goals.
Starting her business back in March 2018 after taking inspiration from her grandmother's battle with breast cancer and its accompanying obstacles, EmpowHER was initially created to produce a mastectomy bra, a bra specifically designed for women who have undergone surgery to remove a breast. Seeing the opportunity for a larger, less niche market within the regular undergarment space, Amanda pivoted EmpowHER this past fall to include not only women who have had a mastectomy, but also women of all body sizes and shapes.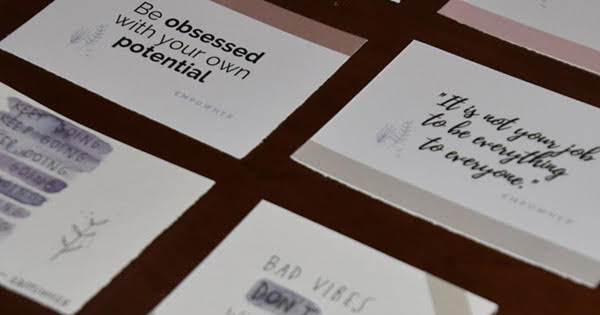 Reflecting on the journey she's had so far with EmpowHER, Amanda spoke about some of the obstacles she has had to overcome.
"This past spring, I went on the Startup Island trip to Costa Rica, which was all about finding your passion and purpose. Before that, I was actually toying with the idea of not doing Summer Founders because I was really unhappy with the way things were progressing. I was spending a lot of time in cancer centers because I was seeing breast cancer patients, and it was just really depressing. But on this trip I learned how I could journal, finding how to make the current situation beneficial to me. And so I was like, maybe I'm just gonna drop the business and not pursue it any further because it isn't what I want to do. I started journaling and figuring out the pros and cons of that, who would I be disappointing, why would I really be dropping it, do I wanna throw everything away? Fast forward to now, that helped me, I stayed in Summer Founders, I pivoted, and it's actually a business now. So I think journaling really helped in figuring out my why, and what is important to me."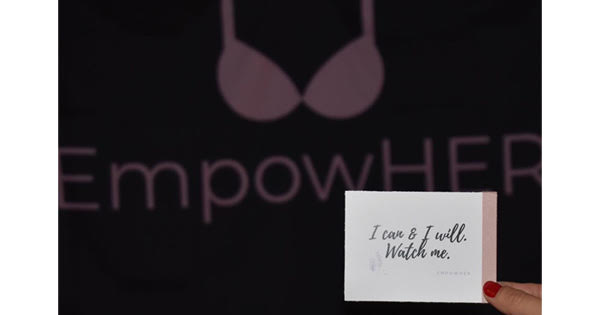 Recently, Amanda and her partner Brianna Bannach have been carrying out research on which features women value the most in their undergarments. After exploring what bras work best for different body types, they handpicked five or six bras from various undergarment companies based on personalized results from a survey on the EmpowHER website related to fit, sizing, and design. Once the women receive the undergarments, they pay for what they keep, ship the rest back, identify on comment cards what worked, what didn't, and what they'd like to see next time.
Speaking on her recent work, Amanda shared, "We had 12 customers with our initial beta launch, and the only advertising we did was post on the EmpowHER Instagram. That was it. We had no ads, no anything, just word of mouth and the two posts on Instagram. Of the 12 customers, we didn't know four of them. Yeah, so complete strangers were finding us, which we were really freaking out about because we know we're a startup and our friends know we're a startup."
With much to come in EmpowHER's future, Amanda and Brianna work persistently to set themselves up for success. The startup re-launched on March 6 with a revamped website at https://www.empowher.net. The new website comes with tons of new content and features, including testimonials, a variety of packages you can shop from with different price levels and characteristics, and a "bra quiz" that is used to help find the best undergarments for each individual.
About Horn Entrepreneurship
Horn Entrepreneurship serves as the University of Delaware's creative engine for entrepreneurship education and advancement. Built and actively supported by successful entrepreneurs and thought leaders, Horn Entrepreneurship empowers aspiring innovators and entrepreneurs as they pursue new ideas for a better world.