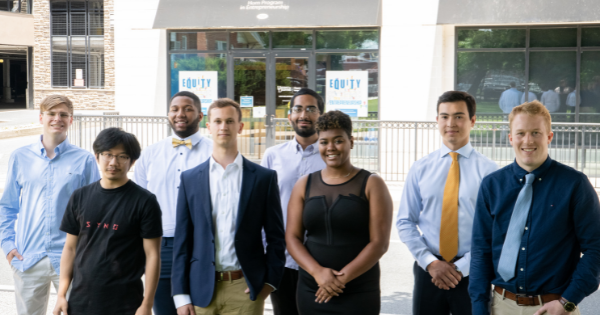 Horn Entrepreneurship's Summer Founders Pre-accelerator came to an end with Demo Day on August 19, 2021. However, the founders continued progress towards more successful startups never ends. The unique experience of Summer Founders increases the possibility of students launching viable startups and social ventures, all while gaining valuable advice that will provide dividends in the coming years. Summer Founders includes all aspects of an accelerator except a financial investment, with cohort members receiving guidance from experienced entrepreneurs, advisors and mentors. The founders are also paid stipends to allow them to fully focus on their startup pursuits as long as they continue to demonstrate progress, much like how they might need to sell an investor on progress to get a next round of funding.
Over the last 12 weeks, 10 student startups have committed daily to creating an opportunity for growth, putting in hours of work throughout the summer. They were backed in their efforts by over 80 advisors and philanthropic investors, who came together to mentor and support the students for 328 mentor hours. The almost 800 customer discovery interviews provided the cohort with an assessment of specific markets and helped develop their own business networks. The constant analysis led to a collective five significant pivots and countless tweaks in business models of the teams. The diligent labor paid off, bringing the teams a combined $44,000 in sales revenue, 14 Minimum Viable Products (MVP's) and 24 partnerships.
Here is a summary of where they are today.
CyberSecLabs
Computer Science major Casey Rock built CyberSecLabs to revolutionize the networks cyber security training courses run on. Creating their own virtualized cloud networks, CyberSecLabs tackles infrastructure issues faced by traditional physical servers used in cyber security training. They plan to license the use of their cloud networks to training instructors, who will then have their students purchase and use the software. Alongside Rock on the CyberSecLabs team are Dylan Martin and Justin Reynolds, two software engineers with experience working with the FBI and U.S. Department of Defense. So far, the business has successfully executed a minimum viable product through a partnership with a UD class with 270+ students using their software, and they have been able to hold over 80 interviews with industry experts.
Grow the Game Southeast
Josh Bayer's Grow the Game Southeast wants to use lacrosse to build community in Southeast DC, an area that struggles with low income, food deserts, violence, and it is where Bayer's late grandfather grew up. Providing lacrosse equipment and mental health resources not readily available for the region's youth, the startup seeks to make the sport a haven, while changing the game's lack of diversity. Bayer has successfully run MVPs to test his approach via eight 2-hour clinics at Northeast Wilmington Lacrosse Clinic, Waldorf (VA) Lax Clinic, and Ferris School, and is currently seeking funding to create his own camp with free sticks, equipment, and counselors. The organization seeks to eventually run tournaments outside their area to fund the clinics they run in Southeast D.C. Eventually, they would work to expand efforts to grow lacrosse in other unreached areas of the city.
Stemmer
Engineering students Sam Goetz and Chad Haiges are bringing A.I. to the music industry with music tech startup Stemmer; also voted Most Commercially Promising in the Audience Choice Awards. Their automated web applications use A.I. to provide audio mixing services, saving time and money that would normally be used contracting an audio engineer. The service also eliminates compatibility issues between mixing and audio files, a major obstacle in music production. Since launching, they have had 20 artists use their service to produce their music, and have over 100 customers currently on their waiting list. They expect to continue to refine their startup by joining an accelerator where they can further develop Stemmer.
Dynamic Factory
To tackle a lack of startup support for minority founders, Mo Mahmood entered Summer Founders as a startup fund, before pivoting several times to become Dynamic Factory, an inclusivity based pre-accelerator for early stage entrepreneurs in Delaware. Drawing inspiration from Horn Entrepreneurship and Gary Johnson, III's First Founders Accelerator, where Mahmood works as a Venture Capitalist Scout in Residence, Mahmood aims to offer similar entrepreneurial support to founders who can't access resources offered by Delaware's current options. Backed by First Founders Inc. and helped by over 125 interviews, he plans to hold a small cohort of startups in the idea stage forward. He is looking for founders to join him as he works to expand Delaware's entrepreneurial ecosystem.
Special Space
Special Space gave the Audience Choice Award for the Greatest Social Impact. The startup seeks to support individuals with special needs by creating a social media channel to connect, engage, and develop friendships. Special Space founder Domenic Massimo grew up watching his special needs family members find meaningful, in-person interactions at events like the Special Olympics, but found they couldn't maintain them online due to all the inherent dangers of social media. Realizing that, he was inspired to build a safe, monitored social media platform that allows special needs children to engage with others. Massimo is now seeking to introduce the platform via an MVP with a camp. He has described group levels, including a follow-up to a camp, or monitoring by family or organizations, allowing special needs youth to flourish in establishing new-found friendships.
SYNO
Carlson Cheng wants to bring the technology of the future into fashion with SYNO, a startup that produces futuristic clothing inspired by cyberpunk, reflectivity, streetwear/techwear, and traditional east Asian clothing influences. Creating clothing pieces and augmented reality (AR) virtual filters only seen through SYNO's Snapchat-like camera, Cheng seeks to add a new level to the fashion culture of collecting, selling and trading that currently takes place with streetwear, trading cards and other collectables. With clothing and filter options broken down by rarity, SYNO uses AR to bring a different type of self-expression to fashion, one appreciated not only through physical appearance, but also virtually.
Common Grounds
Lynn Roberts' Common Grounds wants to help tackle the lack of cultural awareness and understanding through specialized corporate training designed around increased diversity and inclusion. Finding that most businesses lack Diversity, Equity, and Inclusion (DEI) programs, Roberts decided to spice up traditional approaches by bringing in ethnic foods and discussing backgrounds from different cultures. Built on a subscription model with several tiers, Common Grounds offers continuity of training ideas with a focus on team growth rather than individually. Common Grounds recently had its first event at a Main St. restaurant, Banh Mi Boy where customers learned about Vietnamese culture while making their own spring rolls. Roberts hopes to execute another learning-based event, and is currently seeking funding.
QuickDress
QuickDress, founded by Curtis Aiken III, wants to help the everyday person who never knows what to wear for the day. Allowing users to upload clothing pieces into a virtual closet, the QuickDress app makes it easier to choose outfits by using artificial intelligence and other users' recommendations to create tasteful suggestions for free. At the same time, the app helps retailers more effectively market to consumers by sharing data on what styles are popular from the app for a fee. While the app is currently still under development, Aiken successfully held an in-person MVP and received positive feedback from the group served.
Spray Less LLC
Spray Less LLC is an advertising and design company founded by John Mouser, David Breyla and Noah Lux, that specializes in various car services, including personal or fleet vinyl wraps, custom auto styling, graphic design, decals, graphics kits, and print media. A cheaper, faster, sleeker alternative to getting your vehicles repainted. Spray Less LLC's vinyl wraps are the perfect way to change the appearance of a car, whether for personal use or commercial advertisement. Bolstered by 12 years of combined car-wrapping experience, a new garage with a vinyl printer unmatched by others in the state, and a steady flow of new clients, the young trio creates one-of-a-kind vehicles that take brand recognition to heightened levels.
Next Step Global Healthcare
Next Step Global Healthcare is a specialized group founded by Colton Keetley to help assisted living owners and operators successfully exit their businesses and move on to the next step in their lives with peace of mind and their business, employees, and residents will be taken care of. In an industry filled with aging owners, who commonly struggle to find new operators to take over homes and run them effectively, the startup pursues an easier, more caring approach by listening to the needs and goals of assisted living homeowners and operators. With the well-being of residents, care-takers and other employees in mind, Keetley and NSGH look to stabilize the assisted living experience.
About Horn Entrepreneurship
Horn Entrepreneurship serves as the creative engine for entrepreneurship education and advancement at the University of Delaware. Currently ranked among the best entrepreneurship programs in the US, Horn Entrepreneurship was built and is actively supported by successful entrepreneurs, empowering aspiring innovators as they pursue new ideas for a better world.