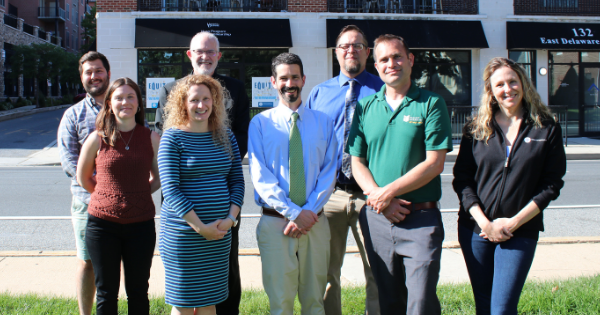 The Innovative Delaware Educator Awards celebrate the contributions of high school educators towards creating an environment for students to grow their entrepreneurial skills. Horn Entrepreneurship values the work of educational professionals and looks to support them in creating innovative opportunities for Delaware students. Each of the awards provides a mini-grant of up to $500 to be used towards an innovative project at their school. The projects will be executed over the course of the 2021 Fall semester in and out of the classroom through strategically implemented clubs and other programs.
The 2021 Innovative Delaware Educator Award Recipients:
William Simpson, Teacher, St. Mark's High School - "Launching a High School E-Sports League"
Jennifer (Heather) Handler, Engineering Teacher, Mount Pleasant High School - "Designing Emergency Homeless Shelters"
Judson Wagner, Physics & Engineering Teacher, Brandywine High School - "Diversifying STEM Participation Through Aeronautics Club & School-based Enterprise"
Scott Cave, Culinary Instructor, Paul M Hodgson Vocational Technical High School - "Fully Engaging Culinary Students from Home"
Jeff Peet, Business Teacher, Sussex Central High School - "Setting up a School-based Enterprise on Etsy"
Bonnie Lane, Health Education Teacher, Delcastle Technical High School - "Promoting a Growth Mindset"
Christian Beretta, Principal, Salesianum School - "Growing Service Learning Programs"
Lauren Ruskey, Agriscience Teacher, Caesar Rodney High School - "Agribusiness Tour"
Through a competitive nomination and application process, these educators were selected based on their history of providing innovative learning experiences.
Scott Cave, Culinary Instructor at Paul M Hodgson School, believes that the awards and accompanying projects are a progressive step in supporting the development of both teachers and students in Delaware high schools.
"Meeting new people and creating opportunities for our school and students is always something that I welcome and enjoy. This grant allows me to grow as an educator by opening up more doors for my students and myself, bringing in more things to learn from. In this ever-changing world, I have to lead by example and go after opportunities that will create the best outcomes for my students."
The program is a stepping stone for Delaware schools and the teachers working at them, laying the groundwork for clubs and activities sought out by students to be created and improved. Almost all of the projects supported by the grants were originally brought up to educators by their students, further building a "by the kids, for the kids" emphasis.
William Simpson, a Social Studies Teacher at St. Mark's High School, found the basis for his project, an e-sports club, after students specifically reached out to him for support.
"I had two students come up to me saying they would really like to start an e-sports club, and in talking to them I thought, 'This could be a really successful, really big thing for the school, let's not make this small-scale, let's try to do as much as we can for them'. This grant is really helping us out by providing the foundation for us to create a successful e-sports club, whether it's furniture or technology, the kids are getting what they need which is really helpful."
IDEAs is a hallmark component of the community of Delaware educators committed to developing and enhancing entrepreneurship and innovation classroom experiences for students.
"Our hope is that these educators will use their already existing school and community networks to create a project that can be replicated by other educators in Delaware, the mid-Atlantic, and the world," said Julie Frieswyk, assistant director, Youth Programs. "We are a community of practice sharing experience, expertise and networks to inspire and enhance innovation education in high schools."
About Horn Entrepreneurship
Horn Entrepreneurship serves as the University of Delaware's creative engine for entrepreneurship education and advancement. Built and actively supported by successful entrepreneurs and thought leaders, Horn Entrepreneurship empowers aspiring innovators and entrepreneurs as they pursue new ideas for a better world.