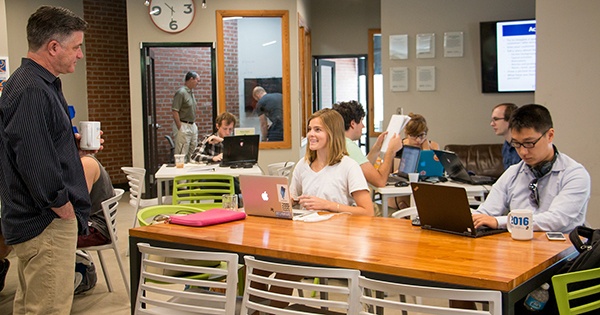 The University of Delaware Horn Entrepreneurship VentureOn program is accepting applications for the spring 2018 semester. The program provides students working on startup ideas with resources, Venture Development Center access and support from successful entrepreneurial mentors.
The program is seeking to incorporate new teams this semester and encourages anyone with interest to attend one of two scheduled meetups this month. The first is Feb. 8 from 5:00 to 6:30 p.m. and the second will be held on Feb. 15 from 6:30 - 8:00 p.m. Both will take place at the Venture Development Center at 132 East Delaware Ave.
The meetup was a suggestion from ENTI major Lauren Graupman. She feels that "a lot of people involved with Horn Entrepreneurship do not have their own idea for a startup but have an interest in ideas others have. It helps foster my own entrepreneurial spirit. Getting started is sometimes the hardest hurdle. If I was part of a working team it'd be less stressful and I would have the ability to learn from others."
"It is a privilege to mentor and help these students," said Vince DiFelice, a professor and the Manager of Venture Support. "VentureOn teams represent the University's seven colleges emphasizing the cross college reach of Horn Entrepreneurship. Students, ranging from first semester freshman to postdoc, are engaged and excited about entrepreneurship."
VentureOn is available to all UD students from any college who are actively pursuing the launch and growth of a business. VentureOn is a semester long commitment and is renewable in sequential fall and spring semesters. To apply you must fill out the application form by midnight on Feb. 22.
About Horn Entrepreneurship
Horn Entrepreneurship serves as the University of Delaware's creative engine for entrepreneurship education and advancement. Built and actively supported by successful entrepreneurs and thought leaders, Horn Entrepreneurship empowers aspiring innovators and entrepreneurs as they pursue new ideas for a better world.