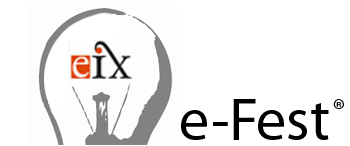 University of Delaware Horn Entrepreneurship venture Wilminvest won the Pitch Slam competition in Minneapolis, Minnesota. The competition was a part of e-Fest® 2018, a 3-day celebration of undergraduate entrepreneurship.
The event was co-sponsored by the Richard M. Schulze Family Foundation, Schulze School and EIX.org, an online platform for entrepreneurs, students and professors, with fully vetted interviews, articles and content from those who have succeeded in building a business.
Horn Entrepreneurship students Joel Amin and Bryce Fender, Lerner College, Class of 2019, co-founded the company with Demetrius Thorn, University of Pennsylvania. Wilminvest provides supported housing environments for third party community-based organizations by renovating vacant properties in the city of Wilmington, Delaware, and leasing them as permanent supportive housing.
"e-Fest was one of the most incredible experiences of my life," said Amin. "To compete with such talented and impressive teams from all over the country was an absolute honor, and I learned more than I could've ever imagined over that 3-day period."
During their time at e-Fest, the team placed first in the Pitch Slam! Competition, earning them a grand prize of $10,000. The uniquely styled competition focused on performing elevator pitches in a minute and a half.
"I've never felt such a powerful feeling as when we won the Pitch Slam!" said Amin. "We started off the weekend on fire. As soon as our name was announced we all screamed and stood up and ran to the center of the room. That very moment made all of the long nights working worth it 100 times over, and showed me how powerful Horn Entrepreneurship truly is."
E-Fest is not just about competition, however; Wilminvest were also able to connect with other student entrepreneurs, successful entrepreneurs and mentors to provide support in the journey of building their dream.
"Meeting Richard Schulze [founder of Best Buy] face-to-face was something else," said Amin, grinning. "Talking to him about my aspirations reassured me that there truly are people who care about what I have to say out there. I am humbled to know that successful people want to help me! And it is not just successful people either - I made business contacts but I made genuine friends too, and we are excited to follow up and build relationships."
Wilminvest plans to utilize their prize money to continue working on and expanding their venture for the summer and beyond.
About Horn Entrepreneurship
Horn Entrepreneurship serves as the University of Delaware's creative engine for entrepreneurship education and advancement. Built and actively supported by successful entrepreneurs and thought leaders, Horn Entrepreneurship empowers aspiring innovators and entrepreneurs as they pursue new ideas for a better world.