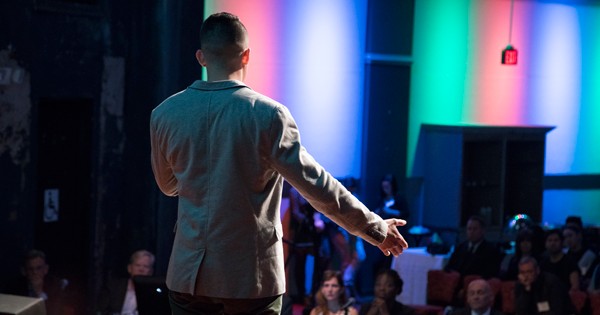 The University of Delaware's Horn Entrepreneurship invites submissions from UD students, faculty, staff and alumni for Hen Hatch 2018, the university's premier startup funding competition.
Registration and business concept submissions are due Jan. 22, 2018. An outline and suggestions for what to include in the submission are available at the Hen Hatch website.
Participants in Hen Hatch receive guidance, visibility, startup funding and in-kind services to help develop and improve their business concepts.
Last year's top student team, GeoSwap, found success with their location-based mobile app.
"Hen Hatch was an incredible experience," said Jordan Gonzalez of the GeoSwap team. "The resources and funding they provided combined with a competitive atmosphere that we could test ourselves against is what entrepreneurship is all about."
Hen Hatch assembles a world-class panel of reviewers and judges that take the time to review and ask relevant and impactful questions about submissions. These judges are top of the line in their fields and offer their own unique perspectives.
Vincent Di Felice is manager of venture support for Horn Entrepreneurship.
"Hen Hatch serves as UD's premier startup funding competition and provides entrepreneurial students, alumni, faculty, and staff with opportunities to make connections and collect feedback on their ideas," Di Felice said. "We are pleased to open registration and offer the competition to the Delaware community once again. Mentoring and learning are distinguishing factors of Hen Hatch. All contestants, regardless of placement, are provided feedback and advice. Participation in Hen Hatch introduces each contestant to the ideal way in which to learn entrepreneurship; doing it."
To that end, this year Hen Hatch will offer two new features: "How-To" workshops which will provide direction on the Hen Hatch application process, and a, "Next Steps" workshop offering guidance to students that do not reach the semi-finals.
"Many students apply to Hen Hatch and those who do not advance above the semifinals, find themselves disconnected," Di Felice said. "We want to fix this by connecting them through continued mentoring and learning, the competition's distinguishing factors."
Hen Hatch separates applicants into two tracks:
• A track that is open to undergraduate and graduate students from any UD degree program
• A track that is open to UD alumni, faculty and staff
Timeline:
• Oct. 28, Hen Hatch registration opens
• Nov. 6, How-to workshop for students at the Venture Development Center
• Jan. 8, How-to workshop for students, alumni, faculty and staff
• Jan. 22, registration/submission deadline
• Feb. 19, notification of semifinalists.
• Feb. 21, next steps workshop for non-semifinalist students
• March 16, student team semifinal round
• March 23, alumni, faculty and staff semifinal round
• April 24, final round, top three teams from each track pitch in front of a panel of judges and audience at The Queen in Wilmington, Delaware
Those with questions about Hen Hatch can write to hornprogram@udel.edu
About Horn Entrepreneurship
Horn Entrepreneurship serves as the University of Delaware's creative engine for entrepreneurship education and advancement. Built and actively supported by successful entrepreneurs and thought leaders, Horn Entrepreneurship empowers aspiring innovators and entrepreneurs as they pursue new ideas for a better world.