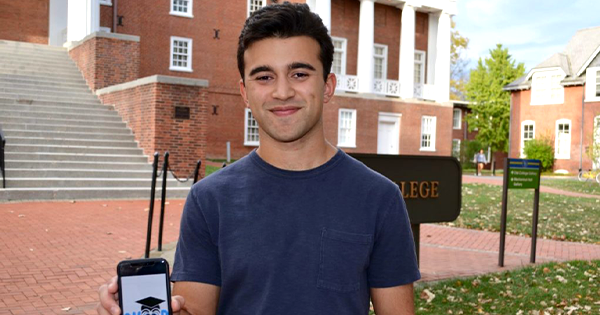 Editor's Note: Snoop was a startup by Andrew Cercena and Nick Novoa that sought to help high school students find the right college. This guest article is the first in a two-part series that explores how one team's startup journey ultimately led to new pathways in entrepreneurship and interest discovery.
When I started Snoop, I was determined to solve the problem that many high school students face before entering college: That they do not know what the college student experience is truly like until they arrive and live on campus for the first time. For students that find that their expectations differ from reality, this fundamental problem has caused many to be dissatisfied, or to transfer altogether.
I sought to solve this problem by connecting high school students with college students similar to them over video chat to talk about student life at specific colleges. In this process, my various partners and I interviewed over 300 potential customers, including high school students and their parents, college representatives, college counselors, and more.
Through these interviews, my main partner Nick and I were able to gather insights into the biggest problems of these individuals and what value they needed to solve them. Once we knew what families needed, we were able to find out how much they were willing to pay for our service by comparing it to what they currently pay to learn more about schools. For example, the average family already spends a shocking $3,000 to travel to visit colleges. Nick and I understood that we could not replace the importance of physically visiting a college campus, so instead our value focused on narrowing down the long list of schools to which families would travel.
Unfortunately, after a long summer spent in the Summer Founders program at Horn Entrepreneurship, we came to the conclusion that high school families were not willing to pay enough for one video chat to cover the costs involved in arranging these highly customized virtual meetings across high schoolers and college students. We realized that there are many other resources for high school families to get an idea of what it is like to go to a specific college, and the existence of alternatives diminished the unique value that we were offering to families, along with how much they were willing to pay for our service.

Even though I am no longer working on Snoop, I have many takeaways from the experience. For example, my work with projecting cash flows for Snoop has increased my interest in finance. Additionally, I was able to talk with many people in various fields whom I would not have had the chance to otherwise, and these conversations led me further down a path of interest discovery.
After exposure to multiple fields through my work on Snoop, I have found an interest in fintech, or financial technology. I am currently exploring this interest by reaching out through my connections to find an internship in the fintech space for this summer.
Through hands-on work, I will be able to confirm my interest in fintech, and I will be able to keep pushing to gain valuable experience by following my interests. Through the process of working on my own startup, I have been able to learn much more about myself and my interests than I could have previously imagined. I plan to continue this process into the foreseeable future by seeking to solve problems in and learning more about the fintech space.
About Horn Entrepreneurship
Horn Entrepreneurship serves as the creative engine for entrepreneurship education and advancement at the University of Delaware. Currently ranked among the best entrepreneurship programs in the US, Horn Entrepreneurship was built and is actively supported by successful entrepreneurs, empowering aspiring innovators as they pursue new ideas for a better world.