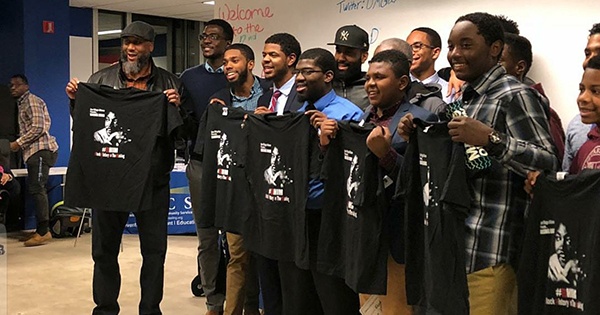 University of Delaware Horn Entrepreneurship Masters student Garry Johnson ran a successful second year of his I Have a Dream Pitch Competition. The event is designed to empower young men and boys of color in the city of Wilmington through entrepreneurship to inspire confidence and improve problem solving skills.
"The competition was literally a dream that I had from being engaged with Horn Entrepreneurship through First Step, pitch competitions, and Hen Hatch," said a smiling Johnson. "I saw that entrepreneurship really empowered people. Through my passion for serving the community, I thought there was an amazing opportunity to merge the two. The young men and boys of color in Wilmington constantly get a bad rap but what if we could bring them in, teach them leadership skills, give them confidence and find a way to boost their problem solving skills? What if we could show them that there are people out there who want them to succeed and achieve their dreams?"
The competition first ran in January 2017 at 1313 Innovation in Wilmington. Johnson used his experience from Horn Entrepreneurship pitch competitions to model the layout for his own pitch event. Johnson was also able to use the connections he forged through his experiences to gather support for the event.
"My experience and position as an intern at 1313 Innovation really opened doors for me. Horn sponsored $1000 for first prize and 1313 gave me their space to host the event," said Johnson. "To have all of these things in place with all these people believing in me showed me immediately how worthwhile the idea was and showed me first-hand that what I was striving to do for other people was important."
Fast forward another year to January 9, 2018 and Johnson was running the event again, this time hosting the competition at The Mill in Wilmington. Joel Amin, CEO and co-founder of Wilminvest, formerly Trade Link Pro, the winner of the 2017 competition, acted as a judge for the 2018 event along with other notable Wilmington entrepreneurs. Each of the judges raved about all of the participants and the winners.
"The first place winner, Elijah Jones of Tatnall School, I was able to work with through the TeenSHARP program. His idea was to innovate the model that TeenSHARP is built on. He knocked his presentation out of the park," said Johnson. "Second place, Alex Sharpe of Appoquinimink High School, was actually my mentee at TeenSHARP, and it was amazing to see his idea to combat the lack of diversity in education hiring practices. Third place was Austin Graham of Nativity Prep, a very special young man with a homemade soap business."
After the registered participants pitched their ideas, Johnson invited anyone in the audience to pitch on the spot. Graham was the first to volunteer and his spontaneous presentation was followed by Adel Davies, a young woman who pitched her idea centered around positive body image for young women.
"Seeing how proud Graham's mom was in the audience was what the whole event is really about and Austin is exactly the kid we want to serve with this event. His mom called me the next day and told me how excited he was to win third place and receive recognition at school," said an ecstatic Johnson. "I gave every participant a notebook to fill with ideas and he has already started filling it in with his own dreams. Just hearing about one person coming and having such a positive experience shows the impact and how amazing it could be for the entire community."
About Horn Entrepreneurship
Horn Entrepreneurship serves as the University of Delaware's creative engine for entrepreneurship education and advancement. Built and actively supported by successful entrepreneurs and thought leaders, Horn Entrepreneurship empowers aspiring innovators and entrepreneurs as they pursue new ideas for a better world.