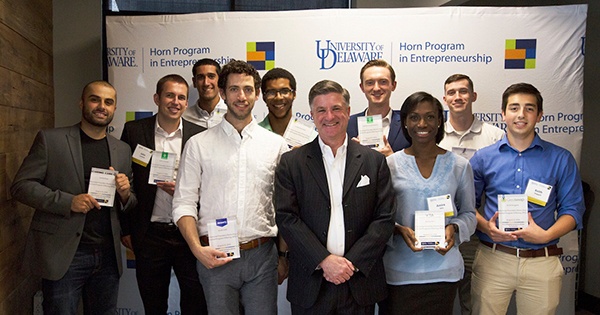 With the full support of the Department of Business Administration faculty, Horn Entrepreneurship's Vincent Di Felice, Manager of Venture Support, has been awarded a secondary appointment as Assistant Professor of Practice in the Department of Business Administration in the Lerner College of Business and Economics.
As a leading figure of Horn Entrepreneurship, Vince is supporting nascent student startups and enabling opportunities for student entrepreneurial learning as well as teaching courses in entrepreneurship. He is passionate about creating value, positive change and social impact through entrepreneurship.
Before joining Horn Entrepreneurship, Vince enjoyed a 30 year entrepreneurial career which included co-founding an industry leading cybersecurity company, Probaris Technologies, and co-founded a thriving $800M social impact fund, The Reinvestment Fund. Both operate today employing many, generating profit, creating value and social impact.
He co-founded three ventures in addition to Probaris Technologies and The Reinvestment Fund, one of which operated for 25 years. After launching The Reinvestment Fund and before starting Probaris, He worked as an associate in a venture capital fun
d and later helped the University of Pennsylvania create startups.
As a venture capitalist, he launched 6 additional companies. And working for UPenn he spun out 24 more companies. After an entrepreneurial career, culminating with a successful exit from Probaris Technologies, and benefiting significantly from entrepreneurship and empowering others, Vince sought a role in academia to guide others to do the same.
"I care most about helping other people succeed. I did so as an entrepreneur and learned that's the key to success for all involved in any venture. I've learned teaching allows me to do that as well. If I could spend the rest of my working days teaching; helping students succeed through learning entrepreneurship, that'd be a real privilege."
As for the students he already teaches, Di Felice assures them, "I was an adjunct professor previously, those that I'm helping aren't going to get less of me. The University has welcomed me, and this credential expands upon that welcome. I'm going to continue what I've always done for my students, past, present and future."
Di Felice has also been Nominated for an Excellence in Undergraduate Academic Advising and Mentoring Award for 2017.
Di Felice would like to thank Dan Freeman, Founding Director of Horn Entrepreneurship for all his support and the Department of Business Administration for their confidence awarding him this secondary faculty appointment.
About Horn Entrepreneurship
Horn Entrepreneurship serves as the University of Delaware's creative engine for entrepreneurship education and advancement. Built and actively supported by successful entrepreneurs and thought leaders, Horn Entrepreneurship empowers aspiring innovators and entrepreneurs as they pursue new ideas for a better world.