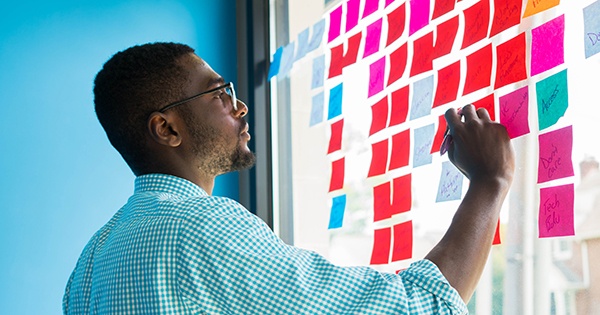 Garry Johnson III is a graduate of the Horn Entrepreneurship Master's in Entrepreneurship & Design program, as well as a past Hen Hatch participant and finalist. If you would like to read the full article, please visit Garry's article on Medium.
This summer, I was invited to participate in the 'Summer Founders' Pre-Accelerator organized by Horn Entrepreneurship at the University of Delaware. It's a 12-week program modeled after Y-Combinator and other famous accelerators helping to develop the next best startups across the country. This program is unique in that students aren't necessarily expected to launch a startup after completion, but rather after engaging with areas of interest, and exploring the market, they may complete the program with a better understanding of where they'd like to start their career. Some participants choose not to start their own businesses, but throughout the process, begin to tackle problems others find admirable, resulting in job offers they may not have otherwise received. Here's a summary of my experience in the program and 3 great lessons I learned along the way.
Venture into the unknown. (Although it might scare you)
I'm a recent grad, having just completed graduate school in May of this year. During both undergrad and grad school, I'd taken advantage of nearly every entrepreneurial program my school had to offer. Though I had seemingly done it all, Summer Founders was like the final level of a video game, so to be invited to participate was a dream come true.
I wanted to make sure that I gave this opportunity my all, so in preparation I signed up for a Startup Weekend at a nearby university the weekend just before our program's start date. I felt as though it may serve as a condensed version of what I was to experience throughout the summer, and in hindsight, it really did.
The weeks leading up to the start date were tough. I had to recruit a team, as participants are not encouraged to participate as solo-founders due to the workload and obvious benefits of collaboration. Up to this point, nearly all of my entrepreneurial endeavors had been carried out alone. I'd worked with other people on ventures before, but as a team, none ever panned out. Due to this, I was really tough on myself, trying to make sure that this didn't happen again, hoping to improve as a leader who could motivate and manage a team. This was an opportunity for me to start over.
I was venturing into the unknown with no idea of what would happen at the end of the program. Would I find a scalable and repeatable business model? Would I gain buy-in from the philanthropic investors who'd visit each week? Or, more importantly, would I impress the investors who'd come to hear our final pitches at Demo Day at the end of the summer?
I hadn't sought out any jobs leading up to graduation, so of course I hadn't received any job offers for the fall. Before accepting the invitation to participate in Summer Founders, I had applied for an internship in Chicago and didn't move forward in the applicant screening, so I thought that might be a sign that I shouldn't seek a job, but rather create my own opportunity.
I was betting everything on designing a sustainable business and was working with a team I'd never worked with before in order to do it. There was so much of this I'd never done before, so I was definitely worried, but I've never been one to pass on an exciting adventure.
This post is an excerpt of a longer piece by Garry Johnson III. Visit Garry's Medium page to view the full piece.
About Horn Entrepreneurship
Horn Entrepreneurship serves as the University of Delaware's creative engine for entrepreneurship education and advancement. Built and actively supported by successful entrepreneurs and thought leaders, Horn Entrepreneurship empowers aspiring innovators and entrepreneurs as they pursue new ideas for a better world.