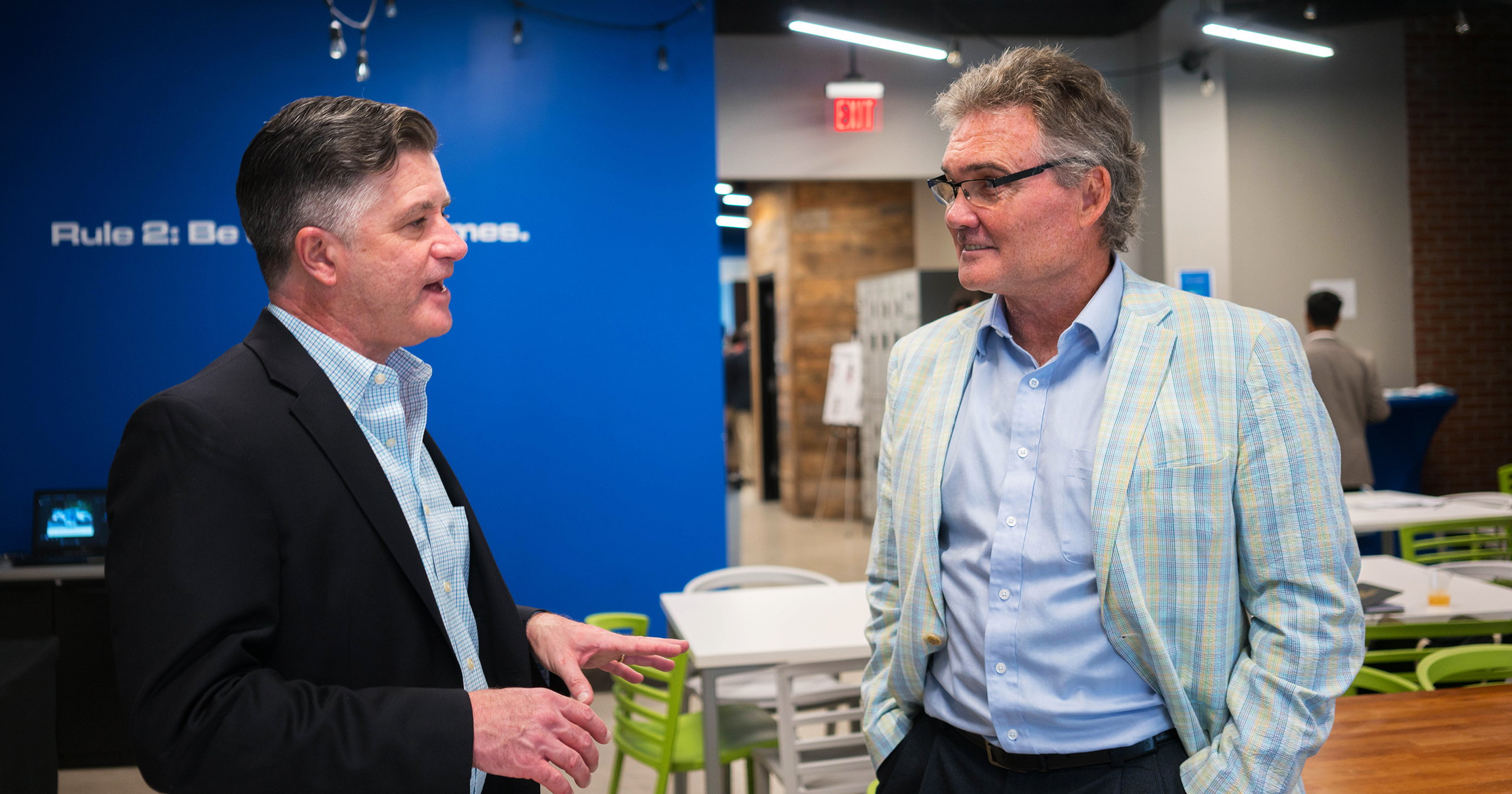 Vince DiFelice, Senior Instructor of Practice and Faculty Director of Venture Support, has been an instrumental figure in helping nascent student startups find their footing and future success. Beyond delivering exceptional venture support guidance, Vince has helped students find new passions and recalibrate their career goals to better match what they are most interested in.
Before joining Horn Entrepreneurship, Vince's entrepreneurial journey spanned 30 years and included co-founding an industry-leading cybersecurity company, Probaris Technologies, and a thriving $800M social impact fund, The Reinvestment Fund, among other ventures.
Vince's experiences have helped him mold a practice and mindset for students to get the most out of their college experience with the entrepreneurial process of discovery.
Indulge your curiosity
"I think most people come to college to figure out who they are and where they fit in the world," said Vince. "You've got four years to figure it out, but before you know it, you're scrambling to get a dorm room, and you're scrambling to meet this requirement, that requirement, and students end up not feeling ready come graduation."
Vince, a graduate of LaSalle University, began his entrepreneurial journey as an undergraduate, pursuing a profitable business that provided social impact: a novel concept at the time that has since come to be known as social entrepreneurship.
The young entrepreneur, much to the chagrin of his friends and family, indulged his desire to help others through business and started the Chelten Avenue Business Association (CABA), a loan fund designed to help the community reinvest in its own success. Later, based on his experiences with CABA, Vince started an $800M social impact fund, The Reinvestment Fund.
"I would go to class and study, shine my shoes and tie my tie, all those things you're supposed to do," said Vince. "But I also did what I wanted to do; what I thought was right for me. In doing so, I discovered opportunities, careers, markets that interested me; interests I had no clue ever existed. What was right for me was learning through starting a business, learning by applying the method of evidenced based entrepreneurship. And the good news is you do not have to start a business to learn. While you're at school doing all the things you're supposed to do, search for something you're interested in and what you care about by applying this method of entrepreneurship, and it won't matter if you start a business or not. By talking to and learning from others, you can discover something you truly care about out there in the world.
"Most people cannot answer two questions: 'What interests you? And what do you truly care about?' Most people will tell you they're interested in sports or some other hobby. Most people will tell you they really care about their family or friends or their community. But these are typical, simple answers which do not require much effort or introspection. Students should go out into the world and talk to people to discover something they truly care about out. And everyone likes to talk about two things: themselves and their problems. Let people tell you about themselves and they'll talk to you about their problems. And this is where the entrepreneurial journey begins; by solving people's problems. This is where your discovery begins, the discovery of what interests you and what you really care about."
Embrace a unique four-year experience
By starting his journey of discovery as an undergraduate, Vince was able to take advantage of the resources and connections in front of him provided by LaSalle. The college experience is the perfect time to give yourself over to trying new things and embrace what it could mean for your future.
"You should do something that can only be done during these four years of school, and that's discovery; because after here it just gets harder and costs more," said Vince. "To discover, help them find themselves, people established in their careers seek counseling, hire a career coach, quit their job and backpack across Europe. And even then they still don't have the answers. Doing that isn't enough, so take advantage of this four-year slice of your time, discover and own it."
Take initiative to reduce pressure
Vince had initiative in spades when he started his first venture as a college student, and it was a common theme throughout his childhood. Instead of pursuing popular avenues for work, Vince wanted to do something that not many people were doing in order to learn and discover.
"In high school, I became interested in starting my own business. I figured I better learn how to sell. I heard about this Cutco Cutlery sales job, and they ran me through the training but all I could do was shake my head, saying to myself 'I can find a better way to sell these knives,'" said Vince.
And so he did. Vince took inspiration from a documentary about the rise of Sears after World War II. Young Americans were returning home, starting families and buying homes. Sears had everything they needed to fill the new empty houses all in one place.
"I thought if Sears could help new homeowners fill their empty homes with furniture, I could help them find a few knives. I just needed to find the new homeowners with empty houses. My friend's brother had just earned his real estate license so I asked him to tell me where the houses with new homeowners were. And after explaining why I wanted to know, I cut him in on the action with a small percentage of my earnings, and he told his friends about it and then it worked like crazy. Instead of knocking on the door with that weak pitch, I did it my own way and sold more knives, faster. These were my first lessons about talking to customers, optimizing channels and building a repeatable business model."
Vince struck out on his own and found increased success and fulfillment and his advice today is to try it too. Rather than let the trepidation of starting something new get in the way, Vince recommends buying into it to learn more about yourself and where you want to go.
"I enrolled in business school to learn how to start a business. I remember my operations professor going on about managing a factory and manpower and work formulas. After class ended I explained I wasn't interested in running a factory. I wanted to start the factory. I asked him where I could learn that. He had no answer, all I heard were crickets chirping. I realized I had to do it and learn it myself and I really felt less pressure doing it this way. No one was grading me. I graded myself. At times I didn't know what I was doing and I failed. But I didn't give myself an F. I gave myself an A because I was learning and doing what no one else was trying to learn or do. I kept fighting and eventually, gave myself an A in selling and an A trying to figure out how to start my own business because nobody else would show me. And you can do that too. It was the challenge without anyone else telling me what to do that helped me better understand my interests and what I truly cared about."
Begin your entrepreneurial journey and discover what interests you by emailing hornprogram@udel.edu and ask for an Intake Consultation. Arrange to meet with a student who has experienced all Horn Entrepreneurship has to offer and choose which Horn Entrepreneurship opportunities are right for you.
About Horn Entrepreneurship
Horn Entrepreneurship serves as the University of Delaware's creative engine for entrepreneurship education and advancement. Built and actively supported by successful entrepreneurs and thought leaders, Horn Entrepreneurship empowers aspiring innovators and entrepreneurs as they pursue new ideas for a better world.