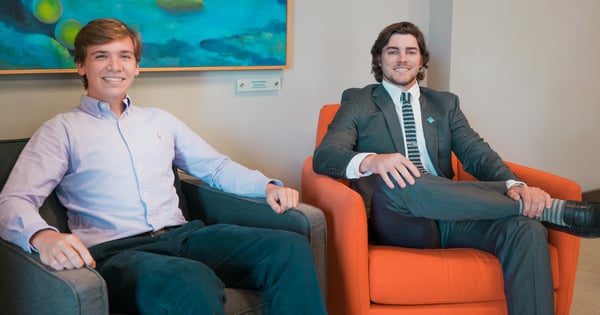 Brandon Holly, College of Health Sciences, Class of 2021, began his college career as a Nursing major, but quickly found himself trying to get more from his college experience. A simple conversation impacted Brandon's college journey significantly and brought him clarity and confidence in how to help people through his medical career goals.
"Pretty much from when I stepped foot on campus I was trying to figure out a way to blend nursing and the business aspect of things and I was searching for really any way to do that," said Brandon. "I talked to Ted [Foltyn] in the fall to share what I was interested in but it wasn't until the spring rolled around that Ted let me know he had an opportunity for me."
Ted Foltyn, an adjunct professor with Horn Entrepreneurship, also serves as the Signature Internship Program Coordinator, a special internship placement program designed and catered to Entrepreneurship & Technology Innovation students. Ted is well-placed to help students like Brandon find opportunities, and though it took many months, Ted was able to find an opportunity that changed Brandon's college experience instantly.
"Ted introduced me to Kenny Eck and the two of us had a conversation about what his vision was for his venture," said Brandon. Kenny founded the healthcare venture Patient Sortal, providing a safe, sorted, shareable healthcare record keeping system for patients confused in the mess of insurance and caregivers. "Kenny and I decided it was an opportunity that benefitted both of us; l was able to gain an understanding of the business side of healthcare while working with Kenny to create the strongest solution to the problem we identified."
The Summer Founders program, headed by Horn Entrepreneurship professor Vince DiFelice, is the startup pre-accelerator for Horn Entrepreneurship ventures. The pre-accelerator provides funding, mentoring services and access to key local entrepreneurs and investors. Through Summer Founders, Brandon and other participating students learned the ins and outs of getting their ideas off the ground while connecting with potential customers and successful businessmen in the fields of their ventures.
"Summer Founders opened my eyes to the entrepreneurial process and it's own, different way of thinking," said Brandon. "It's very different from the traditional methods taught in most of the classrooms here; it's really making something out of nothing. Now when I am considering a problem, I take the time to consider all factors and brainstorm ways to solve it before acting."
Brandon's time spent connecting with potential customers and experienced professionals both within and outside the healthcare industry exposed him to powerful habits designed to improve productivity and success. The young nursing student was also able to better understand what he enjoyed most and what his path forward was going to look like.
"After working through some of the problems in the healthcare system, I began to realize that I can help a larger population through a business rooted in healthcare as opposed to working at the bedside" said Brandon. "I joined Alpha Kappa Psi, a professional business fraternity, and added a business administration minor to further my education and exposure to business practices."
Brandon developed both a greater understanding and appreciation for business skills in the medical industry and has since added a Business Administration minor to his degree, but his heart still remains with hands-on healthcare.
"I want to start my career out on the floor as an RN or something similar," said Brandon. "Then I would like to transition to something more business oriented with pharmaceuticals and hospital administration, and I would have never known that without going through the entrepreneurial process and speaking to so many different professionals. I can't thank Horn and the community enough; it's filled with driven, passionate, helpful people that are trying to make positive change."
Brandon is evidence that students can still benefit from learning in an entrepreneurial environment. Email hornprogram@udel.edu if you're interested in learning more about Horn Entrepreneurship and how to get involved with the opportunity that is the right fit for you.
About Horn Entrepreneurship
Horn Entrepreneurship serves as the University of Delaware's creative engine for entrepreneurship education and advancement. Built and actively supported by successful entrepreneurs and thought leaders, Horn Entrepreneurship empowers aspiring innovators and entrepreneurs as they pursue new ideas for a better world.