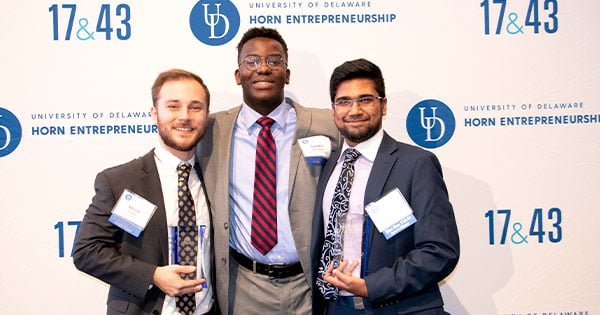 The Blue Hen 17&43 Awards are the University of Delaware's way of recognizing students and alumni who are part of the most promising new ventures and the fastest-growing companies today.
Recalling when the university itself was founded in 1743, the Blue Hen 17&43 Award honors up to 60 entrepreneurs and innovators who are leading the way in their fields, yet can trace the DNA of their startup or company back to their origins within the UD community.
Any venture or company that is Blue Hen-founded or Blue Hen-led is eligible. Read more about eligibility and selection criteria here.
In 2019, past award winners in the first category, which recognizes 17 of the most promising Blue Hen ventures, included student-led projects like AndAgain and 360VR Technology.
On a mission to create the most sustainable, luxury fashion label in the world, AndAgain was founded by Morgan Young, AS18, and Greg Harder, AS18, in 2016, while the two were still working out of their apartment bedrooms as students at UD. Although having left the bedroom for New York City, Young continues to give back to the entrepreneurship communities at UD, having most recently been a panel judge for VentureOn's spring 2020 pitch competition.
Similarly, 360VR Technology was first nurtured at UD's own Horn Entrepreneurship, and the startup works to create a virtual reality platform and mapping system for buildings. Deeply rooted in their growth at Horn, founders James Massaquoi, AS20, and Sury Gupta, CE20, have shown the UD community firsthand the rich applications of their venture by producing the virtual tour for Horn's Venture Development Center.
The second category, which recognizes 43 of the fastest-growing companies by UD alumni, has included now well-established brands like Bryan Anthonys, a fashion and jewelry company founded by Amber Glassman, BE19. Today, Glassman serves as one of Horn's newest National Advisory Board members, and Bryan Anthonys has since grown to a 40-employee company based in a 25,000 square-foot space. Glassman received the award in 2019 as the CEO of one of fastest-growing companies to come out of UD.
Other companies, like The Siegfried Group, a national leadership advisory and talent delivery firm, trace their connection to UD even further back. With four former UD alumni as company leaders, including BE81 graduate and founder Rob Siegfried, The Siegfried Group most recently reconnected with UD by founding a new leadership initiative and certificate program through Horn.
Whether you've just recently arrived to campus and have a venture that is starting to build momentum, or if you've been a life-long Blue Hen with a long-standing company, the 17&43 Awards are meant to recognize any and all UD community members who are championing innovation and leadership as entrepreneurs.
Applications are open from now until July 1. Learn more, and start your application for the Blue Hen 17&43 Awards here.
About Horn Entrepreneurship
Horn Entrepreneurship serves as the creative engine for entrepreneurship education and advancement at the University of Delaware. Currently ranked among the best entrepreneurship programs in the US, Horn Entrepreneurship was built and is actively supported by successful entrepreneurs, empowering aspiring innovators as they pursue new ideas for a better world.