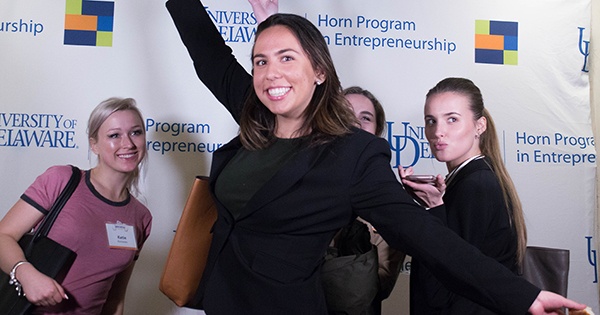 Hen Hatch, University of Delaware Horn Entrepreneurship's premier startup competition, returns in spring 2018 to provide students, alumni, faculty and staff an excellent opportunity to pursue and improve their business ideas. Outside of being a fantastic opportunity to pitch your ideas, Hen Hatch provides five amazing and phenomenal benefits that everyone can take advantage of, win, lose or draw!
1. Meet some cool new people!
Who couldn't use a couple extra friends, am I right? But seriously, as Adam Stager, founder of TRIC Robotics, said: "The students around the program were amazing to collaborate and connect with. Reaching out and working with them really helps you shape your ideas." Grow your network, improve your ideas AND get a chance to stop belting XO TOUR Llif3 in the shower? Sign me up!
2. Grow your idea with insightful feedback
The entrepreneur in you is dying to take that idea to market and start cashing checks faster than Joyner Lucas raps on his Mask Off remix, but wait just a minute! The supportive and intelligent staff at Horn Entrepreneurship would love nothing more than to provide some concrete steps to improve your idea and help those checks cash out for even larger sums. As Anthony Rossi, a past Hen Hatch semi-finalist, said "Hen Hatch allowed us to take an objective look at our idea, sit down and see what we needed to do. We built an awesome network of contacts and got some insightful, concrete feedback from staff and Horn connections that has allowed us to pivot in the right direction."
3. Experience support and preparation for future business ventures, even Hen Hatch again!
Of course, Hen Hatch is about more than just the present, the here and now! Hen Hatch is an opportunity to grow and improve yourself as a professional, an innovator and entrepreneur. As Anthony Rossi said, "There's a good lesson in stepping back and being introspective about why you didn't win and understanding how to improve. It's a marathon, not a sprint, and it is a competition you can always do again next year either as a student or even alum."
4. Become more confident and open more doors
With beautiful future you in mind, consider the implications of participating in such a phenomenal and empowering event like Hen Hatch. Garry Johnson, a Master's student, said it best: "Hen Hatch is just a fantastic opportunity to learn and grow and you are only doing yourself a disservice if you do not put your ideas out into the world. I was able to build on my ideas and go forward and improve. I have gone on to do other things and find success elsewhere, including the I Have A Dream Pitch Competition and Raising Kings week, so the application process definitely opened doors and provided me with the confidence to keep going."
5. Have a great time working on an idea you're passionate about
What more is there to say really? You're obviously dead set on your idea and you've kicked it around your family for years and now Hen Hatch is the perfect, trusting, supporting push you need to make your idea a reality, and have a great time doing it! Do I really need a testimonial to back this point up?
Sign up for Hen Hatch and skip the regret! View an archived live stream of the Q&A workshop on Facebook. The deadline for submission is Jan. 22.
About Horn Entrepreneurship
Horn Entrepreneurship serves as the University of Delaware's creative engine for entrepreneurship education and advancement. Built and actively supported by successful entrepreneurs and thought leaders, Horn Entrepreneurship empowers aspiring innovators and entrepreneurs as they pursue new ideas for a better world.