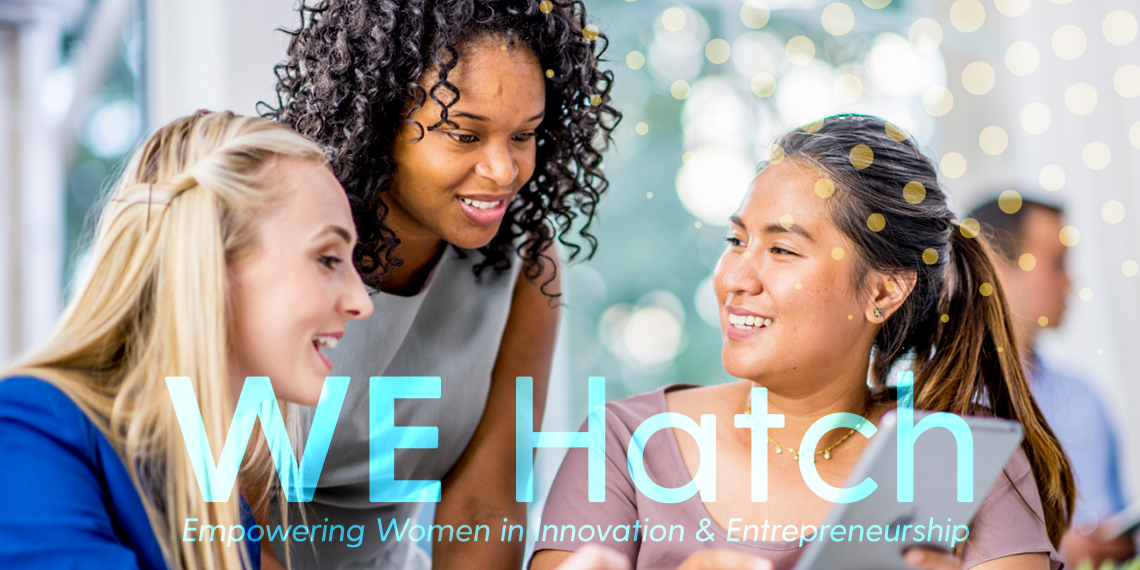 Ideas to Action – Skills for Implementing Innovation
Thursday, April 7
8 a.m. to 6 p.m. (includes luncheon and networking reception)
Audion at STAR Campus, University of Delaware
Registration: $150
Sponsored by: Breakwater Advisory, Capital One, Delaware Business Times, Delaware Prosperity Partnership, Discover Bank, First Founders, Fox Rothschild LLP, The Siegfried Group and TD Bank
Women are significantly less likely to have their ventures funded or to have their innovations implemented in organizations. Despite progress in in recent years, female-founded ventures still only account for 15% of current investments (Brush et al., 2018) and women's ideas are rarely implemented in organizations even though they generate equally innovative ideas as their male colleagues (Foss et al., 2013). Why? Research shows that females face a different set of challenges in the innovation process related to analyzing and de-risking ideas, getting stakeholder buy-in, and leading the implementation of their ideas.
This workshop series will focus on the development of skills crucial for taking your ideas from infancy to implementation with an emphasis on the challenges specific to female founders and innovators. First, we explore how to identify risks and learn skills to maximize the likelihood of pursuing the best ideas. Then, we focus on pitching, persuading, and building trust in initial interactions with stakeholders. Finally, we practice skills for implementing and inspiring innovation, such as storytelling, mentorship, and leadership. Please contact Laurie Prysock at
LPrysock@udel.edu
if you would like more information about WE Hatch. The workshop will take place on Thursday, April 7th.
Agenda
8:00 a.m. Check in and coffee
8:30 - 10:00 a.m. Session one: How to Assess Risk and De-Risk your Ideas
10:15 - 11:45 a.m. Session two: Creating a Village: Effective network building strategies for Innovators.
12:00 p.m. Luncheon including a Fireside Chat "Three things I wish I knew" with member of the WE Hatch Honor Circle, moderated by Grace Leong, CEO of Hunter
1:45 - 3:15 p.m. Session three: Pitching like a Girl: How to pitch any idea to maximize success
3:30 - 5:00 p.m. Session four: Leadership and Trust Building
5:00 - 6:00 p.m. Networking Reception
---
Skills for Early-Stage Innovation – Assessing Risk and Building Networks
How to Assess Risk and De-Risk Your Ideas
In the early stages, two big obstacles to innovation are risk and networks. This session focuses on the first - risk. Women are less likely to pursue innovation because of a lower tolerance for risk (Eckel and Grossman, 2008; Yu and Chen, 2016; Klyer and Terjesen, 2007). We will explore skills necessary for early-stage innovation, such as how to analyze your ideas and reduce the risk associated with pursuing them.
Meet Laura Gasiorowski

Dr. Laura Gasiorowski is an Assistant Professor of Entrepreneurship at the University of Delaware. She serves as the faculty director of the Delaware Innovation Fellows program and the coordinator for the WE Hatch professional development workshops. Laura joined UD in Fall of 2018 after receiving her PhD from Temple University. She is a former entrepreneur herself; she launched a startup in the music-tech industry while she was in college. Her research focuses on entrepreneurial learning, venture capital, and women's entrepreneurship, and has been recognized by the Academy of Management, Korean Association of Business Education, and the Strategic Management Society.

Meet Alisa Moen

Alisa Moen is a highly experienced Legal Counsel and former private law-firm Partner, former General Counsel at Dillon Gage Metals, and President of the Company's international depository operations and a Member of the Executive Management Team. In addition to managing all legal matters for the company, Ms. Moen advised on business strategy and managed operations at a number of global precious metals depositories.

With extensive experience in Law (including Compliance, Risk Management, Due Diligence, Conflict Resolution and Litigation) and in Business Management (including M&A, Procurement, Contracting, Logistics and Business Development), Ms. Moen is a strong negotiator and a trusted Board adviser. Ms. Moen is passionately committed to not-for-profit causes (she serves as General Counsel to HELPS International) and has served in many roles for the Choroideremia Research Foundation.
Session Two
Creating a Village: Effective Network-Building Strategies for Innovators
This workshop addresses the second big obstacle to innovation - networks. Women are less likely to build effective networks (Eckel and Grossman, 2008; Yu and Chen, 2016; Klyer and Terjesen, 2007). In this session, we explore effective strategies for building networks to maximize success.
persuasion.
Meet Gina Wilson

As a management consultant, executive and leadership coach, Gina partners with individuals and organizations to develop evidence-based solutions that enable people to flourish. As the Author of , 'Skills That Build', she is committed to bringing professional coaching to those with limited access to coaching for personal and professional development.

As an ICF-trained Certified Professional Coach with a graduate degree in cognitive psychology and additional training from Harvard Medical School/McLean Hospital Institute of Coaching, Gina offers whole-person executive coaching services and leadership development. Incorporating the latest research in cognitive science, positive psychology, leadership and neuroscience, she helps women develop and execute evidence-based behaviors for transformation and excellence while maintaining sustainable strategies for personal fulfillment and growth.



---

Developing skills critical to getting stakeholder buy-iN

Pitch Like a Girl: How to pitch any idea to maximize success.

Pitching is a more complex art for females because they don't match up to the masculine stereotype of an entrepreneur or innovator that investors and decision-makers visualize (Balachandra et al., 2019). Yet, overcompensating with overly masculine signals doesn't work and can actually hurt your ability to gain buy-in (Balachandra et al., 2021). Behavior in initial interactions can either build or violate trust, which can impact the outcome of your pitch (Maxwell and Levesque, 2014). This workshop will explore key trust-building behaviors to use in initial interactions and several trust-destroying behaviors to avoid, and how to craft an effective pitch to maximize persuasion.

Meet Holly Flanagan

Holly is Managing Director of Gabriel Investments, where she has been responsible for sourcing and leading investments, diligence efforts and portfolio management for most of the past decade. Before Gabriel, Holly spent over 20 years in financial services and held various leadership positions in sales and business development for industry leaders such as Barclays and MBNA America (now Bank of America). She is an Independent Trustee for Hamilton Lane's Private Assets Fund and Hamilton Lane's Special Purpose Acquisition Company. She is also an Independent Trustee for FS Investments' Credit Income and Multi-Alternative Income Funds. Holly is an Eisenhower Fellow and an Eisenhower Fellowships Trustee, serving on the Executive, Nominating and Development Committees. As a Fellow, Holly advised global leaders on women entrepreneurship and explored the role of venture capital in China. Holly is a Founding Charter Member of TiE Philadelphia and participated in a TiE sponsored US State Department initiative in India to educate and empower women entrepreneurs. She is also on the board of the US India Science and Technology Endowment Fund. Holly is a Trustee of The Philadelphia Theatre Company, serving on the Executive and Finance Committees. Holly is also a member of the Circle of Aunts and Uncles Investment Group, providing low-interest loans and social capital to under-resourced community-focused entrepreneurs. Holly holds a BA and MBA from the University of Delaware.

Leadership and Trust Building

Led by Laura Gasiorowski and Lynn Evans Director of Women's Leadership Initiative, Lerner College

Beyond initial interactions, innovators also need to hone long-term skills to successfully execute ideas. However, women are less likely to be in leadership positions to promote innovation and face biases in traditionally innovative leadership styles (Zuraik et al., 2020; Reuvers et al., 2008). In this workshop, we focus on the skills needed to carry ideas over the finish line and inspire your team to innovate.



---